White River to Summerland (Aug 12, 2000):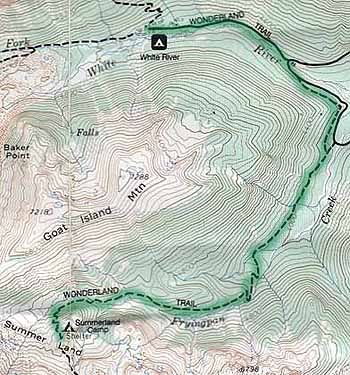 We woke up late today. We were trying to get as much rest as possible from our tiring previous day. We were ready to leave camp by 9:30am. It was nice to have normal bathrooms to wash up in the morning. The first part of today's trail is walking on pavement. To get to the Summerland trailhead you first have to walk along the White River campground road for 1.1 miles and then there is a 1.3 mile side trail which parallels the Sunrise road and joins up with the Summerland trail. Obviously this segment of the trail was not really pleasant. We had to watch out for cars which were traveling very fast down this road. We made good time (as the trail was easy) and did the hike from White River Campgrounds the Summerland trailhead in less than an hour. I finally realized that pavement is really hard on your feet compared to the soft earth we have been walking on, my feet were quite sore after that small section.
We stopped along the trail to have a quick lunch of Ramen noodles and power bars. While we were eating our food a group of hikers where just starting from the trailhead below. We talked to them for a while, today was their first day on the trail and they planned on doing the whole thing. Their itinerary was the same as ours for the next three days: Summerland, Indian Bar, and Maple Creek campgrounds.

The picture to the upper-right is of a meadow that the trail cuts through just before the final ascent to Summerland. The park service places logs across the trail in a step fashion to reduce erosion, we affectionately call these "death-steps". Because of the irregular intervals they are placed at it makes it very hard to set a pace, and it's very tiring. Jason and I hiked this section of the Wonderland before but it seemed a little harder than we remembered.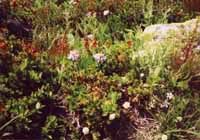 The day was slightly overcast and it made for bad pictures of flowers. The picture to the left is one of the better shots. Because Summerland is only 4.2 miles from the highway a lot of day hikers come out to see it's spectacular flowers and wildlife. There were no pesky bugs on the trail and none so far on this side of the mountain. Summerland is indeed a sight to behold, it's sub-alpine flower filled meadows, views of Rainier, the wildlife and campgrounds are all very nice. I would have liked to stay here for more than one night. Jason and I were still tired from yesterday's long hike. We had a great meal of pasta with Garlic-Pesto sauce and granola bars. Tomorrow (Summerland to Indian Bar) will be a big day in terms of scenery and snow fields. We went to sleep quite intimidated by the idea of ascending the few miles of snow. When we were on the west side of the mountain passing hikers told us they had some troubles ascending Panhandle Gap, some even used ice axes to cross the steep snow fields. All we have are our lightweight crampons. Our concern drifted away as we slept like rocks that night.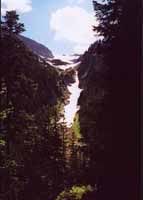 Snow patches across the valley on the way up to Summerland

Summerland GPS Coordinates:
Datum: WGS84
Lat: 46 52' 00" N
Lon: 121 39' 32" W
Altitude: 4965ft