Carbon River to Mystic Lake (Aug 10, 2000):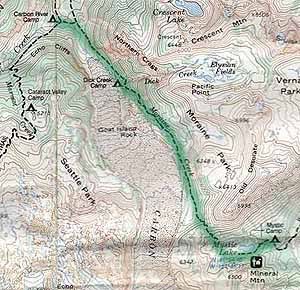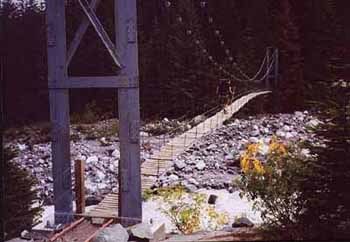 We wake up early this morning and have a breakfast of cold toaster pastries and Granola. A quick check of our trail notes reveals that today will be the longest ascent yet 3,200 feet, stretched out over 5 miles. When I awoke earlier in the morning (5am) and looked out of the tent there was heavy cloud cover, it was rather discouraging, I went back to sleep. By the time we got up (about 8am) the sun burned off most of the clouds.

The Carbon River bridge (pictured at right) is the second suspension bridge on the trail. It is considerably closer to the ground than the Tahoma bridge (30 feet or so). It is also less stable than the Tahoma bridge. Both are fun to cross in their own way. Because of the proximity to Ipsut Creek Campground (drive in camp), there were a lot of day hikers coming up to see the bridge and glacier. The Carbon Glacier terminus (3,400 feet) is the lowest of any glacier in the lower 48 states. We were unable to get a picture of the Carbon Glacier even though we were less than 300 feet from it, a lingering fog bank moved in and stayed in the valley so we continued on.



The picture to the left is of me standing under the North Crags (cliff on left). Just after this picture was taken there was a loud rumbling. At first we couldn't tell where it was coming from until large 10 inch boulders began falling from above. A couple of day hikers following us nearly got hit as they quickly moved toward the cliff for cover. Gratefully no one was injured, but it was too close for comfort, we all started walking quickly to get on the other side of the cliff.

After about two hours of very steep and slow climbing we were finally clearing above the fog level. Moraine park was finally in view. Pacific Point (pictured at right) was our first clear view of our surroundings. Moraine park was majestic, and comparable to the scenery at Emerald Ridge. It had beautiful alpine meadows accented by sheer rock slide cliffs of white granite on the eastern side. To the south-west there are views of Mt. Rainier and Russell Glacier. We took a long deserved break at the park.

Soon the area filled with fog and we decided to go the last 0.8 miles to Mystic Lake camp. Mystic Lake was just that "Mystic". The panoramic picture below is of Mystic lake with Old Desolate in the background (taken facing north). We didn't stay long at the lake because a light mist of rain started to come down. We decided to get to the camp and set up before it really started raining.

After we got to camp and set up our tent the mist went away. We saw several deer when we entered the camp. They were fearless and remained about 30 feet away at all times, eating greens leisurely. The only other place where we saw a lot of fearless deer was at Devils Dream. We were tired from our hike and decided to eat and get to sleep early because tomorrow will be the longest day of the trip in miles (13+ miles). We will forge on to White River campgrounds, below Sunrise.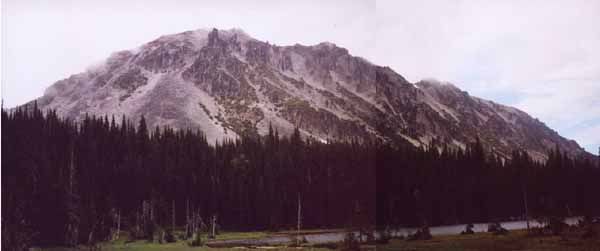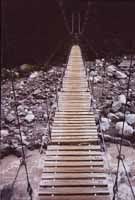 Crossing the Carbon River bridge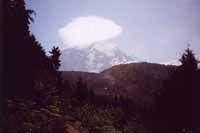 Rainier making it's own cloud
Entering Moraine Park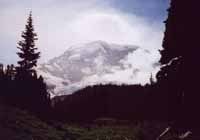 Rainier continuing to make a cloud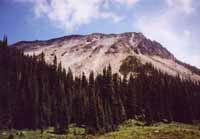 Old Desolate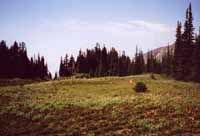 Meadow in Moraine Park
Mystic Lake Camp GPS Coordinates:
Datum: WGS84
Lat: 46 54' 46" N
Lon: 121 45' 17" W
Altitude: 5430ft