Mowich Lake to Carbon River (Aug 9, 2000):
We started real early because we know that we will have a long day ahead. For once we have something other than granola for breakfast, instead Jason and I indulge in a can of baked beans, Chili, and a loaf of Banana bread. I think our sudden change in diet really effected us because it took us a long time to get our bodies warmed up, we just seemed really sluggish.. We didn't get warmed up until Ipsut pass, which is about 20 minutes away from Mowich lake. The yellow-jackets and bees were swarming near the top of the pass because of all the flowers on the other side, but far worse were the mosquitoes. We really didn't want to put on insect repellent today but were forced to put on some DEET during our break at the top of the pass. The pass (as seen on the right) had some great views.
The decent from the pass was very steep. According to the map this is the steepest part of the whole wonderland trail. It was very hard our feet and we both slipped several times. My left foot really started acting up and I was limping by the time we got to the bottom. It's amazing how a blister on your little toe can render your whole foot useless. I transferred more weight to my hiking sticks and this made it better. However this would prove to be very bad for my shoulders later in the day.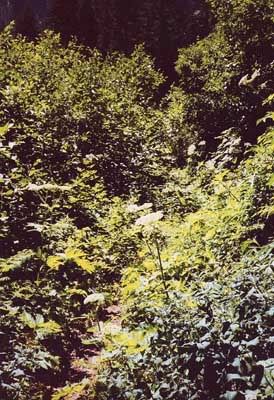 About midway down from the pass we encountered a total "veg-out". This is like a "white-out" only instead of thick fog there was thick vegetation. The picture to the left shows the trail we had to blaze, this was the worst kept-up section of the trail we encountered so far. There were a lot of Wild Raspberry and other plants with thorns. Once we got through the plants the trail flattened out and we entered tree cover. Although our muscles are slightly sore, we notice that they are getting stronger. Our biggest concerns at this point are blisters and knee problems.

The picture on the right shows the carbon river valley about a mile and a half before we arrived at the Carbon River camp. The Carbon Glacier and it's debris field is clearly visible in the distance.


The following is an entry from my journal:
Date: Aug 9 Location: Carbon River Camp

Today is a turning point in my outlook on this trail. Psychologically I feel that the trail is half over and I can make the rest. This trail is about 20 percent endurance and 80 percent will power. The doubts I had at the beginning of the trail have been dissolved. We have came farther than I could ever imagine and have climbed over 10,000 feet of elevation gain. The comforts of home are no longer in my mind and they don't distract me.

Days on the trial are simple. There are no hassles or deadlines, other than getting to the next camp. Hiking puts me into a daydream state, kind of like runners high. During long conversation-less sections of the trail, sometimes I even forget that I am hiking. Once someone enters this state the mind is free to think about anything, funny events in one's life, cynical thoughts, childhood memories. While exploring the outdoors one also explores themselves.

I was not sure what to expect to find on this journey but today I have found the will inside me to continue on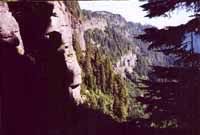 Looking out at the top of Ipsut Pass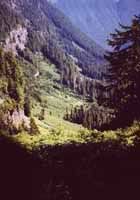 Another view from Ipsut Pass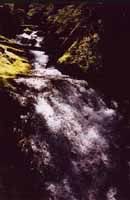 Water Fall on the way down to Carbon River Valley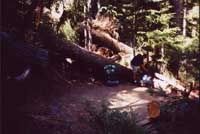 Carbon River Camp Wind Damage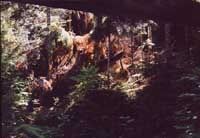 More Carbon River Camp Debris
Me (Aaron) Crossing the bridge after Carbon River Camp
Carbon River GPS Coordinates:
Datum: WGS84
Lat: 46 57' 03" N
Lon: 121 48' 00" W
Altitude: 3313ft