Golden Lakes to Mowich Lake (Aug 7, 2000):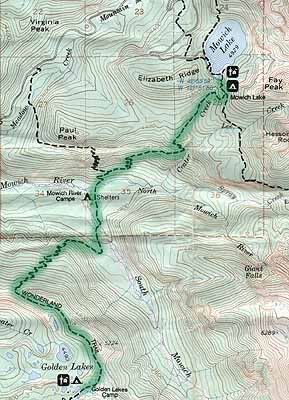 We awoke this morning very early, at 6:30, and were hiking by 8:00. Our breakfast was another hearty meal of 1/2 lbn granola each. For a moment I think that I am actually getting pretty used to this granola breakfast, but then I come to my senses, nahh it's just "trail hunger". Our stomachs would digest anything that has organic material in it. The bugs that were absolutely terrible the previous night were nowhere to be seen this morning, It's probably too cold for them, we decide to get moving before the sun wakes them up.
We amaze ourselves by what we do next, 6 miles in 2 hours nonstop 2,300 feet elevation drop, before we know it we are at the Mowich River Camp Shelter (pictured below right). Since it is still early morning we took a long break at the Shelter. The Shelter contains the enscribings of past hikers, some over 40 years ago. We read as many as we could make out. A surprising number of the carvings were from people who have been rained on for a week. Quotes like "Will it ever stop raining???" were common. On the left wall of the structure there is a carving from a young man who hiked the trail, and right next to it is another message from the same man, 30 years later. One of the more interesting texts that we found was from some poor souls who got stuck at the shelter in June 1993.


" We went for a hike, that was quite a mistake
our feet now feel like tenderized steak.
We trudged through the snow, we got very wet
It rained even harder, so we began to fret.
Our cell phone worked at 5,000 feet,
we wished it worked now were feeling kinda beat.
This will be our last night at the wonderful Rainier.
I want to go home and have a tall beer.
But since I am 16 it won't be done,
I'll just jump in by hot tub and try to have fun.
I am tired and cold, I really want to leave,
Tomorrow, 10 miles I really feel peeved
Our goal was the whole trail, but the snow kicked our ass,
June is not the best month so try and walk fast.
- 6/21/93
- Tom & Adrian

From the Shelter, the rest of the trip was all uphill to Mowich lake. The upward climb was very challenging. There is little if no water on the way up.. Make sure that you re-hydrate in the Mowich River area. Once we finally arrived at Mowich lake we set up camp and washed up. We had a surprise waiting at the ranger station, Our Food Cache!. Our cache consisted of among other things, two MRE Pasta dinners, eight TreeTop Berry Box Drinks, a Can of Peaches, Two Cans of Spaghettio's, Chicken Stew (freeze dried) and a Freeze dried Blueberry Cheesecake (don't ask just buy one and try it, made by mountain house).
Fog in the valley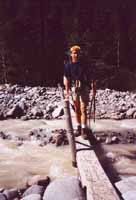 Mowich Crossing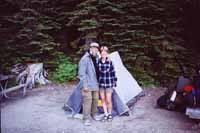 Bill and Bobbie, Cool people we met along the way
Mowich Lake
Flowers at Mowich Lake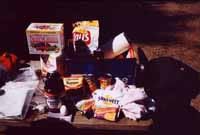 FOOD!!! what a wonderful sight!!
Mowich Lake GPS Coordinates:
Datum: WGS84
Lat: 46 55' 59" N
Lon: 121 51' 50" W
Altitude: 4929 ft