North Puyallup to Golden Lakes (Aug 6, 2000):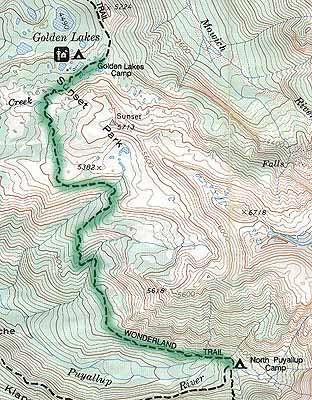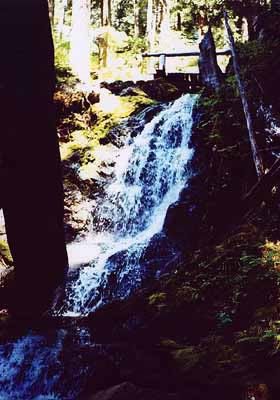 It's amazing what a nights sleep will do for aching feet, It seems like these trails are just long enough to take everything out of you. Just when you think you can't go any further you reach the camp. Every day starts with a fresh ready to go feeling and ends with exhaustion. Our feet are still good, amazingly. Any soreness quickly disappears after the first half-mile of trail, as the body warms up and releases those wonderful endorphins. We have not needed any pain killers yet.
This morning we had yet another wonderful meal of Granola. We also had a treat because this camp (North Puyallup) is situated in a Raspberry and Salmon berry field. Jason and I ate a few handfuls each. A few on the Granola sure helped it along. Not a bad way to start the day.
Today should be somewhat of an easy climb, 1,800 feet in 5 miles with Golden Lakes at the top. We heard from a ranger that people often swim/bathe in the golden lakes. Knowing this Jason and I resolved to bathe and wash some clothes in the Golden Lakes.


The picture to the left shows the results of a fire over 60 years ago. Millions of blueberries(literally) are nestled in the grass. Look for bears in this area eating blueberries. On our way up we ran out of water because there is a long 4 mile stretch without even a small stream. When we finally found a river we were almost to Sunset Park. Sunset Park is nice but not really nice enough to warrant a picture, it was a lot like Indian Henry's but with many more trees and less scenic.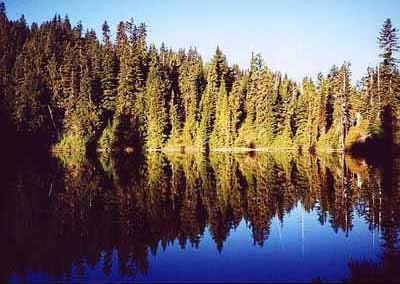 We arrived at the Golden Lakes campground at 2 PM. The first thing we did was claim our campsite and change into our swim-shorts. It was time to enjoy a nice swim. When we got down to the water (pictured on right) it looked really nice, and it was actually pretty warm because it's a shallow lake. I decide to go in first, so I place my foot into the water only to find that there is about 3 feet of muck to sink into. I mean really soft mud, with chunky decomposing tree leaves and branches with an occasional slimy object passing by your foot. I instantly tried to pull my foot out, which was not easy because it was stuck in the mud and goop. After retracting my foot a cloud of mud dissipated into the water, making a once clear water very non-appealing, especially if the object is to bathe. We decide that this would not be a good place to try and get into the lake. So we walk around a little bit but realize that the whole shoreline is like this. We reluctantly canceled our attempt at swimming and returned to our camp to set up the tent and take a nap.
While resting in camp I heard rocks falling from a nearby cliff. They were falling at a rate of about once a minute, and judging from the amount of noise they made and how long it took for them to hit the bottom I concluded that It was a very large cliff. After my nap I went to investigate. It turns out that the whole camp is situated on the edge of a cliff and there is a lookout at the north-western edge. From that lookout you can see directly west all the way to the suburbs of Tacoma. I tried my cell phone to see if it would work. I got a strong signal in AMPS analog mode.
Conclusions so far----
- People around the trail are very nice, we all share the same challenges and all have an adventurous spirit. I know I could trust any of them.
- The west side of the mountain is not "as nice"(still wonderful) as the east side scenery.
- The bugs are really bad. They are the number one problem, the only thing worse would be rain. We highly suggest a good fly repellent and at least 50% DEET for all other bugs. (remember we are here during the height of summer, when the flowers and bugs are out)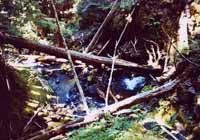 Jason getting water on the trail.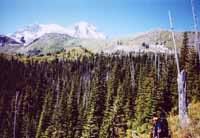 Near sunset park in old burn area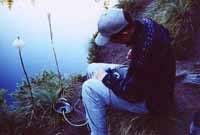 filtering water from one of the Golden Lakes

Golden Lakes GPS Coordinates:
Datum: WGS84
Lat: 46 53' 01" N
Lon: 121 53' 55" W
Altitude: 4966ft