South Puyallup to North Puyallup (Aug 5, 2000):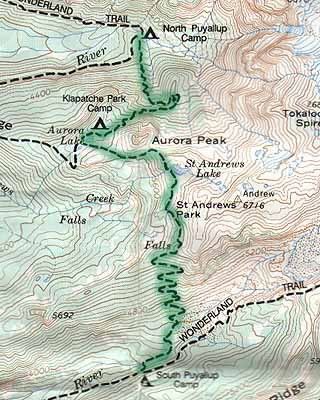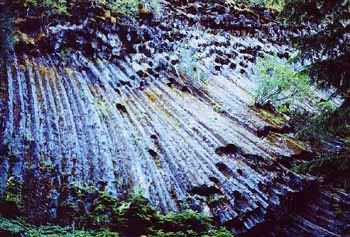 We awoke today at 8 and had a good nights sleep. I write a journal entry as Jason goes to filter water in the creek. The weather is good, again! We are crossing our fingers for no rain. 1000 calories of granola is consumed in preparation for a long climb to St Andrews Park. We spend a few minutes checking out the area before we leave. South Puyallup camp is a located in a nice forested area that is relatively flat, at least compared to Devils Dream. The camp is also much nicer than Devil's dream. An interesting geological feature is located south of the camp's toilet, an entire cliff, a couple of hundred feet long, which is made up of a crystallized lava flow. The cliff is more commonly known as the Devils Pipe organ (as coined by several books about the trail. ). It's size is incredible, It is one of the "must see" features of the park. Jason and I are pretty sore from yesterday's climb and descend, but we both feel ready and excited to go. There won't be dependable water until we reach the top of the ridge so we each drink a full water bottle to hydrate up before the climb. clear="left"> >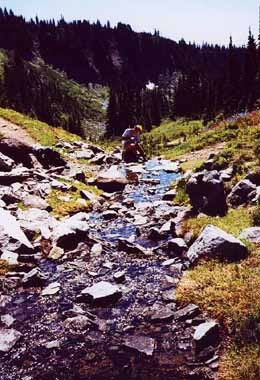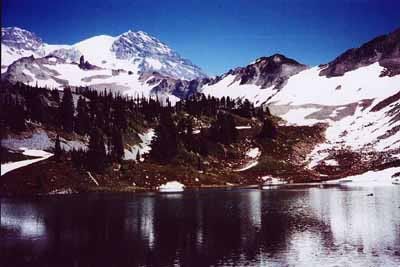 The 2000 foot climb to St Andrews Park was done in record time, 1.5 hours. For some reason we just powered our way up, and we still had plenty of energy to spare when we reached the top. Jason filtered water (left) and I rinsed off sweat in this stream. The water tasted very good, sweet and cold. It was probably only a degree above freezing. The mosquitoes were very bad here, and we couldn't stay that long, for fear of too much blood loss. From there it was a short stroll to St Andrews lake. The lake (pictured at right) was very, very, nice with views in all directions. Imagine spilling blue watercolors onto a liquid dry ice, this is St. Andrews Lake, it's probably the coldest, bluest lake I have ever seen.

The trail was relatively flat as we moved on to Klapatche park camp. The first thing you see is Aurora Lake, which is a really a shallow tarn. It's only about 6-7 feet deep in the middle. Because it's so shallow it's also one of the warmest bodies of water in the park. There are many frogs, tadpoles, and fish in this tarn. We talked to couple who were staying at Klapatche camp for that night, they were hiking in the same direction as we were, but their starting point was White River. It was very tempting to go swimming but it was getting late in the day and we wanted to get to North Puyallup soon. Unknowingly we were about to face a very hard descent, starting at 6,000 feet we would drop 2,400 feet in three miles. Jason had shoulder and back problems from his bag not being adjusted correctly and my feet and knees were really starting to hurt. We descended way too quickly and really punished ourselves for it. The flies were terrible at North Puyallup, all we wanted to do is set up the tent and go inside.

After cooking a quick dinner of freeze dried chicken and rice we got into the tent and laid there, high and numb off endorphins. I wrote today's journal, and Jason examined the section of map for tomorrow hike, before falling asleep effortlessly.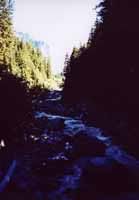 Puyallup River from South Puyallup Camp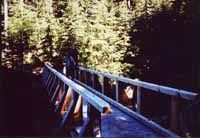 Bridge over Puyallup River
Approach to St. Andrews Park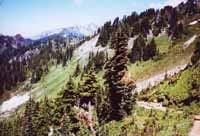 St. Andrews Park trail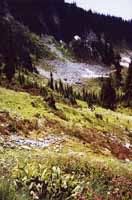 St. Andrews Park meadow
St. Andrews Park and south Tacoma in far distance
View of North Puyallup river valley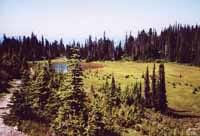 Approach to Aurora Lake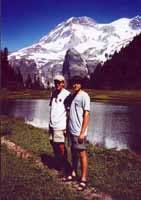 Jason and Aaron at Aurora Lake
Waterfalls on the way down to North Puyallup River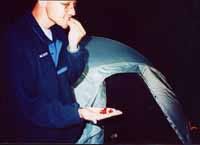 Raspberries and Salmon Berries at North Puyallup camp
North Puyallup GPS Coordinates:
Datum: WGS84
Lat: 46 50' 46" N
Lon: 121 52' 13" W
Altitude: 4043ft