Maple Creek to Longmire (Aug 15, 2000):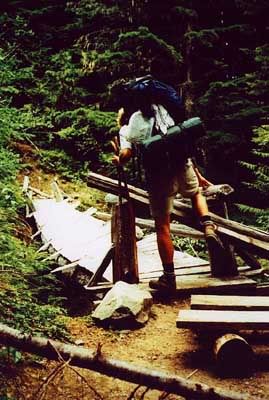 I awoke first today, as usual, because I am a light sleeper. For some reason it was not that bright out, usually the tent is well lit by the sun at 8am. A peek outside revealed our fear, clouds and fog. It looked like it was definitely going to rain today. To come all this way and get rained on our last day. In an effort to prevent the tent from getting wet we quickly broke camp, and then ate breakfast. Granola again, and we didn't have any instant cheesecake to top it with, well at least tomorrow we can have anything we want for breakfast. Today will be a pretty long day, which will consist of us ascending to the Reflection Lakes area (5 miles) and then descending to Longmire (5 miles). Reflection lakes is at about 4,860 feet where Maple creek is at 2,700, So we will be hiking almost 2,200 feet in 5 miles, not too bad, plus we were excited to get back to the car. But not because we were sick of the trail, we just wanted to take a shower and wash our clothes.

We expected this camp to have lots of bugs because of it's low elevation and proximity to water, but there were none. We had no need to put on insect repellent for the last 3 days, which is good because it's sickening to have the taste of DEET in your sweat as it runs down your face and onto your lips. It tastes kind of like a bad Gin Martini.

We could tell that it was raining across the valley at higher elevations, so we packed our bags with our raingear easily accessible. Hey, we might actually get to use our gear which we carried for 90 miles or so, kind of exciting. We started hiking around 9am, the wind started blowing cold, damp air from higher in the valley. A mile or so up we rain into some hikers traveling the other way, they warned us of poor trail conditions ahead, like overgrown bushes and slippery rocky surfaces underneath. They had just bushwhacked their way though. They still had leaves, flowers and some weeds stuck in their hair, packs and shoes, along with some nice scratches on the arms and legs. I decided to put on my gaiters, Jason went without them. Sure enough the trail thickened with raspberry bushes, wild roses and all sorts of other plants with thorns. It was slow going to get through all that stuff which extended for almost 2 miles. But after we got through it the trail continued into a nice forest with lots of little streams to step over, and plenty of places to take a break. The rain is still holding back, but we are still expecting it at any moment. We cross our fingers.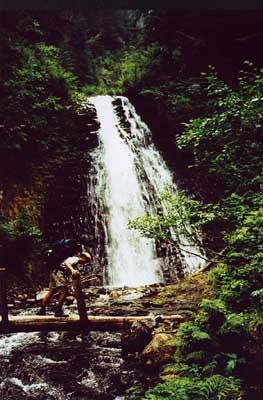 Today is the day where we crossed over the most bridges. The picture to the left is Jason crossing the log bridge at Martha falls. It was a nice, swift moving waterfall, we considered stopping to fill up on water and have some lunch but opted to continue on till the top (Reflection Lakes). The picture to the lower right is of one of the exciting bridges we crossed. Even though this section of the trail is easily accessible to trail crews it's one of the poorest sections of the Wonderland(with reguard to up-keep), it's even worse than the backcountry sections of the trail a few days out.

By this point in the trip we are pretty strong hikers and we arrived at Reflection lakes around noon with energy to spare, it was so foggy that the usual view of Rainier was totally obscured. It was pretty cold also. We had about 30 seconds of a light mist of rain but we didn't put on any raingear. Our film supply was running short, down to 5 pictures, so we decided not to take any pictures of this area. Besides anyone driving to Paradise can see this area from their car.. We didn't really take a break at the lake except to get some water from one of the numerous streams in the area. I noticed that that water had a high iron/mineral content, it tasted kind of like well water, not bad though.

On the way down to Longmire we took the very short side trail to Narada Falls, there were a lot of people there because it's one of the attractions of the park, plus it's near the road. We got weird looks from some people because we were un-groomed and wearing very dirty clothes, others were very talkative and curious as to where we were hiking. We talked to one family for a while, they were interested in hiking the Wonderland together. Others had no idea that there was even a trail which goes around the mountain. We continued on, the descent to Paradise river was hard on our feet and I started to develop some blisters on the pads of my right foot. We stopped to put on some moleskin and talk to the people at the camp.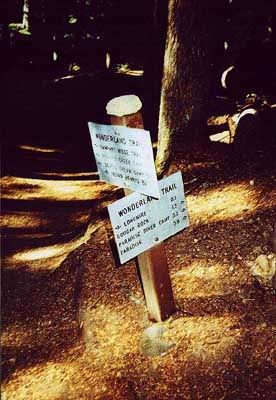 When the trail finally leveled out and we heard a road nearby we could tell that we were getting close to Longmire. The heavy tree cover and surrounding hills made it hard to get a GPS satellite lock so I wasn't sure how far away we were. It was a very exciting time, we walked faster and faster, even though our legs and feet were sore from our descent. The picture on the right is very special, at least to us, it is the beginning and end of the Wonderland trail. When we started we took the trail on the left to go to Devil's Dream, and when we came back we arrived on the right most trail from Paradise. We placed the stone on top of the post when we left and it was still there 12 days later when we returned. To be here again was an emotional moment which set in a tone of completion and achievement. I was proud of Jason, and myself for what we just did. It was physically, emotionally, and intellectually challenging, to say the least. When we started we were intimidated by the trail, we had doubts about ourselves and our capabilities, and now we returned with those doubts and fears conquered. Jason and I can say that we will definitely be back some day.

We hiked the remaining tenth of a mile back to the Longmire Ranger Station. The ranger who helped us set up the trip was working, we talked to her and managed to get a picture standing with her in front of the Longmire Ranger Station. It was the last picture on the roll. I had to learn how to drive a car again, it felt so funny to sit still and be moving at the same time. We drove out of the park, waving goodbye to the Wonderfull Wonderland and returning to the rigors and stresses of life.




Well we hope you liked this website. It was a lot of fun to create, it has been a side project of mine for the last 3 months. I still think about our adventure often and smile, it certainly was one of the best times of my life, as I am sure it was for Jason too. Please email us with your comments on this site, tell your friends about it, or send us your hiking adventures. Be sure to sign in to the new guest book also!!

Aaron and Jason Doss


| | |
| --- | --- |
| | Aaron is currently looking for a job, He just recieved a BS degree in Computer Science. Aaron also enjoys playing the piano, computer gaming, photography, good talks with good friends, competitive rifle and handgun shooting, Rock climbing, Mountain Climbing and snowshoing. |
| | Jason is currently a freshman at Saint Louis University. He is an Eagle Scout and a musician. He endeavors to become an astronaut or an aeronautical engineer. He enjoys playing his saxophone and guitar in his band "Pile of Frogs". Along with hiking, and backpacking, he enjoys watching movies, hanging out with his friends, frogs and fine cheeses. |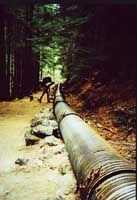 The old wooden water pipe which ran up to Paradise
Jason and I standing with the nice park ranger that helped us set up the trip
Longmire GPS Coordinates:
Datum: WGS84
Lat: 46 44' 56" N
Lon: 121 48' 48" W
Altitude: 2699ft