Indian Bar to Maple Creek (Aug 14, 2000):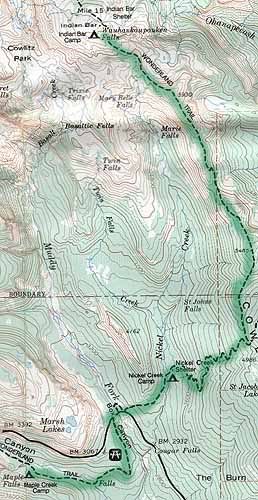 We got out of the tent early today but left Indian Bar kind of late. I left the tent at about 8am to prepare breakfast, but then remembered how nice it was to eat dinner down in the riverbed. So Jason and I took all the food down to the river, sat down on the nice rounded rocks and started to pour another bowl of granola. By this time in I was getting pretty tired of granola and was willing to try anything to make it taste different so I took a package of our instant cheesecake mix (originally intended for dessert), mixed cold water into it and topped the granola with it. It was good, in fact too good, we ate the next night's dessert too!! We will definitely remember to bring cheesecake mix on other outings. The main reason for our late departure this morning was because Indian bar is just so stunning in the morning (as seen in the panoramic picture down below). We played around in the river bed for a few hours that morning and took a lot of photos. Unfortunately, the cheap camera which we brought didn't have a fast enough shutter for the 400 speed film we brought along. We anticipated more cloudy weather so we brought 400 speed film instead of 200, a mistake for this particular trip. This morning it was very bright out and some of the pictures we took were too saturated, all the flowers looked almost white. It took a lot of digital editing to return the colors back to normal. After we walked almost all they way up the river valley Jason insisted that we should start packing up, by then it was about 11am and we still had a long day ahead of us in terms of miles. So we went back to camp, packed up and hit the trail. But not before filling up our water bottles with some of that great tasting Indian Bar water. It was probably the best in the park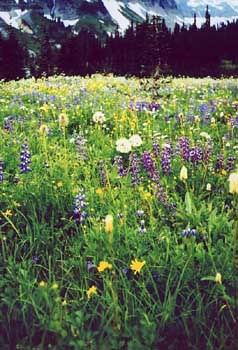 The ascent out of Indian Bar was quick and steep, but the views at the top of the Cowlitz Divide were outstanding. There were more log steps in this area, which were a pain hike over while warming up. We ended up taking a lot of rest stops before we finally warmed up. The next 3 miles are spent climbing and descending three small peaks and several even smaller peaks along the ridge. There are some views of the backside of Stevens Ridge and parts of Box Canyon to the south-west. And at the top of the peaks you can see very far to the east and south, along with other nearby park features such as Shriner peak, due east. Unfortunately we took too many pictures in the last few days and were already on our last roll of film. So we didn't take many pictures from the divide.

The trail T's off with the Cowlitz Divide Trail (at 4,400 feet). Heading east takes you to the Stevens Canyon entrance station, west takes you to Box Canyon. In short two miles to Nickel Creek camp the trail drops 1,100 feet. We hiked this section quickly, the beating of our feet against the ground quickly synched up and I was put into a trance on the way down. Running on automatic, I hardly remembered even hiking down to Nickel Creek camp but soon enough we were there. We stopped to have some freeze dried pasta primavera at Nickel Creek. After stopping I noticed that my feet really hurt, Jason also complained about his feet. While eating some food was good for us the break was not, by the time our food was warm our bodies were cold and it took a while to get warmed up again.

15 minutes from Nickel Creek is where the Wonderland meets the road again at Box Canyon. There is also a normal restroom for tourists who hike to the box canyon overlook. It was nice to wash up a little before we moved on. The last two miles to Maple Creek were mostly flat, but it seemed like we hiked more than two miles. Site 4 at the campgrounds is very nice. It's all the way in the back of the camp at the edge of a clearing where the cliffs of Stevens peak tower above you. Before we went to sleep we found our friends from Indian Bar and wished them luck on the rest of their trip. We fell asleep early in anticipation of our last day on the trail. The weather was clear with no wind. It seems like we were going to beat the rain for this trip. Even if it rained tomorrow it wouldn't matter, we won't have to set up in it.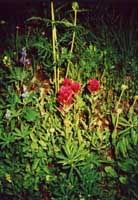 Indian Paintbrush
A Natural (icy cold) Bathtub carved in rock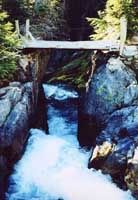 Bridge at Indian bar crossing over Wauhaukaupauken Falls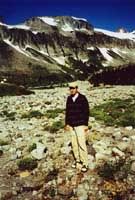 Jason at Indian Bar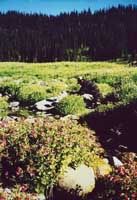 Jason eating some breakfast (granola)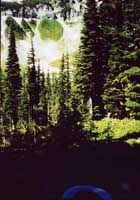 The "Comfort Station" at Indian Bar definately had the nicest view !
Mt. Adams in the distance (at morning)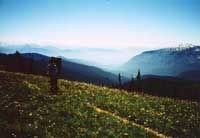 Starting the Descent into Box Canyon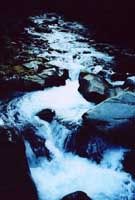 Stevens Creek
Maple Creek GPS Coordinates:
Datum: WGS84
Lat: 46 45' 27" N
Lon: 121 39' 26" W
Altitude: 2719ft