Longmire to Devils Dream (Aug 3, 2000):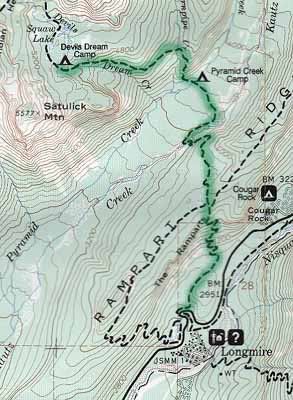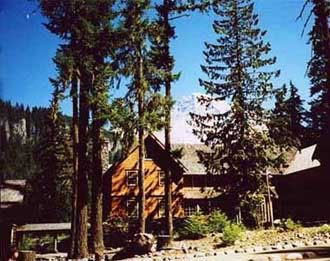 We start out early today, camp is broken down by 7 a.m. We spent the night at White River drive in campgrounds (Near Sunrise). Jason and I got very little sleep, maybe it was anticipation of the hike, by 8 we are tired but ready. We are on the road to Longmire and are there by 8:30 a.m. Pictured to the right is Longmire Lodge with Rainier in the background. The drive to Longmire was nice and their weren't many delays due to road work as there typically are during the summer. The harsh winters at Rainier take their toll on the roads every year. Road crews work all summer and winter destroys the roads again. Road crews have worked during the summers at Rainier for 100+ years, even when their were only horse and carriage roads.
After spending 30 minutes double-checking our packs we were finally ready to go. We looked around the edges of the parking lot for good hiking sticks. We found a few carved sticks which people used on previous trips and then discarded them near their cars back at the parking lot. The stick that I (white shirt) found was sturdy enough to actually make it all the way around the mountain. It is visible next to my right foot.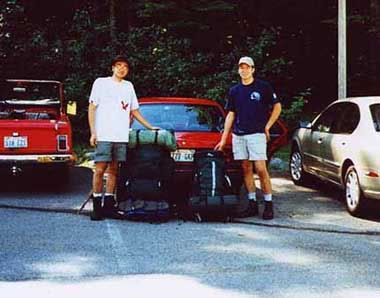 We start hiking at 9:00. After crossing the road the trail promptly begins climbing to the top of Rampart Ridge it's about a two mile 1,000 foot climb to the top. The trail is in good condition, mostly under forest cover. You will know you are at the top when you reach Rampart Ridge Trail. From there is's about a 200 foot drop into the Kautz Creek valley. The Kautz Creek crossing is a log bridge with a fastened wooden handrail. We thought the area was nice so we took a long break here to filter water and eat some energy bars for the 1,400 climb to Devils Dream.
The trail is a very gradual uphill for the next 3/4 mile, until you get to Pyramid Creek Camp. From there the trail climbs relentlessly up a series of "death switch backs". There is good forest cover and the trail is mostly consistent for the next two miles, except for a few very steep parts. There are not many scenic views on the way up, just forest.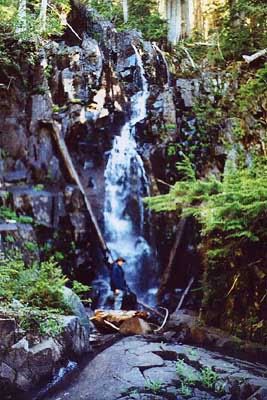 We finally arrive at Devils Dream, pretty tired, but not beat. Devils Dream is a campground which is essentially on the side of the ridge. Walking through the campground to get water is somewhat of a chore because you have to drop almost 100 feet just to get to the Creek. Devils Dream Creek is very nice and the trail that leads to it goes down to a small waterfall. Scramble up the left side of that waterfall and proceed about 20 feet upstream and you will have a great view of an even bigger waterfall. Great for taking a ice cold, 1/2 degree above freezing, shower. Don't use soap in the stream, of course.
The bugs at this camp were bad, Deer Files and Mosquitos, until dusk then only Mosquitos. We set up our tent quickly and took a short nap, we slept like babies. Our hunger wakes us and we cook a meal of freeze dried Sweet and Sour Pork, quick, easy and very filling.
We talked to another group of campers who flew in from Chicago to hike the trail. They were planning on doing it in 9 days. They agree with us that the hike to Devils Dream seemed like a really long uphill climb. I remind them, and myself, that all the following days will be just as bad or worse. The reality of the toughness of this trail finally sinks in. Although I am psychologically prepared to do the whole thing, there is still a lingering doubt in the back of my mind. This doubt will fester for the next few days, which will be the toughest part of the trail. After 3-4 days of pain, I know from reading countless articles that the human body will adapt to the 50 pound load on my back, rebuild the muscles in my legs, and increase it's energy output, I make a point to try and remind myself of these "facts" often, and hope that they are true. Because in a few day's there will be no turning back.


Filtering water at a creek somewhere near the top of the Ramparts.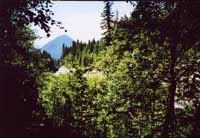 Kautz Creek Valley
Kautz Creek Bridge Crossing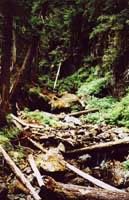 A Creek on the way up to Devils Dream

Devils Dream GPS Coordinates:
Datum: WGS84
Lat: 46 47' 05" N
Lon: 121 49' 55" W
Altitude: 4960ft