February 13, 2001
Welcome,
March will bring big changes to the rainforest valleys. It gets all of us going. The weather is variable as the Spring struggles to free itself from the grips of winter. Change is full of wind, hail, rain with thunderstorms and more and more sunshine. There is a saying that " if you don't like the weather at the moment, just wait 5 minutes and it will change".
As the days lengthen, the soil warms and everything begins to grow. The Elk are really "showing". They are literally eating for two or three since they will be giving birth in late May. The first flowers of the Salmonberry herald the entrance of the Spring Salmon into the coastal rivers. And the breezes blow clouds of light green pollen from Alder Trees that blanket the landscape. Migrating robins and blackbirds show up, giving you the feeling that change is literally in the air. Along the coast Grey Whales can be seen swimming North to their summer mating ground in the Alaskan and Siberian waters of the Gulf of Alaska and the Northern Pacific Ocean.
I bought an old rototiller last summer and will use it to turn over my garden this spring. Since there hasn't been much rain this year, the soil is well drained so there will be plenty of time to work the fertilizer in and let it break down and mix in. Of coarse the hot box will have a variety of seedlings: lettuce types, broccoli, cabbage and some herbs that are ready to make the leap into the garden when the time is right.
Three guys, one from Germany and two from St. Paul, Minnesota will be out here for two weeks to flyfish for native Steelhead Trout. One of the things we talked about when they first called the hostel was that these were difficult fish to catch. They said that wasn't the most important thing, since they would release all their fish anyway. Just being in a river that ran thru places as pristine as those in the Olympic National Park was what they were dreaming about.
Take it with ease,
Jim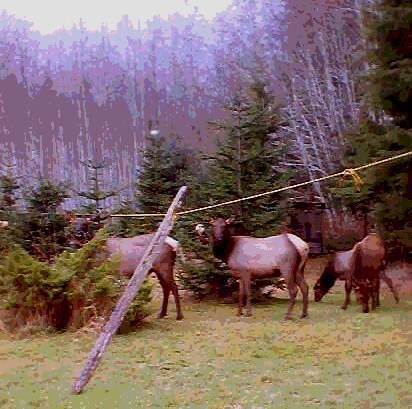 ---
[Home] [About] [Rates] [Directions] [Activities] [Links] [Thoughts] [Credits]