ANDERSON PASS SHELTER
Click on photo to enlarge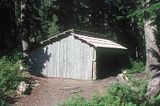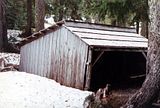 Anderson Pass Shelter as of pre-1989, 1991 and 1994 - Recent photos from NWHikers.net by Don Abbott

Photo 4 taken sometime during 1992 - 2005 from NWHikers.net by HJT

Duck (Don Houck), ONP's stalwart Backcountry Carpenter, began repairs of Anderson Shelter in 2007, and plans to complete them by 2008.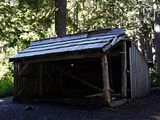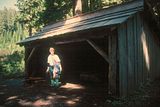 Photo 1 Camp Siberia (Anderson Pass) Shelter. Photo by Hesmeister in 2011 from NWHikers.net
Photo 2 Anderson Pass Shelter by RodF at NWHikers.net in 1994


From "Historic Building Inventory Olympic National Park Washington" by Gail E. H. Evans

Constructed around 1934, the Anderson Pass Shelter is one of scores of trail shelters built by the U.S. Forest Service during the 1930s, during their administration of much of the public land on the Olympic Peninsula. Unlike many Forest Service built shelters that were typically constructed in low land valleys, Anderson Pass Shelter was among the few erected at a high elevation. Anderson Pass Shelter stands at a pass separating the Quinault and Dosewalllps River drainage areas. According to former Park Service employee Jack Nattinger, Anderson Pass Shelter was built slightly larger than most other shelters on the peninsula so as to provide protection for a greater number of people against inclement weather. The U.S. Forest Service, who has jurisdiction over much of the area now, included in Olympic National Park from 1905 to 1933, initiated shelter construction in the late 1920's and the 1930's. Shelter construction coincided with a period of active trail construction by the Forest Service. Shelters were at first intended for use by crews building and maintaining trails and laying telephone lines for fire protection purposes. As part of the Forest Service's multiple land use management policy, trails and shelters served to encourage backcountry recreational use in the interior Olympics. In the 1930s, CCC corpsmen under the supervision of the Forest Service, accelerated shelter and trail construction activity. By the late 1930s, nearly 90 shelters stood on the Olympic Peninsula. The greatest abundance of shelters built in the 1930s occurred on the north and east facing slopes of the Olympic Range. During this initial period of construction, shelters were built primarily in lowland valleys along major rivers and creeks, and sited at locations where the fishing and scenery was attractive. In some instances (particularly along the Bogachiel River), shelters supplanted or augmented existing ranger or guard stations, or were constructed at existing popular hunting or fishing "camps" (especially along the Elwha River). Typically, shelters stood from three to five miles apart on established trails. Architecturally, these Forest Service built shelters dating from the 1930s were made from local materials obtained from the building site, were constructed of peeled-pole or split-cedar sheathed with cedar shakes, and were capped with gable or shed, cedar shake roofs. Shelters were three-sided, and roomy enough to provide several people protection from the inclement weather typical on the peninsula. Significant numbers of the late 1920s and 1930s Forest Service type shelters were taken down in the middle 1970s, and in 1984 fewer than twenty remain standing. Rectangular in shape it measures approx. 22' x 19'. It is one story tall, has pole wall construction with vertical board and batten siding; and has a modified gable roof with wood shakes and exposed log rafters. It has a horizontal log sill on a stone foundation with slat wood floorboards and bunk beds extends along rear wall. Alterations consist of residing of exterior walls and lying of a wood floor since the 1950s. It is siting in a wooded area near a stream and is almost at timberline.

SIGNIFICANCE

The Anderson Pass Shelter is not eligible for Ousting in the National Register of Historic Places. It was constructed during a historically significant period of shelter construction, during the U.S. Forest Service's administration of the Interior Olympic Peninsula, and is somewhat unique in its location and size. This shelter has undergone substantial alteration through maintenance performed by work crews since the 1950s. Original cedar shake exterior walls have been resided with board and batten siding, and wood flooring was laid on the original dirt floor. As a result, there is significant loss of integrity of materials and workmanship.






HOME SWEET HOME SHELTER
Click on photo to enlarge


This page is about the history of the Home Sweet Home Shelter and the arguments against replacing it with a new shelter. Elder Bob is not taking a stand for or against it. He is just presenting what information that is available to him about it. The pictures will show what it looked like through the years, what it looks like now and what it will look like in the future. If you have comments about the new shelter, then write to the Olympic National Park Service or you can send them to Elder Bob and he will post them on his E-mail page.

HISTORY

Constructed during World War II around 1941, the Home Sweet Home Shelter at the headwaters of Duckabush River tributary was erected after the creation of Olympic National Park, and post dates the Forest Service's active decade of shelter building in the late 1920s and early 1930s.

The Home Sweet Home Shelter is square in shape; measures 14' x 14'; 1 story high; peeled-pole wall construction with board and batten siding; modified gable roof sheathed with wood shakes; peeled pole rafters and purlins; foundation (?); no windows; open on one side. Alterations: original shake siding replaced with present siding, along with construction of wood floor, probably in the mid 1950s. Located on a slight sloping hillside in grassy clearing.

The Home Sweet Home Shelter is ineligible for listing in the National Register of Historic Places. The structure is less than fifty years old, being constructed in the early 1940s. In addition, there is considerable loss of physical integrity since board and batten siding replaced the original cedar shake walls, and work crews constructed a wood floor. In the late 1950s and again in the mid 1970s. Thus, the structure lacks integrity of materials, workmanship, and some design.

Map showing location of the shelter. Put your cursor over the pictures for a caption. Click on photos to see enlarged photo.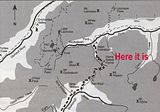 View of Mt. Steel from Home Sweet Home taken by Ira Spring.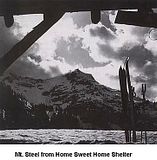 Photos of the shelter in the past.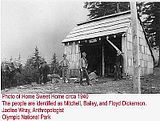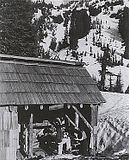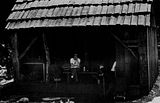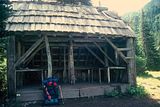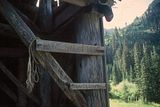 Home Sweet Home Shelter as of 1991 and 1992 - Recent photos from NWHikers.net by Don Abbott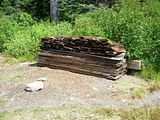 Home Sweet Home Shelter as of 2009 - Recent photos from NWHikers.net by Bruce.

Bruce stacked the wood from the shelter and it was still there an year later.


The shelter had collapsed some time after 1970. This picture shows the site of the shelter after it was gone. Photo taken by Ron Hayward.






There has been controversy surrounding the idea of replacing the shelter. A new shelter has been built and is now or will be in place. This picture shows what the new shelter looks like (The picture is of low resolution). The new shelter will not be moved to the old site. The opponents to it have won and the shelter has been dismantled with the parts being used for other projects.

CLICK HERE TO READ THE VARIOUS COURT DOCUMENTS GENERATED IN THE FIGHT AGAINST THE NEW SHELTER







Here are two articles from the Bremerton Sun on the new shelter.

OLYMPIC NATIONAL PARK
RESCUING the SHELTERS
Although these backcountry cabins can be a respite from mountain elements for hikers, some say they don't belong in the wilderness.
Seabury Blair Jr.
For The Sun
December 27, 2002

Picture this: You're plodding up a muddy Olympic National Park trail. Rain has pelted you for six hours, ever since you shouldered your 45-pound backpack. Wet and cold, you know that if you stop to rest you'll shiver uncontrollably. You've sweated so much under your high-tech, waterproof breathable parka and pants, it no longer matters whether they keep out the rain.

You began your hike yesterday, under a blue sky the stupid weatherman said would last five days. It would have taken just as long to walk out of the wilderness this morning as it takes to climb to your next camp at Low Divide, at the emerald meadow where the North Fork of the Quinault River is born.

You know you're close to Low Divide when you slog up to a stock gate and slip the wire holding it closed. The trail forks just beyond.

The trail flattens, meanders through a dripping, sub-alpine forest, rounds a guardian platoon of silver firs and yields a most welcome sight -- the Low Divide shelter. Its three cedar sides glisten like wet pewter in the rain. Its plank floor, table and four bunks are the first dry things you've seen all day.

Here, in the midst of this moist, mossy green refrigerator -- a day's slog from any other man-made structure -- is a haven of comfort and warmth. It is a place where you can dry your clothes, drink hot chocolate, tell lies to your hiking companions and wait in toasty luxury for the sun.

But if you arrived today, you would find winter has crunched and mashed your retreat to the ground. You would huddle in the rain and fog in your tiny tent through a night you might later describe as "character-building."

A brand-new shelter waits in a storage area near the Elwha River ranger station west of Port Angeles for a helicopter lift to Low Divide. While some Olympic National Park visitors will welcome the arrival like a visit from Santa, others see backcountry shelters as an intrusion and blight upon the wilderness.

These primitive, wooden structures violate the intent and spirit of the Wilderness Act of 1964, argue local groups like The Mountaineers and Olympic Park Associates, or national organizations like The Wilderness Society. More than 95 percent of Olympic National Park has been designated as wilderness under the act, and the organizations say shelters don't belong in the wilderness.

Sequim author Tim McNulty, whose works include "Olympic National Park -- A Natural History," says the most intrusive shelters are those in alpine or sub-alpine areas. McNulty, a Mountaineer and member of Olympic Park Associates, says shelters are magnets that attract humans who trample and destroy the wild country that the act is designed to protect.

McNulty speaks for Olympic Park Associates, a regional conservation organization that usually supports park programs. This time the organization is opposing a park plan to replace both the Low Divide shelter and its twin at Home Sweet Home at the headwaters of the Duckabush River also destroyed by the winter of 1998-99. "We don't think flying in shelters is appropriate or necessary," he says. "The two shelters in question are gone, both destroyed by heavy snow -- and the park is calling their replacement 'maintenance and repair.' That raises questions under the Wilderness Act."

The two new shelters were hand-hewn by carpenters Jim Wesley and Don Tinkham of Port Angeles with volunteer help that included a contingent off the U.S. Coast Guard ship Active. The buildings are supposed to replace the two historic structures within the park under the authority of the National Historic Preservation Act.

Paul Gleeson is the Olympic National Park archaeologist in charge of determining which of the more than 100 structures within the park's wilderness area qualify as "historic structures." He has determined that 16 backcountry shelters should be replaced or maintained. Seven others are still to be evaluated.

All of the shelters are at least a half-century old. The Low Divide and Home Sweet Home shelters were built long before Olympic National Park was created in 1938. Gleeson says his criteria for determining historic structures included considering the Wilderness Act.

Shelters, he says, are an organic part of the Olympic wilderness. He quotes noted naturalist Aldo Leopold.

"He said, 'The first step of intelligent tinkering is to save all the parts.' We started with 120 or 125 'parts,' " Gleeson said, "and we're going to try to save 22 or 23." McNulty says he and the group he represents have no quarrel with determining which historic structures might be compatible with the Wilderness Act. Instead, they've asked the park to delay the shelter replacement program until the public can review the plan. McNulty says his group has been unable to get any estimate of how much the shelter replacement will cost. Park archaeologist Gleeson says it is difficult to make an estimate, since all of the figures aren't yet available and the cost of transporting the shelters could change.

But it is certain that building and replacing the shelters will easily run into the tens of thousands of dollars -- and the shelters still must make the list of historic structures. That's done under the Historic Preservation Act.

"A nomination form has gone from Olympic National Park to the National Historic Preservation Office," McNulty said. "It contains more than 100 structures, including shelters, and there are several on the list that we have concerns about." "What's interesting is there are some places in the park -- like Humes Ranch on the Elwha (already on the National Register of Historic Places) -- that are falling apart. Why this big rush to spend a lot of money to fly backcountry shelters into the wilderness when truly historic structures are being ignored? "There's no answer to that."

Barb Maynes, the park's public information officer, says that maintaining all of the park's historic structures is important. Shelters are falling apart, too, "and to ignore them would be -- what's the word? -- Benign neglect."

Unless park officials reconsider or delay the shelter program, two new shelters -- replicas of their historic ancestors -- will be helicoptered to their new homes at Low Divide and Home Sweet Home sometime next fall.

Perhaps you'll be one of the backpackers to find autumn comfort from the cold and rain in one of them.

Seabury Blair Jr. is a contributing writer to The Sun. Reach editor Ed Friedrich at (360) 415-2679 or at efriedrich@thesunlink.com. ooo

Shelters to be replaced, evaluated

The backcountry shelters Olympic National Park plans to replace and maintain as historic structures includes:
o Happy Four and Olympus, 5 and 8.5 miles, respectively, up the Hoh River Trail.
o 15 Mile, Hyak and 21 Mile, 15, 18 and 22 miles up the Bogachiel River Trail.
o Two shelters at Deer Park, above Port Angeles.
o Elkhorn, about 12 miles up the Elwha River Trail.
o Three Forks, 5 miles down the trail from Deer Park.
o Pelton Creek, 11 miles up the Queets River Trail.
o North Fork, 9 miles at the end of the North Fork Sol Duc Trail.
o Graywolf Falls, 5 miles up the Graywolf River Trail.
o Anderson Pass (also known as Little Siberia), 10 miles up the West Fork Dosewallips Trail.
o Home Sweet Home and Low Divide.
Shelters still to be evaluated as historic structures include:

o Trapper and 12 Mile, 8 and 11 miles up the North Fork Quinault River Trail.
o Bear Camp, 10.5 miles up the Dosewallips River Trail.
o Two shelters at Glacier Meadows, 16 miles up the Hoh River Trail below Mount Olympus.
o Wilder, about 19 miles up the Elwha River Trail.
-- Seabury Blair Jr.

Choppers will transport new shelters
Seabury Blair Jr.
For The Sun
December 27, 2002
How do you airlift a 23,000-pound log shelter 46 miles into the wilderness?

Very carefully, indeed.

Each of the buildings will be attached to a twin-rotor Chinook helicopter by a 1-inch steel cable. The cable will be connected to the shelter by four massive bolts and cables. The board sides of the shelters will be removed and placed inside the frame to reduce wind resistance, along with the shakes for the roof and 6-by-6-inch cedar nailers. The whole thing will be picked up and flown to the site.

A Chinook will be running low on fuel after it totes an 11-ton load 46 miles to Home Sweet Home from the Elwha ranger station.

The Low Divide shelter will be slightly easier. It's about 37 miles from the ranger station to the divide.

Jim Wesley is the Olympic National Park carpenter who with Don Tinkham and a crew of volunteers built the shelters with century-old techniques used to raise the structures they'll be replacing.

The shelters were constructed with fir frames and cedar shakes. Details such as posts for hanging wet gear and gracefully curved Alaska cedar beam supports demonstrate the carpenters' art.

They were built with materials outside of the park's wilderness to limit impact at the site, according to park archaeologist Paul Gleeson. Remains of the collapsed shelters will be removed and the new structures placed on the footprint of the old buildings.

The original plan called for using military choppers as training for crews to lift the shelters, but the events of September 11th changed all that. Delays a year later were the result of a demanding fire fighting season for helicopters capable of lifting heavy loads like backcountry shelters.



Hear is a notice about a hearing on the replacement of the shelter by the park service.


OLYMPIC NATIONAL PARK
National Park Service
Department of the Interior


NATIONAL PARK SERVICE
Olympic National Park
600 East Park Avenue
Port Angeles, Washington 98362-6798

November 1, 2002
Dear Interested Party, Olympic National Park is preparing two Environmental Assessments (EAs), both involving proposals to rehabilitate or replace structures in the park's backcountry wilderness. We are interested in your thoughts and concerns about these proposals, and the range of issues you think should be considered. Your input will be used during development of the two Environmental Assessments, which will examine and analyze impacts associated with each proposal along with alternatives to these proposals.
1.) Rehabilitate Two Storm-Damaged Historic Shelters Olympic National Park is proposing to repair two storm-damaged historic shelters in Olympic National Park's backcountry wilderness. Both the Low Divide shelter and the Home Sweet Home shelter failed due to extreme snow conditions during the winters of 1998 and 1999. These two shelters were built in 1935 and have both been determined to be eligible for the National Register of Historic Structures. According to National Park Service Management Policies, "Historic structures damaged or destroyed by fire, storm, earthquake, war, or any other accident may be preserved as ruins; be removed; or be rehabilitated, restored, or reconstructed in accordance with these policies." Similarly, the Park is responsible for protecting and preserving the character of the wilderness, and determining tools that will cause the minimum disruption and have the least impacts on wilderness character and resources. With those considerations in mind, Olympic National Park is proposing to rehabilitate the fallen historic shelters by transporting two completed replicas via heavy lift helicopter to Low Divide and Home Sweet Home in August or September 2003, depending on helicopter availability. To minimize impacts to the Olympic wilderness, the two shelters were built outside wilderness boundaries in the park's Elwha utility yard using purchased materials rather than native materials. Historically, park structures were often repaired by using native materials in the local vicinity, causing more long-term damage to natural resources and wilderness character. Another alternative under consideration is to disassemble the replica shelters into smaller pieces that could be easily transported by smaller helicopters, to reduce noise impacts to Threatened and Endangered species. The pieces would then be reassembled on site. A third alternative would involve using native materials on site. The "no action" alternative would consist of not replacing the shelters.
2.) Replace Two Storm-Damaged Trail Bridges
....................(omitted due to no relation to Home Sweet Home)

Please send your comments no later than December 6, 2002, to the park's Planning Coordinator at Olympic National Park, 600 East Park Avenue, Port Angeles, WA 98362, or by email to olym_ea@nps.gov. If you have questions about these proposals, or would like to learn more about either or both of them, please call (360) 565-3009. I look forward to hearing from you.

Sincerely,
David K. Morris
Superintendent



The following is from a website by a group in California against the placement of the new shelters.

http://www.caluwild.org/
Californians for Western Wilderness

November 26, 2002
Dear CalUWild friends -

This Fall there is a lot to be thankful for. At the top of the list are the magnificent wildlands around the West, and the citizens movement that has grown up to protect them, which grows stronger every day. Evidence of this is that the Clark County, NV wilderness bill, discussed in the October UPDATE, was signed as expected by Pres. Bush. Also, the first segment of the California Wilderness bill has passed both the House and Senate in Washington (see Item 3). British Petroleum today announced it was withdrawing from Arctic Power, an industry lobbying group seeking to open the coastal plain of the Arctic National Wildlife Refuge to oil development. Finally, Rep. Jim Hansen's Title XIV, containing language undermining the 1964 Wilderness Act, was left out of the final version of the Defense Authorization Act (see Item 1).

None of these could have happened had it not been for citizens getting actively involved. Of course, the elections three weeks ago will likely make it a bit more difficult to protect wilderness and other public lands around the country. As you know, the House remained under the control of the GOP, and they regained control of the Senate. However, the Senate is not filibuster-proof, so there is room for optimism that we won't lose on some important issues.

This portion omitted because it covered other matters.

Reminder: dues to CalUWild are not tax deductible. For a tax deductible contribution, please make your check payable to Resource Renewal Institute.

Happy Thanksgiving!

Mike

This portion omitted because it covered other states.

IN WASHINGTON (STATE)
6. Olympic NP Rebuilding Huts in Wilderness Areas
DEADLINE: December 6
(ACTION ITEM)
The following alert comes from Wilderness Watch:
Olympic National Park officials propose to fly two newly constructed shelters into subalpine meadows in the heart of Olympic's magnificent wilderness. One will be dropped on Low Divide, the other on Home Sweet Home meadow. The shelters are built, the sites cleared, and funding for heavy-lift helicopter flights is in hand. Now park officials want to know what you think.

Park officials view the forest service structures as cultural treasures, more significant than the wilderness the are charged to protect. They have announced that they will issue an environmental assessment (EA) on the shelter "rehabilitations." The EA will consider a range of options, including removing the remains of the two old existing shelters (they collapsed due to winter snows).

WHAT YOU CAN DO
Write or email Olympic National Park. Tell park officials to adhere to the Wilderness Act by removing these and other dilapidated Forest Service shelters or allowing their remains to recycle quietly into the ecosystem.

POINTS YOU CAN MAKE:
- Issues that seriously impact wilderness values should be determined by a Wilderness Management Plan with an environmental impact statement, subject to full public review (14 years after designation, Olympic still lacks such a plan).
- New construction is not "rehabilitation" or "repair", especially in wilderness.
- The park needs to demonstrate precisely the overwhelming cultural significance of these structures that cause them to trump wilderness protection.
Remind the NPS their TOP priority should be protecting Olympic's spectacular wilderness, not building bureaucratic legacies.
The deadline for comment is December 6, 2002.
Please email or write to the following address:


olym_ea@nps.gov
or
Planning Coordinator
Olympic National Park
600 East Park Avenue
Port Angeles, WA 98362


This portion omitted because it covered other states.

CLICK ON THIS LINK FOR A DESCRIPTION OF THE SHELTER AND THE AREA AROUND IT




FLAPJACK LAKES CHALET
Click on photo to enlarge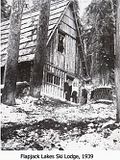 Photo by Ira Spring


Flapjack Lakes got its name because there are two lakes side by side of the same size and from above appear to be a flapjack that has been flipped over. I remember my first trip to the lakes in the middle of the 1950's. It was my first hiking trip when I was in the Boy Scouts. At that time it was a 4.5-mile hike from the road. I found out later that I had my backpack frame on upside down and one of the wooden cross bars was broken (yes, in those days the backpack frames were made of wood). I was unable to reach the lakes by daylight and decided to sleep on the trail because I had no flashlight. Another scout came by who did not have a sleeping bag with him. We spent the night on the trail sharing my sleeping bag. The next morning we finished the hike to the lakes. The lodge was still there and in good shape. It was built of a combination of logs and planks. The floors were planks and there were glass windows and doors.

The lodge was originally supposed to be a ski lodge and they were going to make the area a backcountry ski area, but found the terrain was not suitable. A group built it that was from Bremerton, WA prior to 1940. The book "An Ice Axe, A Camera, And A Jar of Peanut Butter" by Ira Spring describes how the lodge was built and how they got the material up to the site. In one story he tells of leaving an expensive camera there and it was close to winter. He was afraid he would not be able to go back later, so he drove back at night, raced up the 4.5 miles in about an hour, got the camera and raced back down.

I remember sleeping on the second floor because it seemed to be a neat idea. Sort of sleeping on the top bunk when I was a kid. But as people become adults, it is more practical to sleep on the bottom bunk. When I was there, there was also a shelter similar to the one at Home Sweet Home. According to the book on Historical Buildings in ONP, they are both gone. They said a tree fell on it in the late 40's and the park service tore it down when the area became part of the National Park. I think the date may be wrong. I remember it well from the trips we took up there with the scouts prior to 1959.

According to the book, Olympic National Park Historic Resources Study by Gail Evans, there were many structures throughout the park. Old miner's cabins, hotels, homesteader cabins, etc. There were many ranger stations and fire lookouts. Also telephone wire running all through the park. I remember the wire. Also tells of attempts by the WPA to build roads through the park and how some of the trails follow the old roadbeds. It had a story about how StairCase got its name. There was actually a staircase to get over a difficult part along the river. Then they made a new trail down below along the river and the staircase disappeared.

Here is a photo taken from the shore of the lower of the two Flapjack Lakes. The view is looking toward Gladys Divide. Photo courtesy of David M. Mullbock.

Click Here for information on the area and the trails.