MORA AREA
STARBUCK CREEK LOOKOUT CABIN
Click on photo to enlarge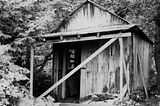 From "Historic Building Inventory Olympic National Park Washington" by Gail E. H. Evans

The U.S. Coast Guard during World War II constructed the Starbuck Creek Lookout Cabin as part of the Northwest Sea Frontier coastal lookout system. This defense patrol system, which was instituted in the Atlantic Gulf and-along the entire Pacific coastline, was established to prevent enemy (primarily by the Japanese) land, or air invasion. By June 1942, the coastal lookout system, consisting of a-series of lookout stations, lifeboat stations, and beach patrols, was substantially complete. For organizational purposes the entire Northwest coastline was divided into sectors. In the fall of 1942, the Port Angeles sector of the 13th Naval District established a Coast Guard station at the north end of Ozette Lake, one-mile inland from the Pacific coast. Soon after their arrival at Ozette Lake, guardsmen established ten beach patrol outposts and three coastal lookout "towers" located at regular intervals along the coast between Shi Shi Beach and Cape Johnson. The cabin near the mouth of Starbuck Creek is believed to be one of the three "lookout towers" in the Ozette Lake section of the coastal lockout system. In 1940 Public Works Administration monies were authorized for the purchase of fifty miles of coastal land, including the Starbuck Creek area. In 1953, this entire coastal strip was added to Olympic National Park. At various times since World War II, the Park Service as quarters probably used the Starbuck Creek Lookout Cabin for seasonal employees. Within the coastal strip of Olympic National Park, this structure is the only known cabin associated with the World War II beach patrol that is still in existence. Rectangular in shape; measures approx. 8' x 10' with 4' porch off west elevation; 1 story; wood-frame wall construction with board siding, probably from beach; gable roof with wood shakes; post and pier foundation; window cut into wall with no trim; no door; interior board floor. Alterations: board siding has been replaced through time. Siting; on bluff overlooking Washington coastline.

SIGNIFICANCE

The Starbuck Creek Lookout Cabin is ineligible for listing in the National Register of Historic Places. Constructed around 1942, the building is less than 50 years old. In addition, there is evidence that some alterations to the exterior may have taken place over the years. Historically, the building possess substantial significance because of its association with coastal lockout system on the West Coast of the U.S. during World War II. It is the only known coastal lockout station associated with the World War II U.S. military defense efforts that is still in existence in the 50 mile coastal strip of Olympic National Park, and possibly on the entire Olympic Peninsula. In 1992 the structure may be deemed eligible for the National Register.