PARK HEADQUARTERS
Click on photo to enlarge
| | | |
| --- | --- | --- |
| Local stone, quarried and transported by CCC men, was used to construct the administrative buildings for the new Olympic National Park. In 1983, the gas and oil house is one of several Park administrative buildings that stands little altered since their 1940-1941 construction. (Photo by M. Stupich, courtesy of National Park Service, Pacific Northwest Region) | | The CCC, PWA, and WPA combined efforts to construct several buildings in the administration area of the newly created Olympic National Park. In August 1940, the headquarters building was under construction. (Courtesy of Olympic National Park) |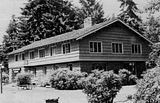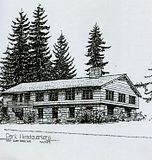 From "Historic Building Inventory Olympic National Park Washington" by Gail E. H. Evans

The Administration Building is one of six buildings constructed at the headquarters site, soon after the 1938 establishment of Olympic National Park. All six original buildings on the site were constructed with assistance from three Sew Deal programs created by President Franklin Roosevelt: the PWA, the WPA, and the CCC. Excavation of the Administration Building site began in the fall of 1939. CCC enrollees hauled native stone from the nearby Tumwater Creek quarry to the headquarters site for construction of the exterior walls of the lower story of the building. In April 1940 Superintendent Preston Macy estimated the building was twenty-five percent completed. Work on the building was delayed temporarily during the summer of 1940 due to exhaustion of PWA-allotted funds. By the fall of 1940, however, the building was far enough along for occupancy. Since late 1940 the Administration Building has served as the park's administrative headquarters, housing the offices of the superintendent, assistant superintendent, and the chiefs of all the park's administrative divisions. Rectangular in shape; measures 46'6" x 87', P-story, masonry and wood-frame wall construction; coursed stone and mortar exterior walls on ground floor, wood shakes on second floor. It has medium-pitch gable roof with wood shakes; exposed purlins at gable ends; exposed rafters; concrete foundation with daylight basement; double and triple sash casement windows. Alterations: no major changes known with interior room changes. Siting: approx. 75' from the south side of Park Avenue, with lawn and loop driveway on main facade and parking in the rear. Aged trees surround site.

SIGNIFICANCE

The Administration Building does qualify for listing in the National Register of Historic Places as part of the headquarters district. As part of the entire headquarters site, the building is historically and architecturally worthy of National Register listing.