DOSEWALLIPS TRAIL HISTORY

Restoring the Historic Dosewallips River Trail
Google capture of http://www.brinnonprosperity.org/focusitem_dosetrail.html


Supporters of restoring the washed-out Dosewallips River Road are also taking the initiative on restoring the historical Dosewallips River Trail. Opponents to the rebuilding of the road have expressed the desire to see a trail that would be for hikers only. This plan to restore the existing trail is a positive opportunity to create an exciting day-hike along the south side of the Dosewallips River, while the Dosewallips River Road repair offers continued access to those who cannot make the hike, such as the handicapped, elderly, or those who have limited time or small children.

If the trail could be built from the Forest Service bridge (located at 10 miles) to join the old trail, it would open up all of this Muscott Basin, Wildcat Lake country to the divide between the Duckabush and Dosewallips. The old trail is in surprisingly good condition for having been abandoned over 70 years ago. Some areas are over grown, but in many places it is quite serviceable.

Ira Spring, world-renowned outdoor photographer, wrote that "Every year some natural disaster such as the West Side Road at Mount Rainier and the Dosewallips in the Olympics temporarily, if not permanently, reduce the available trails, and there is no chance that new trails will be built for the foreseeable future." This proposed rebuilding of the Dosewallips River Trail is a positive answer to the need for new, exciting trails into the Olympics. It is a wonderful way to address the very issue Ira Spring sites in his letter. There have been no new trails added to the National Parks in Washington for years, so we will be honoring his concern as well as the early Foresters who blazed this trail a Century or more ago. It might be that Teddy Roosevelt himself had used this trail, it was the only way in there, and you know how he loved hunting Roosevelt Elk.

History of the Dosewallips River Trail

The following is an account by Vern and Ida Bailey, February 12, 2004




The Creation of the Trail: 1913? - The trail was first created sometime around 1913, and included the construction of two bridges, known as the Lower Jump Off and the Upper Jump Off. Since the Forest Service has no record of when the Jump Off bridges were built or when they were removed, we can only come up with tentative dates. Until the bridges were built it was not possible to go beyond the Jump Off with horses. The old Jump Off trail was built along where the road was later blasted out of the cliff. This cliff is where Mt. Constance soaks a foot in the Dosewallips River. This trail was treacherous, part of it built on poles hung from trees or whatever could be found for support. The bridges were probably built during the time that G. A. Whitehead was district ranger about 1913 or 1914. Sometime in the mid or late 1930s the Forest Service removed the bridges as they were declared unsafe.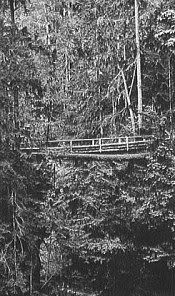 After the bridges were gone, we were able to cross the river on a huge log that had lodged above the falls. Thus we could reach the old trail and take the trail to Muscott Basin and Wildcat Lake. Dr. Muscott was shot while prospecting in this basin that bears his name. He was wearing tan colored clothing and was down on hands and knees studying a rock formation. A hunter mistook him for a cougar.

A little history on Dr. Muscott: He came to Washington from New York in 1902. He became a well known physician and surgeon at Anacortes and Friday Harbor. Shortly before coming to Brinnon in 1910 he married a nurse from Friday Harbor. Besides his reputation as a surgeon, Dr. Muscott was well known as a sportsman and hunter. He was one of the first to advocate preservation by legislation of the big game of the state. He was also knowledgeable in geology and mineralogy.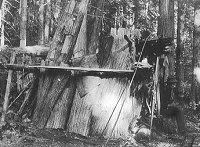 He and his wife came to Brinnon to hunt, fish, prospect and explore. They packed in over the old Jump Off trail to the beautiful flat beyond. Here they built a sturdy log cabin which they were only able to use those two seasons. Later the cabin served as a Forest Service ranger station. That area is known as Muscott Flat and is now the campground at the end of Dosewallips road. The park maintains a ranger station there as it is the trail head into the Olympics.

An interesting note: Clifford Bailey [age 96] of Quilcene called on us in February of 1998 to tell us that it was he that "located" the road through the old Jump Off trail. The Forest Service had hired him for $100 a month to locate roads. The CCC was doing the construction. They first intended to make a tunnel where they later blasted the road out of the cliff. The road was unfinished when the CCC disbanded. Later it was finished through Muscott Flat by Buck Mt. Logging Co. for the timber on the right of way.

Reconstruction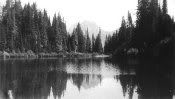 The Rebuilt trail would follow much of the same path as the original, starting at the 10-mile bridge, cutting south across the Dosewallips River, then running west in parallel with the river until it finally cuts back north across the river, to rejoin the Dosewallips River Road. Of course, the trail will allow access to the original trails that lead up to Wild Cat Lake and other areas.

A new bridge would need to be created, at the site of the original Upper Jump Off Bridge. Right now, on topographical maps, this location is marked on the trail with "No Bridge." The bridge at the 10-mile location is in fine condition, and has a large area supporting parking and easy access via the repaired Dosewallips River Road.

Maps