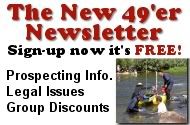 About Mike Higbee a.k.a. 49er Mike
I grew up in Bullhead City, Arizona just outside the Oatman Mining District. As a kid, our family went "rock hounding" a lot! As I got older I began doing some hard rock mining in Arizona and southern California. The first time I got on a "gold" river, I was hooked on dredging. Being an early member of the New 49er's in Happy Camp, California, I had some good teachers and dredged professionally for a few years. Our small-scale operation now brings us many hours of enjoyment. My wife Michelle and I like to get out and "scout" around as often as our business will allow us. With four kids and eight grandkids, we stay PLENTY busy!
I am privileged to be able to carry on the tradition with this great site that Tom Ashworth started. This is a place for miners to help miners and to be a sounding block to insure that future generations will be able to enjoy the great outdoors as we do now. My one goal is to focus our attentions on those that would do away with or harm the small-scale mining community and to NOT fight amongst ourselves. I hope you enjoy these pages and please come back often. If you have any questions please feel free to email me.
Regards, Mike
About Tom Ashworth
Tom was born in Birmingham, Alabama. He started prospecting for gold in 1978 using a home built wooden sluice box and a gold pan. He didn't know much about mining back then, but had a lot of fun and caught a very bad case of "GOLD FEVER". In 1982, using a 3" Keene gold dredge on the Gunnison River in Gunnison, Colorado, Tom got started dredging. That dredge was used for many years in some of Colorado's and California's best prospecting areas. Tom also dredged or prospected for gold in the following states; Alaska, Alabama, Arizona, California, Colorado, Georgia, Maine, New Hampshire, Nevada, New Mexico, North Carolina, Oregon, Texas, Vermont and Washington. Tom's motivation for this site was to try and help others, so they will enjoy prospecting. I share his feeling that if we get people involved in our hobby, then maybe it has a chance of survival. After dredging for gold with his wife, Debra, at least 3 days a week in Oregon and California during the months of May, June, July, August and September, Tom has decided to rest a bit. I'm sure we'll see Tom and Debra on the "river" again in the future.