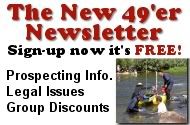 GPAA GOLD LOCATIONS IN
INDIANA
I started this page on November 1, 1997 and it is growing and you can help by sending information that you have about a gold claim information to me. This will be an great research tool in the future, so book mark this page!
Jelly Stone Creek
LOCATION
TOWNSHIP, RANGE, SECTION:
USGS TOPOGRAPHIC MAP:
RIVER OR STREAM: Montgomery Creek
COUNTY: Henry County
STATE: Indiana
DIRECTIONS:
One mile north of I-70 on Indiana state road 109. Turn right into Jellystone Park, .25 mile check in at ranger station.
REPORTS:
by: Michael Bonne
Located on private property, a full service campground makes this a great place for families or staying a few days. I have found flour, dust, flakes, pickers, and a tiny nugget. Stream is year-round, fast enough to sluice. The geology is a modern stream in an old glacial sluiceway, draining off the terminus of the Knightstown Moraine. A brand new GPAA listing for 1999, most panners surveyed on site get color, usually dependant on experiance level, and all are coming back that I talked to.
This is a full service campground with pool, store, etc. There is a visitor fee if not camping. Dredges limited to 4", panning and sluicing OK. No working the banks. Call (765)737-6585 or (800)IGOYOGI for customer service or reservations.
PROSPECTS:
Glacial gold in fines, flakes and pickers reported.