I was awarded the rare finds award by rockhounds.com.

I was voted as Lost Treasure Magazines Site of the month for January 2000.

I was awarded daily web site on April 20, 2000. This award is given for unique web pages.
http://dailywebsite.com/website/apr00/042000.html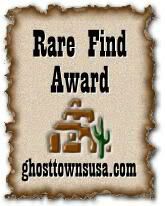 I was awarded this award on June 22, 2000, they have a great site with lots of great information too!
http://www.epubliceye.com/
Mike Higbee's Prospectors Cache is a Secure Web Site Certified by Public Eye on 7/01/2000. If you have purchased something from us and would like to comment on our service or if you would like to see the comments about our service you should visit this site. If I had anything to hide, I would not tell you to go check me out. heh heh