Enchanted Valley and the Chalet:
Created by Frank Shipley - Page retrieved from web archive
Here's the Chalet Pic Page Thumbnails:
To see full size picture:
Double click on image, or
A. Netscape 4.0 users right click on image and select View Image
B. Can't help Microsoft Explorer users for a variety of reasons
C. Don't know about AOL users so you're on your own
1. Breaking out of the spruce and fir for the first valley view.
.

2. Within two minutes there was Sarah going out for trail maintenance


3.. Crossing East Fork the easier way than fording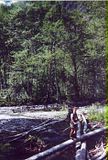 4.East View up the Enchanted Valley looking at West Peak.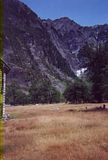 5. South Face of Chalet built in the 1930's and renovated in the 80's. Housing for the Park Personnel and SAR base and also emergency shelter for the hikers on the north side of building. Note the waterfall cascading 400+ ft to the right of the building.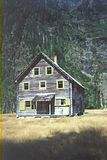 6.YT tourista "I WAS there pic"...looking East up the Enchanted Valley with West Peak in background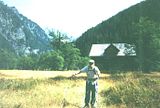 7. Second "I was there" and saw Sarah the Park volunteer at the chalet, her base of operations for the summer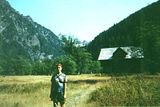 . Additional views of the valley.