The American adventures of a Welsh Professor
Mark Ratcliffe
Fall 1992 - Summer 1993
The following personal report describes the adventures that I experienced during my stay in the Pacific NorthWest. Almost without exception, these trips were organised by the Outhaus at the University of Puget Sound.
I feel so lucky to have seen such beautiful places in the company of such wonderful people.
It was a fantastic year
Sunday 13 September
Today I have been on my first outing with the Outhaus - it's a group of students who every weekend organise a different kind of event to enable other students to appreciate the wilderness. Today we did one (I guess there must be hundreds) of the Olympics. This is a large peninsula just covered with mountains, the interior of which you can only get to by foot.

The Olympics were all I had heard they would be. They were magnificent. We left Tacoma at 7am and there was not a cloud in the sky ( not unlike the last few days). Driving into the Olympic area was just fantastic and we soon left our cars and headed for the trail. The first part was through woodland, which though not a part of the rain forest was typical of the photos I had seen - lots of moss dangling everywhere. Eventually we were high enough to look towards Tacoma & the Cascades. They were shrouded in cloud all apart from Mt Rainier which just drawfs the surrounding area. Every time I look at it I hope that it doesn't erupt!

Eventually we passed over a ridge and at this point were able to see the southern Olympics - free of cloud and every bit as magnificent as in the glossies. Further up again we passed over another ridge and could then see the higher norther area - though much of this was covered in cloud. The view was just staggering - it is impossible to describe other than to say I haven't seen anywhere quite like it. Sitting at the top in just shorts & Tshirts we were surrounded by little chipmunks all wanting food, unfortunately we were not allowed to feed them. Then it started to get cold so we put on extra layers and within 10 mins it was starting to snow - like a sun shower!

On the way back we passed through meadows with lots of flowers and different fruits. I assumed they were poisonous but was told different and they were really lovely. There were lots of birds - like a cross between a budgie and a blackbird - and they were so tame that they would land on any outstretched hands. Todays climb was only to 6000 (Mt Rainier is 14000 + and I hope to do that sometime soon).

And now to work.

Last week the new President was inaugurated and it was quite an event, with a free campus wide picnic lunch and then a barbeque after the ceremony.


Sunday 20 September
Today we (Jesse, Ilan, Andrea & me) did goat rocks. This is an area classified as a national forest wilderness area. It is south of Mt Rainier - the huge volcano which dominates the area. It took us about 2hrs driving to the area and then about 1/2 hour up what we would call forestry commission tracks. Eventually we reached the start of the trail - about 3900ft and it was pouring with rain. This was to turn out to be my first real experience of Tacoma rain.

Once again the scenery was fantastic. We walked up a very steep path for the first few miles going through forests with the trees draped in lichen - this looked like the scene of a horror movie, enhanced with the heavy mist. The trail really was in excellent condition - a narrow path just winding up through the trees. If you have any air plants at home - I saw loads today growing wild - some with dead flower heads about 3ft tall.

There are few visitors to this area of the Mt Rainier region and those that do take the trails never leave any litter. It's a pleasure to see how well everyone respects the parks. Anyway, we continued up above the tree line and entered some really lovely alpine meadows. The colours were fantastic yet at this time of the year most of the flowers have finished. The air was so fresh and had a scent of the herbs and pine - enhanced with the rain.

Well we didn't see much else other than noticing the weird moonscape like surface in some areas. We guess this is the result of the St.Helens explosion. We kept on going to about 7000' and then dropped down to Goat Lake. Again this is supposed to be really lovely. We could just about see about 30ft of it! Today we just got very wet but we had gone well prepared. With about 5 layers of clothing on - together with woolly hat and gloves I didn't get cold. I'm learning to cope with the extremes, though carrying my suncream to the top was a bit excessive today.

Well next week is supposed to be Hoh River in the rain forest (and camping out - soggy sleeping bags) - until then it's a daily 5.30am start to get my lectures up to scratch.

Sunday 27 September
It's all beginning to feel like a real adventure and Mondays -> Fridays just give me time to heal and have a rest (physically at any rate). This weekend I went on my first rock climbing adventure. We set off to a place called Leavenworth, which is on the other side of the Cascades. When we left at 7.30 yesterday morning it was raining in Tacoma but by the time we had crossed the Cascades and entered a more arid region, the sun was shining. We headed for our first rocks. I looked at the slope and thought yep, I can manage those. Trouble was that I was looking at the wrong rocks.

We had four ropes set up on different rated routes (12 of us including 5 instructors). I was really terrified going up the first one - especially once I got to the top and had to belay down. The first few seconds are the worse while I worry if my partner has control. After that it began to seem like fun. I managed all the slopes including one where I had to wedge my hands and feet into a crack and force myself up (needless to say my knuckles are a different shape to normal today!). The real fun bits where doing self-repels (Kind of absailing I assume) down a rock face without having first climbed up a route ( I walked up the back). As we were setting up I passed a different group who had their ropes tied to a tree - I didn't think that looked very safe until I saw what ours were ties to - it was something like the cantilever on the Glyders.

Saturday night we went into Leavenworth - its a pseudo Bavarian town and it was party night. In addition to all the Bavarian music we had two renditions of the birdie song (thanks to Betsy, Jen, Era, Kim and Jesse)- needless to say we all had a good time (of course there is no alcohol allowed on College trips but the spirit(!) is just the same.) We then returned to our campsite, left the tents in the car and slept under the stars. It was fantastic - I have never seen such a clear sky.

This morning we walked to another rock situated in unbelievably beautiful countryside - better than any poster I have on my wall! Huge mountains, snow capped, wide river less than 100 feet away, autumn colours like I've never seen and clear blue sky. I managed the climbs and then we came back - worn out, dirty and all ready to start on my assignment marking! Once again the sun is out in Tacoma with temperatures in the 70's.

As yet I don't know what's happening next weekend but I have a busy week ahead with more assignments and my first exams. The group project is going well. We had a great disaster last week just before meeting the client - I really enjoyed it! - it taught my group more in 70mins than I could in a week.

Monday 5 October
It's now 7.15 am and I've already prepared my first lecture and assignment. I thought I would drop you a line and let you know what exciting things I got up to this last weekend.

We left Tacoma about 4.00 on Friday afternoon aiming for the Olympics but heading for somewhere else! Eventually we arrived at the trail head just after dark in a very heavy mist. Once we found the start of the trail and had rallied up all the flashlights (4 between 12) we set off through the forest on a 3 mile hike. Needless to say we had a lot of fun especially as the batteries began to fade. Amazingly, it was a very warm night and we were walking in just shorts and T-shirts. We were told that the views were just magnificent - I was just grateful to be able to see my feet and the odd rock sticking out of the path.

We finally reached a clearing and set up camp - Two 4 man tents between us! Dinner was made up of Tacos and fried beans. We all agreed that it tasted like the best food ever even though we wouldn't normally give it to a dog. We then had to take out all smelly/tasty items - soap, toothpaste, deodorant (none of us had any of that anyway), etc. All this was then tied up a tree to save us from the bears. Somehow the tent arrangements got messed up so that the 6 biggest people(Ryan, Wyatt, Ilan, Elena, Courtney & me) were in my tent and the 5 smallest were in the other. We agreed to sleep on our left sides to maximise space. That worked for the first half hour. From then on, every time someone turned, we were all forced to follow. Whenever anyone slept on their back, then Ilan (the hike leader) got pushed out of the tent. By now it was raining very heavy outside. Opening the tent in the morning was amazing - the lake was only 50 yards away and looked fantastic - an eerie mist lingered over it with just the odd tree visible in the distance.

After protecting our breakfast from the chipmunks, squirrels and camp raiders (blackbird like birds) four of us set off up the rain forests. The rest of them intended to go for a swim! The forest was spectacular with huge areas (min 1000 sq yards) covered with thick moss. For half the trail we followed close to a dry river bed (no one ever leaves the trail, out of respect to the environment) and gradually gained height. It is impossible to describe the atmosphere within the forest as I have never seen anything like it before. The trees are so big. Those trees that have fallen recently are a very deep red. The older ones look more like a luffa material. We found the most enchanted waterfall all covered in moss - magical! Eventually we turned back and headed for the car. Another amazing trip.

I expected to have a quite Sunday so I started by marking last weeks exams and then did some lecture preparation. I then received a phone call from the Outhaus which after giving a rendition of 'morning has broken' invited me to go rock climbing. That was it for the day!

Now my hands are sore from climbing, my back is aching from the backpacking, my legs are stiff from the walking - As you can see a typical monday morning feeling. Next weekend is Mt. Pugh (I think)

Monday 12 October
This morning I'm shattered. We did Mt. Pugh yesterday.

It all started 9am on Saturday morning when 6 of us set off for a three hour drive to the Northern Cascades. Once again the sun was shining. Eventually we arrived at the Ice Caves. Off we went, following a long windy path, alongside a fly infested swamp (inappropriately called crystal lake) and through another spectacular wood.

Eventually we arrived at a clearing at the bottom of a very high cliff. At the bottom was, I thought, a small glacier with a few holes at the base. Little did I realise that this thing was huge and that the 'few holes' were massive arches - kind of cathedral looking. I had nothing against which I could judge the size. Not until one of our party ran ahead could I appreciate the huge scale involved. This was a very wet glacier and it looked as though it was melting very fast. Inside was just amazing - an ideal place for geographers to examine the different types of morraine. The whole thing was banded and the origin was fairly clear. It began as an ice field which then developed a stream running through it. Gradually over the years, the snow builds up on the roof and the stream eats away from below. I guess it eventually collapses and starts all over again.

We had our picnic lunch, did some sun bathing and then drove off to Mt.Pugh. Having parked our cars, we put on our backpacks and headed for the trail head. After three miles through dense forest we arrived at a beautiful lake (about 100 yards in diameter) and set up camp. Way above us (about 5200 ft), we could see the summit of Mt. Pugh. Our campsite was about 8 feet in diameter. Just enough for one tent. Oh no, not 6 in a tent again!

After cooking our dinner - spaghetti & sauce, we went down to the lake. It looked really enchanted as the full moon started to rise above Pugh and lit up the forests. The water looked lovely until I began to think about drinking it the next day! Sunday morning we woke about 8am to the sound of marmots and the camp robbers (the birds). Fortunately the bears had stayed away, hardly surprising considering our Tshirts and boots mouldering in the tents. I went to the lake for the water and then we had breakfast. Transferring our clothes into day packs, we set off up the trail. The first hour or so consisted of steep switch-backs through the forest; eventually we got above the tree line and entered the alpine meadows. After several thousand feet more we reached a 'pass' - more like an arete! - The view was now even more spectacular as we could see through about 270 degrees. The next stage was similar to Striding Edge - shear drops either side. Rocks down one side, a huge glacier the other. This was starting to get terrifying and I thought about Mark Lee's reassurance on an earlier dept trip - 'locally safe, globally insecure'. I was now globally insecure, locally insecure. Fortunately the trail improved and I survived.

The air was fantastic - the fragrances from the pines & alpines was just amazing. Eventually we reached the top - it was breathtaking. Huge mountain ranges in every direction, with no signs of civilisation anywhere. We had lunch, sun bathed for an hour or so and then headed back. We had been exceptionally lucky with the weather & visibility. On return to the campsite, I was forced to swim in the lake - I had been saying all week that if time had permitted I would have swam the week before. The lake was cold.

We arrived back in Tacoma at about 10pm. Next weekend: Lake Ozette & the ocean beaches. Sounds as though I might have a rest?

Tuesday 20 October
After five consecutive weekends of Outhaus trips I have been having a great time. I am getting fit and work is going very well. In order to keep my weekends free, I have to get up at 5am and rarely get home before 8pm, however this is a small price to pay for the kind of weekends I have been having. I thought they couldn't get any better, but that was before the fall break, Lagniappe weekend!


Saturday:
Along with 18 students, we set off on a 3 hour coach trip to Anacortes for the San Juan islands. This brought back mixed feelings as this is the place that my knee gave in during my summer cycling tour. However, this time I was on my way to Orcas island - the original aim of my tour but the place that I never reached. This time it was different, very different.

As we got off the ferry there was an 'all-american' yellow school bus waiting to take us to Camp Orkila. We loaded our backpacks into the small munchkin- sized (heavily padded) seats and all squeezed in the back. The bus set off over the most mountainous of the San Juans taking us to the north coast.

The camp was amazing - located adjacent to the sea, we had an 'open' cabin just five feet away from the high tide mark (eight feet from the low tide mark!). The cabin was like a big garden shed with a dozen bunks in - no glass in the windows and no door - more akin to an old western shack. It was neat! We sat there for a while and were thrilled to see a large school of dolphins crossing the bay. This was going to be a good weekend!

We had 15 minutes to unpack before the activities were due to start. First was the (very) high ropes course. This was located in the forest about one mile from our cabin yet still within the vast grounds of Orkila. I have never even seen a high ropes course, let alone attempted one. Basically it consists of an obstacle course some 40ft off the ground. First I had to climb a tree which then took me up on to a steeply inclined log - I had to walk along this without anything to hold on (all the time being protected by a safety line). The next obstacle was a wire bridge - not too difficult. Then things got hard. A long (30 yards) trunk, again without anything to hold on to. It's supposed to be good character building stuff - I don't know about that, but it certainly made my knees wobble. I got to the other end without falling but the next obstacle was even more difficult. It consisted off a single wire to walk along with single 'tarzan like' wires suspended above at 4ft intervals. My wobbling knees became a problem. First my knees wobbled,then the lower wire began swinging, then my hips started and then I was just swinging all over the place. Eventually I got my balance and reached the other end. Finally I reached the best part, a long zip wire. I hooked in, jumped off the platform, and went flying down the wire for about 200 yards. A great experience.

After dinner we went to light our campfire. At first, all 18 of us sat around a wet pile of logs. Two hours later with just five of us left, the fire began to burn without assistance. As we watched the waters across to Canada, we just listened to the water lapping up on the shore. A group of children on a 'sons and fathers' weekend at the camp where sailing little boats off the jetty. Each boat had a small candle to light it up as it drifted with the tide. I guess one father wanted his son's boat to be bigger and better than the rest - apparently he had used more glue than anyone else. Two or three minutes after launching it burst into flames, set alight some of the other boats and then headed for the jetty... Two hours later we could still see some of the candle lit boats drifting away.

Sunday morning:
It was so quiet at night, all I could hear were the waves gently lapping up on the shingle. The waters are all protected so it's usually pretty calm.

Woken to the sound of the waves and Kelly's wake up call, we had an early breakfast and headed for the two man kayaks. (kayaking (US) = canoeing (UK) and vice versa). I sat in the front while Kris, one of our leaders, sat in the back. She did all the steering via a rudder connected to her foot pedals. I found this frustrating cos she could decide where to go! At first, all eight boats headed for a nearby island. Half way across the channel a water plane came in to land - it had come to collect one of the fathers - fortunately all the kids were about to go home. The plane narrowly missed our group and generated some interesting waves. At this point, the Dean and his son, lost control and started to go in the other direction - very fast! The wind was picking up and our trip was curtailed.

The Dean was rescued some time later on the other side of the bay! Now for archery - that was fun though most of my arrows went up into the trees, off to the left, off to the right or into the floor. Eventually I got one within three feet of the target - I guess I'll never be a Robin Hood! While everyone else collected their arrows from the targets and surrounding hay stacks I was off in the woods hunting through the bushes. I didn't find/couldn't reach very many.

After lunch we went kayaking again. This time the sun was shining so we headed up the coast for about 3 or 4 miles. It was spectacular. This time I was in the back and in control (kind of). Actually we spent much of the time going to the left or right depending on which leg I was stretching at the time. The water was so clear that we could see multi coloured starfish on the rocks some 10 feet below. Then we saw a sealion. Mike and I went in search of it and moved away from the rest of the group. Eventually it popped up between us looking at the other boats. When it realised how close we were, it disappeared very quickly. Several hours later we returned to our own bay and circumnavigated the little island, eating seaweed when we could find it - quite nice too!

After dinner, more archery and then we went off to the climbing wall. This was a huge construction built in a barn on the camp. We spent a good few hours climbing and then returned to our cabins for some rest.

Monday morning (fall break), we spent the time on the climb wall again and then were forced to pack up. We thought about hiding away on the island but guessed that we couldn't live on seaweed. Reluctantly we returned to the bus, caught the ferry and returned to Tacoma.

Now I'm back in work preparing lectures....

Monday 26 October
Well I guess I found something more exciting. I was intending to go to Ape Caves but that was a one day trip and would have left me in Tacoma on a Sunday. Wanting a break from the Tacoma aroma, I heard about a two day trip to Duckabush so that's where I went.

Only four of us this time, we left 7am on Saturday morning and drove up the eastern side of the Olympic peninsula. It was pouring with rain and by the end of the two hour drive I was beginning to wish that I had gone to the caves. When we arrived at the trail head, we shared out the gear. As usual, I was given the tent to carry but instead of the usual can of beans, I was given a can of raspberries; already things looked as though they were going to be different on this trip. Still pouring with rain, we headed up the trail along the Duckabush river. Again this was rainforest but it was different. Not the usual huge trees teeming with wildlife. Then we saw the reason. Deep in the forest was a rusty cable - the kind used for tree felling. Apparently right back in the 1900's this area had been felled and replanted. Almost 100 years later it's still not back to normal.

Washington is a lovely state, but for how long? The forests (even the national forests) are under constant threat from the lumber industry. The population is growing at a phenomenal rate as people move into the area from California. The land is turned into freeways, huge warehouses and shopping malls. I consider myself very lucky to be able to see the wilderness areas - my guess is that they won't be anywhere near as glorious in 20 years time. I hope they never build motorways through to Aberystwyth!

Well back to the trail. It rained and rained. First we went over Little Hump as the river cut through a deep gorge. Another few miles along the river and then we went over Big Hump - a much steeper climb right up to the ridge. It was still raining but fortunately it was warm. I was wearing shorts and T shirts under my rain gear so had lots of dry clothes in my back pack. At least I was hoping they were dry.


Eventually, after a 3.5 hour trek through the rain, we descended to the river and to our campsite. This campsite had everything we wanted. A small area big enough to pitch a tent, good trees in which to suspend our bags from the bears, an area of rocks in which we could build a campfire, and absolutely nothing else. Right next to a waterfall, I wondered whether I would ever get any sleep.

The rain stopped. We pitched the tent and while Ewin and Holly slept, Jim went in search of edible mushrooms and I went in search of local wildlife. I didn't find any. Later we went up river to do some fishing. Every time Jim casted a line (well almost), he caught something but never anything bigger than 6 inches. I was pleased to see everything being put back and was hoping that the bigger fish had learned to keep their mouths shut. Apparently they had.

It was now dinner time. Out came the herbs, the garlic, carrots, celery, chicken, cheesecake mix(!), raspberries and a bottle of wine. Like I said, this was different. The cheesecake was made inside a frisbee and then sailed in a pond while it set. We found enough dry wood to make a fire and then sat down to enjoy an awesome meal. This was an incredible weekend.

By 8pm we were all tucked into our sleeping bags. This time our 4 man tent only had 4 people in. I was amazed how much space I had. The following morning when the others complained about the limited space, I kept quiet.

The clocks changed Saturday so we had a good 12 hour sleep. The waterfall sounded great and deadened the sound of rustling sleeping bags. Actually it deadened the sound of everything so once again I thought I was on my own in the tent.

Sunday morning the sun was shining but the air was cool. Quickly we heated up the hot chocolate and the oat meal. We packed up the tent and headed back up the trail. This time Big Hump felt like it should have been called 'Hellofahump' and Little Hump should have been called "Almostasbigahump'. I was still carrying the tent but now it was weighing at least twice as much. The sun continued to shine and two hours later (record time) we got back in the car and had our bagels and peanut butter.

Next weekend is halloween so we are only going camping for Friday night. I think I'm off to Snow Lake. It sounds good and I only have four more nights to prepare!

Sunday 1st November
This is the first time for me to wake up in my own bed on a Sunday morning in months. The reason? Halloween.
Halloween is a really big event here in the USA. The shops have been full of decorations for months and there are pumpkins literally everywhere. This is too an important occasion to miss whilst out camping so we went a night earlier than usual.

Late Friday afternoon, eight of us met to go off to the Hot Springs up in the Elwha valley on the northern tip of the Olympic peninsula. We left Tacoma about 5.pm in the pouring rain (now an everyday occurrence, unfortunately) and got stuck in the traffic jam to go over the Tacoma Narrows. We headed up the Kitsap peninsula (retracing some of my bike tour over the Hood canal) and up to Sequim and Port Angeles. Irrespective of the weather, the people on this trip were going to make it a great time. Jesse, Ilan, Jen and Betsy, all from the outhaus were all on the trip. The last time we were all camping together was at Leavonworth and that was certainly a weekend to remember.

The first red light we came to, Betsy's car load did a chinese fire drill. They jumped out of the car, ran around the vehicle and jumped back in. Other motorists in the queues just laughed and smiled. It's quite a relaxed way of life out here.

After a long three hours drive we drove through Sequim, a very apparent rain shadow area and on to Port Angeles Eventually we entered the national park,. self registered and drove up a very windy road to the trail head. It was still pouring with rain but I was forced out of the car and put on my rain gear. As the Park Ranger was passing, she came to greet us and stopped for 10 minutes to shine her spot light while we prepared for our trek into the forests. Still pouring with rain we set off for the Hot Springs.

Eventually, two miles later we arrived at a very wet clearing. I thought to myself 'I bet this is where we put up the tent'. I was right. In a record five minutes, we had both tents erected and our backpacks were stored under tarps.

Off we went, further up the trail. Eventually in the middle of the forest, we found one of the higher and hotter springs. Within seconds, all eight of us were bathing in a pool It was out of this world. It was like a really hot bath. The rain was still pouring yet we could see the stars! Every five minutes or so we rotated one place to the right. The source of the heat was a VERY HOT stream entering the pool. We passed a loaf of bread round together with our water bottles. It felt like the last supper.

About an hour later, we decided to get out. It felt too cold. Half an hour later we managed to get out. As the rest of us froze while changing, Ilan was still sitting in the pool.waiting for a towel It didn't help me feel any warmer, trying to get my wet clothes back on, as he was still going on about how warm the water was. If there had been a plug, I would have pulled it out.

We went back down to our tents and decided to leave dinner for breakfast time. Within five minutes I was lying in my bag listening to the fast flowing stream just down from our campsite. We hadn't been able to position our tent as well as usual so we slept in the lower half of the tent. A large rock had the other half.

The following morning I awoke to feel the sun on the tent. I was nice and warm in my bag but as I reached for my socks, the outside was cold and manky. Great!

Breakfast was a wonderful dinner. Pasta and freshly made sauce followed by a freshly made frisbee cheesecake. Ilan had made the cheesecake. Betsy and I had noticed a bug land in his mix as he was whisking away. I don't know who had that but I guess it tasted OK.

We packed up the tents and went back to the springs. Someone was in our pool so we went and found another instead. This pool consisted of two levels. At first the top level was occupied but when the guy left, we all moved up, all that is except for Jen who was quite happy playing in the lower pool.
Just as she said that she was happy having the pool to herself, a naked man came walking through the woods and got in beside her. I slipped under the water so as not to be heard laughing.

It was really hard to leave the pool but eventually we headed back to the trail head, had a good sing and arrived back at the car. We stopped a few miles further to look at the view. It was fantastic. The Olympics were topped with a fresh fall of snow.

To take a group photo,I used my wallet as a make-do tripod for the camera resting on Betsy's car. After taking a photo, we forgot about my wallet. Several miles further Betsy stopped and Jenny got out and started looking for something. The rest of us stayed in the car watching until she said she had seen something blow off the hood (bonnet). Fortunately, we found my wallet down in a ditch!

We drove back through Sequim. This rain shadow area is amazing. The grass was brown on the hills, yet either side of the valley were huge banks of cloud. They rarely come closer.

After driving through torrential rain we arrived at Tacoma by 5pm. Three hours later I was Skelator (along with an Avalanche Poodle) at a fancy dress party. That was fun.

Sunday 8 November
It's been a busy week this one. My group project has reached the coding stage but with one of the best design specifications that I have ever seen, this is turning out to be much easier than anticipated. The front end is certainly user friendly and has a multi-media feel to it. Now, when an error occurs, it responds in a Spock voice saying 'illogical', when there is a calculation to be performed it says 'I'm thinking, I'm thinking'. Certainly the Macs are far more versatile than I originally thought.

Now to the more exciting stuff...

I didn't expect to have anything to report this week. The only Outhaus trip was a cycling expedition and I still can't ride a bike at the moment. Fortunately just I feeling bored on Friday night I received a phone call asking me to go on a walk up the Dosewallips (pronounced Dozey - Wallups). Fantastic, I was going out in the Olympics again!!

We left at 8.30am and drove back to Hamma Hamma, past Duckabush and down a really bad forestry road up along the Dosewallips river. The weather and scenery were fantastic - glorious sunshine (the first time in a week or so), mountains capped with snow and just the three of us in the middle of nowhere (well, actually the Dosewallips).

Eventually the road surface became too bad so we got out of the car and walked. A mile or so up the road we spotted a trail going up into the hills. It was signposted "Lake Constance, a 3400' climb in 2 miles". We just had to do it so off we went (Kelly, Ilan and me). After about an hour or so Kelly asked how far we though we had gone. We guessed about 0.5 miles - it turned out to be about half of that. The climb was certainly steep as it wound through the forest. Every ten trees or so there would be a blazer on a tree (small, discrete tab) to indicate the route - erosion through over use is not allowed to occur in the Olympic national parks.

The forest trail was just awesome and once again we all commented on the freshness of the air. Hardly surprising considering the amount of rain we had received in the last week or so! Eventually we could see daylight ahead so we assumed we were arriving at the lake. No such luck, but the opening revealed spectacular views of (what I now think was) a snow capped Mt Jupiter.

We continued up into the woods, the trail getting steeper by the minute. In several parts the trail took us alongside giant rocks, all green with moss.We had read the warning about steep and dangerous sections but we were not expecting to have to traverse these rock faces covered with moss and without ropes. Apparently we were not expected to either, we had just misread the blazers slightly.

Further up the trail, we stopped for lunch and Kelly checked her clock. None of us carry watches on principle but this time we needed to get back for Kelly's date. She screamed that it was 2.30 then realised that she had not adjusted it the week before. We decided we had another hours walking before we needed to return. The lake couldn't be much further. Again we were wrong!

Still further up the trail it was time to turn back and we still had not seen the lake. We just couldn't turn back. In desperation we agreed to walk another 100 yards and then we would return. Just as we were about to give up we saw a clearing through the trees. We ran to the light and what we saw next was just spectacular.

There was the lake, a brilliant blue in colour. Mount Constance behind it, a truly imposing wall of rock, again dashed with snow. I just stood there not able to believe it. . . and to think we nearly didn't see it.

We had another lunch break and, as I cooled down very quickly, I put on several more layers of clothing. We were then joined by another climber (Dave) that we had met earlier. He had completely lost the trail on the way up and decided to join us on the way down. I guess he assumed we knew the way. After all we did have a map (of the wrong area) and Kelly could work out which way was North using just a watch (which we didn't have). We did have enough food for several days, space blankets and first aid kits though.

Going back took us rather longer than expected., after all the trail was steep Our height gain had been greater than from sea level to the top of Snowdon and all in less than two miles ( a very long two miles, we all agreed). When we arrived at the cars, Dave gave us a lift back to Kelly's car. Fortunately the tyres were ok so off we went back up the Olympic peninsula, over the HOOD canal floating bridge and back over the Tacoma Narrows. Kelly was about 2.5 hours late for her date and what's more now had a sweaty butt (a long story).

Incidentally, Washington has quite a reputation with bridges. Many people have heard about the collapse of the Tacoma Narrows, not many know that one of their floating bridges also sank recently when a workman pulled out the wrong plug - or something to that effect.

Today I have been marking exams, preparing lectures and paper writing. A shock to the system after such another great hike.
Next week, it's back to normal: backpacking up in the Olympics somewhere.

Monday 15 November
A near disaster happened last week. I was all set to go rock climbing with Jesse so hadn't put my name down for anything else. On Thursday night I was told that Jesse was planning a quiet few days in Tacoma !! In a frenzy, at the thought of spending a weekend in Tacoma, I started phoning around to get on to a Hot Springs trip. I had done this trip before but no way was I going to spend a Saturday away from the mountains.

My pleas were successful and I managed to get signed up for the trip. On Saturday morning at 7am, off we went to the Olympics, 5 in one car (Martin driving, Jerry (leader), Walker, Julie and me), 4 in the other (Kelly, Kris, Jenny and someone who I'm ashamed to say I didn't find her name). Martin has a weird car; the seatbelt is suspended above the seat and automatically goes into place when the door is closed. You just sit there and get belted up. Neat! He also speeds up when the traffic lights turn to amber. Not so neat!!

As we were driving along, we came across the worst smell ever. Apparently we had just passed a dead skunk on the road. Unfortunately I didn't see it. In fact I haven't seen much wildlife on any of the trips; I guess I(we) talk too much.

Back through Sequim (still as dry as ever), on to Port Angeles and then up the beautiful Elwha valley into the Olympic National Park. We had driven through thick fog all the way (excepting Sequim) but as we drove up into the mountains the sky cleared and we were in glorious sunshine again.

Stopping for lunch, we were attacked by the camp robbers. They're the birds that are just not frightened of people and will try anything to get food - including getting into unattended bags. We found the same hot springs as before; just a big puddle in the woods, and there we sat for two hours or more. This time it felt even hotter as there was no rain to cool us off. The solution was found in a nearby puddle of cold refreshing mud. It stank, but only a little worse than the sulphur that we were bathing in. Kelly supervised.

Just before it was time to leave, we heard that the hikers holding the higher most pool had left. Off we went through the woods, in search of the other pool, wearing nothing other than swimming shorts. My feet hurt but it wasn't cold - it was hard to believe that it's the middle of November.

The upper pool was a fantastic site. I had spent almost two hours there a couple of weeks earlier but had seen nothing; it had been too dark. Now I could see its full beauty. Located at the top of a warm waterfall, we could sit in the hot water and look over to the snow capped mountains across the valley. Unfortunately we only had 10 minutes in the upper pool and then had to head back.

By 2pm in the afternoon we were shattered. I sat in Martin's car, closed the door and started to take off my boots. As he turned on the ignition, my automatic seat belt moved up the door frame, wrapped around my neck and dragged me back towards the seat. Perhaps it's not such a neat idea!

Martin drove us the two and a half hour drive back to Tacoma. A little fast I thought. On the way we stopped at Dairy Queen for some of the best Ice Cream ever. We arrived back in Tacoma by 6pm but we all agreed it felt like the middle of the night.

I was ready to go home and straight to bed when it was suggested that those of us over 21 (Jerry, Walker, Kelly and me) go out for a drink to E-9. Suddenly I felt wide awake and off we went for a well deserved drink.
E-9 serves beer from all over the world. We ended up with Newcastle Brown. Despite the beer, it was a great night and I'm pleased to say that I didn't knock over any tables, chairs or drinks this time. While sitting round the table, Jerry yelled 'There's Martin'. Expecting to see him standing at the door, Jerry was pointing to a formula one racing driver on the TV screen. Obviously I wasn't the only one who thought we had come back rather quickly.

Yesterday Kathy took me to REI - it's the greatest outdoor equipment shop that I've ever been to. This was my third visit in as many weeks and I still found plenty of things I didn't know I wanted. If I can sell my bike, I'll have a field day there!

Next week I'm supposed to be going backpacking with Jesse. Whatever happens, I'll do something, I hope.

Monday 22 November
Well nothing happened this weekend. My first weekend in Tacoma since the start of the semester. I was supposed to be going on a river trail up the Skokomish river (North Fork) but it was cancelled due to bad weather warnings.

The weather reports made it sound as though a hurricane was coming through - they had reporters over at the coast and reporters with the standby emergency crews up in the mountains. Typical of the weather forecast here, nothing happened except for a few strong winds and some rain; and I was now stuck in Tacoma.

All was not lost. Betsy phoned me to ask whether I wanted to go off to REI. Of course I went, along with Ilan and Barry. More polypropolene for the upcoming thanksgiving trip and a poncho to keep me and my pack dry.

On Sunday night I went up to Seattle with Bob and Craig to see the best of the Banff mountain film festival. As usual it didn't go quite as expected. The tickets that Bob had reserved turned out to be for the Monday night. We were up there on the Sunday and it was a sell out.

Craig made a sign saying that we needed three tickets. We stood there looking helpless; the management offered to buy back our Monday night tickets and eventually we got in. The films were great and served to encourage my enthusiasm for more outdoor adventures. I don't have to wait long to be satisfied, next weekend is our Pacific coast 4 night expedition.

Monday 30 November
I am now trying to get back to normality after returning from my best ever expedition. It all started last Tuesday night, just before the Thanksgiving weekend.

Tuesday
Off we went to Top Foods to prepare for our four night expedition. There were to be eight people on the trip (Betsy and Ilan (leaders), Barry, Ant (together with his split personality - Johnie), Kathy, Matt, Richard (not the typical kind of Outhaus person) and me. This was a lot of people to feed and we were planning to have a full thanksgiving dinner - along with turkey and all the trimmings. The only problem was that we were going to have to carry it all. Just the fruit, 64 oranges and apples, was quite a weight.

Returning from the store, we removed all the excess packaging and stored everything in ziplock bags. Nothing was going to be ruined by the rain on this trip.

Wednesday
I didn't get much work done as the excitement was building. At 12.30 I went over to the Outhaus all ready for off. Surprisingly when I arrived, everyone looked unhappy. Jen (one of the Outhaus housemates) had been taken into hospital with stomach pains. There was a chance that Betsy would not be able to go on the trip.This could spell disaster.

Fortunately the news from the hospital was good and we all set off on a 4 hour drive to Lake Ozette. Our strategy was to have one car at Ozette and the other two cars down south at La Push. This involved another 2 hour drive but it passed quickly and by the time we had arrived at La Push, the first car load had put up the tents. We went straight to bed.

Thursday - Thanksgiving Day
A 6.30 am start. I couldn't believe this, never before have I had to leave a tent before sunrise. We had a quick breakfast and got back in the cars for the short trip to Rialto beach ready for the start of our expedition.

My first view of the Pacific was unbelievable. We were now in the Olympic national park and a wilderness coastline; there were to be few signs of human occupation for the next 25 miles. The view was unbelievable. Driftwood everywhere but not the kind I'm used to seeing back home. Here the wood was often whole tree trunks, some 4 or 5 feet in diameter and over 100 feet long. The beach was littered with wood. The waves were huge as they crashed on the rocky shore. The coastline was littered with small rocky outcrops - many with the odd tree growing on top.

Our main problem was going to be the tides. Many of the points along the coast are very dangerous and can only be passed at low water. We were expecting short days, spring tides and high tides about midday. These factors were just to add to the excitement!!

As we left the safety of the cars, we added the finishing touches to our backpacks. They were really heavy - the food alone weighed a lot but then add to that the two tents, four tarpaulins, sleeping bags, pots, water, etc - we were about ready for anything.


Off we went scrambling across the rocks and tree trunks on to the pebbles of the beach. The going was tough and slow but it was fun.
Two miles down the beach we reached a point which we could not pass due to the incoming tide.

We set up a temporary camp, one tent (which we didn't use) and a tarpaulin shelter, just above high tide line. Now everything was ready for our thanksgiving dinner. We had the lot -- smoked turkey (precooked!), potatoes, stuffing, cranberry sauce, gravy, yams and even pumpkin pie with fresh cream. It was a great meal and nothing was wasted. (Anything left has to be carried out so we left nothing except the breast bone. Matt had the pleasure of carrying that around for the next three days.)

As the tide came in, the huge tree trunks were just tossed around like lollypop sticks. The smell of the sea and the cedar wood was just fantastic. It wasn't long before we were playing on the beach. After spending a good hour or so dodging the waves (and often missing) we started on the washing up. Using just sand and salt water we tried different techniques to avoid getting wet. It wasn't long before Betsy's pots were caught by a large wave! It was a great sight to see the dishes washing away with Kathy and Betsy chasing after them. Fortunately all we lost was a plastic fork. I couldn't do anything to help as it washed passed my log. I think that the single plastic fork is the only evidence to show that any of us ever visited this area of the Pacific coast.

I too got wet feet! I had jumped on a large log to avoid a large incoming wave, unfortunately as I lost my balance I managed to reach a parallel log. That didn't help; as I hopped between the two, I eventually lost momentum and fell in. My boots were wet and would not dry out now for the rest of the trip.

As the tide began to retreat, and after a lot more playing, we packed up our camp, left no evidence that we had been there (save for the fork now floating out at sea) and off we went on to the next headland.

As we began to lose the light we thought we had reached our destination - Chilean memorial. We pitched our tent and by 6.30pm were in bed exhausted, this time I got a central position in the tent. It was a very wet and windy night. Several times I was convinced that the tent was going to blow away - or worse still rip!

As the tide came in that night, the sound of the tree trunks colliding in the surf was like thunder, and all this just a few yards from our feet. We had read warnings of missiles being thrown through the air. If still alive in the morning I expected to see a 100ft tree trunk sticking out of the other tent!!

Friday
Betsy woke us up at 6.30; the tide was out and the weather was good again. We ate our bagels and off we went down the beach. First a rocky headland, then a rocky beach, then another rocky headland. This was slow going and very slippery. Several hours into the walk we passed by the Chilean memorial - we were making slower progress than expected. Fortunately Ilan and Betsy appeared to know what they were doing!

While walking along a pebbly beach, we came across a stream enabling us to refill our water bottles. Ilan went up the bank to fill the bottles and promptly sank into 6 inches of mud. Eventually by balancing on rocks we managed to fill up all the bottles. One iodine tablet and 20 minutes later, each bottle was fit to drink. It did taste rather like weed killer but we would get used to it over the next few days.

We pushed onward aware that the tide was on its way back up the beach and we still had several more headlands to pass before dusk. Occasionally the trail would have to pass over a headland if its base was never free of water. We had just reached one such point. A very steep path went up to a ridge. Unfortunately the first twelve feet had been washed away and all was left was a very muddy bank. We pulled ourselves up and eventually reached the top of the ridge where we could go no further. Our next target point was now submerged.

We put up a tarpaulin shelter for protection from the wind and rain and began to prepare dinner. Godda Godda (GodawishIknewtherecipe) sauce with pasta. It was delicious. After dinner we started up our Jazz band. Johnie, Betsy with me on percussion.

For the next two or three hours we stared at the sea waiting for it to pull back. We stayed in the shelter to keep warm and dry but the time passed slowly. Eventually we thought we could make it past the next point, so we packed up and moved down onto the beach. By careful timing, Ant (Johnie having withdrawn again) and Barry ran onto the rock just above the wave mark. After the next wave, Ilan, myself and Betsy moved to the safe position but the other two were still there, their exit being blocked. We stood there getting wet and waited for a lull. Eventually we got past and headed for the next set of points.

That night we stayed at Starbuck mine. During the summer months there is a temporary ranger station here. The only evidence at this time of the year is an Outhaus (a pit toilet). This was the highlight of the trip. No hole in the sand tonight!

Moving back along the beach, we pitched our tents in a small wooded area. Our tent was placed in a nicely sheltered spot, the others chose a more exposed area. The reason became more obvious when we got in our tent. Several days of wearing the same clothes without the opportunity to wash was having its effects. A slight breeze would have helped. We pitched our tent on a raft - at least we were going to by dry whatever the weather.

Once again we went through the ritual of putting all food in stuff bags and hanging them out of the reach of any animals. This time the problem was racoons, not bears. Fortunately our precautions paid off and we never lost any food.

We were in bed again by 8.30. We needed all the energy we could get for the following morning.

Saturday
Up at 6.30 again we were soon wandering down the beaches, still mainly rocky. We had a number of points to pass and the terrain was tough. At one point I could see that Ant was having problems staying clear of the waves. I was a good few minutes behind him but managed to keep dry. A good ten minutes later, the others were on the way but by now the tide was well and truly on its way in. They all got wet feet and were getting tired.

Betsy and I scouted ahead and found that we could pass the next danger point without too much water. The tide was coming in fast so we waved the others to come forward. We made it to the next beach. It was starting to get more sandy, progress would improve.

Eventually we reached Yellow Banks - named after the huge sandy cliffs rising up from beach. We set up a temporary camp to wait for the tide to subside. We prepared another great meal (which included a cheesecake) and settled down for a rest. Johnie and Richard had a game of frisbee but Richard's attempts meant that Johnie spent much of his time in the water trying to retrieve our cheesecake container.

I went for a stroll down to the beach to investigate our next point. I noticed a long rope dangling from a large tree just off the beach. For the next hour or so we swung over the beach moving up to heights of about 20 feet above the driftwood. It was great fun at least until Richard gave it a go. First he couldn't get his foot in, then, just as he was about to leap 15 ft into the air, he let go of the rope. When he finally started swinging, I was convinced he was going to fall. Fortunately he just smashed into the bank a few times and then got off. He didn't fancy a second attempt!

Eventually we voted to proceed around the next point. We were losing light quickly but we decided to go. We didn't get very far and ended up returning to our earlier position where we pitched our tents.

That night the sky cleared and with just a crescent moon, the stars were just fantastic. We spent several hours on the beach just thinking about our trip. We were very lucky to be there. It was a great experience.

Sunday
Our last day and so we were permitted to sleep in until 7am. The terrain was much better; after passing through a small cave and then over a few rocky outcrops we arrived at a long sandy beach. Ilan, Betsy and I took off our boots and went paddling in the Pacific. It was freezing making me appreciate the sea temperatures around the UK. I certainly wouldn't want to go swimming here.

We eventually reached the Ozette trail now only 3 miles from our final destination. Feeling down that our expedition was finally coming to an end we saw some children playing on the beach. We knew that we were coming close to civilisation. The next stretch involved walking over a 3 mile long board walk twisting through the forest about 6 to 18 inches above the forest floor. The surface was wet and slippery - just the sort of thing that we had been getting used to over the previous four days.

Once back at the car park, the drivers went for the other cars while the rest of us ate the rest of the food and thought about having to returning to normality - whatever that means.

This was one of the best trips that I have ever been on - the scenery was out of this world, the weather was great and the company was unbeatable. So what next?

Who knows?

Thursday 10 December
Last Saturday I was invited to join the crew of a 34' sailing boat for the Winter Vashon sailing race. Kathy picked me up from the house at 7am, still dark and with temperatures near freezing. I was wearing all of the warm clothing that I have been buying from REI over the last few months. When we arrived at the Marina to meet Mark, Mary and Christopher, Mark was wiping the ice from the deck. I had been warned that this was going to be a cold trip.

We motored across Commencement Bay to the start of the race. It was quite a sight to see all the boats preparing for this 35 mile race. Supposedly 145 different boats, ranging in size from 30' to 50'+.

The idea was to sail around Vashon island and return to Tacoma within a 15 hour time limit. Fortunately all I had to do was to act as dead weight; there wasn't going to be much technical stuff for me to learn!

The sunrise was spectacular as it rose above Mt Rainier and reflected bright red colours off the snow-capped Olympic range. Several hours later I was lying on deck with a beer in one hand, a sandwich in the other, watching the rest of the crew fight with the spinnaker. I watched for whales but saw nothing other than the odd seal and a bald eagle flying up above the cliffs (the eagle not the seal!!)

Eight hours later the sun had gone and it was getting colder. Fortunately we were nearing the tip of the island but just as I thought we were nearly home, I saw how far we had to go. This was going to take for ever and the wind was dropping! To make things worse it began to snow.

Three hours later, we crossed the finishing line. Mark started up the engines and we headed back to the Marina. Right in the middle of the bay; there was an almighty bang as we hit a floating log. The engine stopped! Mark then informed us that it might take some time to repair and that we should rerig the main sail. Just as I was feeling that perhaps I should jump off and swim for safety he got the engine going again.

I finally got back on dry land after about 10 hours at sea.

The good news was that we had come first in our class and third overall.
Quite an achievement!

This week has been a great week from an academic point of view. I finished my lectures on Tuesday, then on Wednesday, my software engineering group gave an excellent presentation to the department. They had produced the best group work that I've ever seen. It's been a great semester but it hasn't finished yet. The finals are next week so all the students are busy studying -- too busy even to take me out skiing.

They promise me good things for next semester though - weekend kayaking trips, white water rafting, skiing (both cross country and downhill), and of course backpacking in the Olympics.

Monday 14 December
At last, after 15 weeks, we are now in the last week of school. There is no lecturing this week, just examinations. The semester system means that each course is completed and examined within a single semester. Next January everything is started afresh.

Yesterday I had my first experience of cross country skiing. In my ignorance, I had assumed that this would just involve skiing along fairly flat terrain, I didn't think it was possible to ski up hill.

Ed and Beret Jossberger picked me up at about 8.45 and Ed drove the two hours took to Suntop which is a 6000'+ mountain in the Cascades. The snow level was very low last week and in fact had stayed on the ground in Tacoma for a couple of days. On the way, we stopped at EnumClaw to hire some skis for me.

We arrived at the SnoPark where there were only two other vehicles. After putting on our skis, we began skiing along a level forestry track. After 100 yards I thought, no problem, I can cross country ski; at least that's how it started! Unfortunately, Beret and I had gone the wrong way. We tried to cut across through the forest back on to the correct track but then I began to have real problems. My skis went everywhere except where I intended. Back on the road things improved. Very soon the gradient began to increase but I was still able to slide along even though it was much harder work.

With the risk of sounding repetitive, the scenery was just incredible. Miles of forested mountains all draped in snow. Steadily we began our 3000' elevation gain, never taking our skis off, but occasionally stopping to admire the view. Ed has a very close relationship with wax and every mile or so would stop to try a different variety - all very technical! At one point while he was changing his wax I noticed the absolute silence. Every now and then I could hear snow falling off the trees. An eagle (or maybe a crow) flew over, very high in the sky, but even at that distance, I could hear its wings flapping.

After several hours we reached our turning point. Unfortunately the visibility was poor and didn't warrant going the last 400' to the summit. Maybe next time.

Going down was very much harder but great fun. Following the grooves cut in the snow by other skiers, I began to glide back down the mountain.
This was a great experience though at first I had real problems on the bends and, not being able to turn, would just go straight on and sink into the very soft snow (about 3ft deep in parts).

Unfortunately as the gradient increased, I had real problems and just kept falling over. Every 30 yards or so I would fall into the snow and would take a good 2 or 3 minutes and a lot of effort to get back on my feet.

The gradient gradually lessened again and my balance began to improve. Unfortunately the last mile or so was being used by cars dragging their kids behind in the snow. It was like an ice rink and my performance was predictable. I ended up snapping one of my poles.

Today I can hardly move!

Well that's it for the trips this semester. I hope you all have a great Christmas and a very happy 1993.

Christmas Vacation 92-93
The last four weeks have been rather hectic! Mum, Dad, my brother Steve and sister-in-law Jackie all arrived on December 18. That was just as the snow came. We had 3 inches of snow in just one hour on the night before they arrived.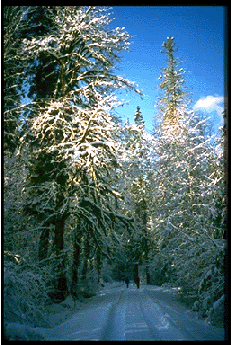 We spent the first week touring the Olympic peninsula, staying at Port Angeles which was a nice central location. Unfortunately the snow prevented us hiking up the Dosewallips and Duckabush but we did manage to get through to the Elwha valley hot springs. A four mile hike through deep, wet snow was rewarded with an hour soaking in the hot water. Unfortunately there was no such reward on our return journey.

We had a quiet relaxing Christmas day at Bob's house and then headed for the Cascades on Boxing Day. Unfortunately further snow falls put an end to our planned visits so we sought warmer weather over the Canadian border on Vancouver Island. Though we have a group of relations on the island, most of them fly south for the winter. Peter, my youngest cousin, had been left behind. It was great to see him again. The last time he was 11 years old and now he's 27 so he has grown somewhat. We spent two days with him up at Courtney. I had been really impressed with the wild nature of the Olympics but Vancouver island is amazing. Walking along a river running through Courtney, we counted over 20 American Bald Eagles within a 100 yard stretch. The river was littered with decaying salmon , many 3 feet long, which had died after spawning upstream. Vancouver island doesn't usually get much snow. While we were there they had over 14 inches! This snow was unlike any I've seen before. Just very dry powder. Canada was experiencing it's coldest period since 1911. Typical!

We returned to Tacoma for a few days for a cross country skiing trip and a party which John Riegsecker had arranged so the whole department could meet my family We then travelled off to Oregon. On our way we visited St. Helens, now all covered with snow and hiding much of the devastation. After a night at Portland, we travelled along the banks of the mighty Columbia river. This river is huge, about as wide as Bala Lake in many parts. During the summer, hot winds blow off the arid areas of the eastern Cascades. At this time of the year, the temperatures are in the low 10-20s (Fahrenheit).

We then went over to the Oregon coast which is just fantastic. Watching the horizon we followed the trail of water spouts rising from the migrating Grey Whales as they headed down towards California. On the more remote beaches, we found Californian sea lions and harbour seals. Watching the sea lions surfing in the Pacific rollers was out of this world. The weather here was great and much warmer, but it was about to change!

As we headed inland in an attempt to visit Crater Lake, we encountered freezing rain. It was just terrible, the highway was littered with cars and trucks sliding into the ditches and into each other. Fortunately we came out unscathed. It wasn't possible to get to Crater Lake so we headed back to Tacoma and more cross country skiing, this time at the base of the huge volcano, Rainier.

My Christmas vacation is now at an end so it's back to work and the start of an 15 week semester. Hopefully I'll get in a few weekend trips and maybe even get back up into Canada before my stay here is over.

Monday 18 January
Things have really quietened down again now that everyone has left. I didn't get up to much over the weekend other than watching the Arsoco Stack come down.

Yesterday the weather was just great, still cold but at least the sun was shining. I dusted my bike off and cycled over to Elly's. The journey was amazing. There were people everywhere including dozens on the roofs of houses. The Sound was just littered with boats; they had sailed or motored in from miles away just to see the fall of the Stack.

When eventually it did fall, it was very dramatic. First lots of small explosions blew apart the supporting metal rings all the way to the top of the stack. Then just a fraction of a second later, the stack just fell in on itself. Just a column of dust remained to show its original position.

Despite strong efforts to dampen the dust, a large cloud blew up the valley, supposedly strongly contaminated with arsenic. I haven't heard of any bad reports so I guess everything was OK.

Monday 25 January
Matt took me to REI on Saturday. I didn't really need much only a thick pair of socks and a SnoPark permit ready for a skiing trip the next day. I got by socks OK but clean forgot about the permit. Never mind, I had gone skiing without a permit before. It was no problem then.

Sunday morning we met at the Outhaus for a skiing trip to Suntop. Kathy was driving Hilkka, Carol and myself were her passengers. In the other car Kelly was driving with Ilan and Mark as passengers. I had done everything I could to find a driver other than Kelly all to no avail. Kelly is not a very good driver!

As we left Enumclaw, still pouring with rain, the roads began to deteriorate with lots of snow on the other side of the road. Even though it was still early in the day (8.30) lots of skiers had already driven up to Crystal and hence the better road conditions on our side. The snow didn't bother Kathy and we continued to motor at about 50 mph. Kelly deiced that this was too fast so applied her brakes with obvious consequences. Fortunately no damage was done but she was not happy. Only another two miles to go to the SnoPark and she was refusing to go further.

Unfortunately Kathy's chains did not fit to Kelly's car so after some persuading, Kelly agreed to continue. After only 100 yards, Mark took over her driving and we safely continued to the Park.

Despite the rain, which persisted all day, we had a great time and my skiing was beginning to improve.We got about half way up the mountain before stopping for lunch. Here, the snow was very deep as we all found out when we took off our skis.

Going back down was great fun and for the most part I managed to keep upright. Ilan, Hillka, Mark and I had a great time coming down. Mark had lost both his baskets going up but amazingly we found both of them as we returned.

Once we arrived back at the car, we had a snowball fight. All my life I have had a lousy aim but this time I noticed that I was only 1 foot to the right. I just started to aim 1 foot to the left and hey presto, bullseye! I developed a 100% hit rate and got everyone - it was really great fun. At one point, Mark tripped in the snow so we buried him under snowballs. Unfortunately on my retreat, I too fell into deep snow and they all came in for the attack. This was not a very polite attack - not only did they stuff snow down my back but also in my mouth. I was covered.

Returning to the car, we had been spotted by a park patroller. Forgetting a pass from REI cost me $50. Ah well, at least we had a good day.

Monday 1 February
I didn't do much over the weekend other than climbing at the 'Vertical Club'. It's an indoor climbing gym with dozens of climbing routes set up in a kind of warehouse. It was great fun but I didn't do very well. Most of the routes are for more advanced climbers and I had a job to get off the ground. Going with two very proficient climbers (Jesse & Vance) didn't help. By the end of the day I was completely burned out (well actually after the first hour) and then yesterday my whole body ached. I did manage to tackle a few routes successfully but I fell a lot. Actually I enjoy that - just swinging through the air and making other people duck as you fly past is good fun. I nearly kicked one guy's teeth out - he was instructing me at the time.
The weather was fantastic yesterday so I did manage to get out for a short bike ride. We go off to a Park about 5 miles away. It's basically a forest on a narrow peninsula so it has great views of Puget Sound. The trouble is that it has a road running through it for tourists - just typically American . Bikes are basically allowed only where you can take a car so it's not like riding in Aber.
Next weekend the Outhaus trips start up again so we are off to build an ice cave. We'll set off on Xcountry skis, spend a night in our cave and then return on Sunday evening. Should be good fun.

Monday 8 February
This weekend was (you've guessed it) just incredible. Nine of us left the Outhaus early Saturday morning laden with backpacks and cross country skis. We were off to Rainier for some snow caving and cross country skiing.
Trying to get nine people, nine backpacks and nine sets of skis into a Volvo and a Golf was in itself quite an experience but we managed it. Just as we were ready to drive off, Jesse realised that his keys were in the car trunk and now it was closed. After 10 minutes of panicking and thinking that we would be forced to spend the weekend in Tacoma, he found a spare set and we were off.
Jesse driving the Volvo, me crunched up in the front with sleeping bags between my knees and skis alongside my neck. Ilan in the back bent under the skis and surrounded by poles, Justin in the middle but leaning forward and Hillka with yet more poles, boots and pads.
Cort was in the other car with Eric, Cindy and Brendan - a smaller car with the same equipment, they must have been squeezed in.

We drove the 70 miles to Rainier in glorious sunshine. (It has been like this all week. Its just like Summer!). Driving up through Rainier National Park is just so beautiful and although this was now my third visit, it looked no less impressive than the first time. We drove up almost to the roof of the Cascades (we parked at about 6000') but even at this height, Rainier is still another 8000' higher. The sky was free of clouds and the mountain looked magnificent.

We had arrived at Paradise!

After getting all our gear together we put on our skis and off we went down the trail. Skiing with heavy packs was hard work and after falling, the only way to get up again was to take them off. Eventually we reached a spot which Jesse considered suitable for digging snow caves.

Digging the caves was hard work. Having two people digging continually (one mining, one clearing) took about 5 hours. As there were nine of us, we dug two caves. Entering a cave, you would first go down (about four feet) then through a narrow entrance and into the main living area, shaped like a dome. The sleeping areas are carved shelves around the top of the dome. All the heat that is generated is trapped. Despite the freezing temperatures outside, we stayed warm all night though Brendan and Justin were woken up by constant drips onto their bags. One thing that we had forgotten was to smooth the ceiling. Any protrusions (and we had dozens) caused drips. I was lucky and woke in the morning with a completely dry (well almost) sleeping bag.


We were incredibly lucky with the weather and as the sun went down over Rainier, a full moon came up the other side. The views of Mount Rainier at night were just like the ones I've seen in the very best photographs. It felt so good to be out there.

The weather was just as warm and sunny yesterday though there was a very fresh breeze. This in itself was great fun. I put on my skis, stood in the grooves made by skiers the day before and I was off. The wind blew me along going faster all the time even up over short bumps - hitting the stops of these , I would then descend the other side even faster. This has to be the closest thing to being a human bobsleigh.

We spent the whole morning skiing and then returned to destroy our caves. We had thought that just one person standing on the roof would cause it to collapse but we had all nine people jumping up and down synchronously and we couldn't break through. Finally we resorted to the shovels and pick axes and did the best we could at blocking up the entrances.

This trip was just unbelievable. Was this heaven ? We thought so...

Monday 15 February
Not much to report today. Unfortunately the trips are rather thin on the ground and the next three weeks look pretty uneventful. I spent most of yesterday sorting out my photograph album and trying to get my ThinkPascal programs to work reliably on the Macintosh. That's one setup that I won't be tempted to buy myself!

Saturday was fun! We returned to Paradise, this time just for a day trip and with a completely different set of people from the week before. The weather was good but nowhere near like the conditions of the previous week. This time there was about four inches of fresh snow and it snowed on and off for most of the day.

Betsy and Kady were leading this trip so I knew it would be fun even if we weren't going to be building more snow caves. Off we went skiing down the slope back to Reflection Lake; this time much slower due to the 'improved' conditions. Actually it made me realise how much I had enjoyed hurtling down the mountain side totally out of control!

Once we arrived at the lake we began our lunch and were immediately set upon by the camp robbers - they're the tame birds about the size of blackbirds that you find in all the wilderness areas of the Pacific North West. We thought that given the extreme conditions it would be OK to break our own rules and feed the birds. I'm not sure who had more of my lunch, them or me.

For some additional exercise we started a snowball fight over on the frozen lake. While running away I was so out of breath that I thought I was becoming ill. Fortunately the others complained of the same problem and we realised that it was the effect of being at about 6500ft. That didn't stop our game and we got thoroughly covered with snow. I would have escaped had it not been for a deep snow bank which I fell in. The others got their own back!

Further up the trail we stopped for some more exercise, this time in the form of sledding. Actually the slope that they chose made it more like free fall but fortunately the fresh snow softened my landings. As usual I didn't know when to stop so I found the last mile or so really tiring.

Finally after a lot of exercise we returned to Tacoma. This time I was able to return my equipment to the expeditionary in the same number of parts that I had picked up - quite an achievement!

Next week there are no trips planned but I'm trying to persuade everyone that I meet to take me somewhere - so far without success. I might be stuck in Tacoma!

Sunday 28 February
Last weekend there were no trips arranged and I ended up staying in Tacoma. That alone would have been bad enough but to make matters worse I was also ill. Fortunately everything is back to normal - including the mail systems at Aber (at least I hope so - a number of my mail message appear to have been lost in the system so be careful).

This weekend we went snow camping up to Snoqualmie - it was out of this world! There were only 4 of us on this trip - the hardened hikers! We left Tacoma at 7am Saturday morning in sub zero temperatures; fortunately the sun was already out and there were few clouds in the sky. We hoped that we would be lucky with the weather.

After a drive of about an hour and a half we arrived at the Snoqualmie down-hill ski centre. We drove past the hordes of people until we reached the end of the road. There we put on our backpacks and skis and off we went on out back country skiing expedition.

I thought that this was going to be easy until Ant pointed to a snow covered tree trunk over a deep gully and said 'That's our bridge'. And what's more he intended us to ski across. The bridge was lower than the surrounding banks so starting off meant that I shot down on to the bridge almost out of control. I couldn't get up the other side so was now in a mess; travelling either way took me back to the middle of this 10 inch wide bridge. By stretching out as far as I could and by shear good fortune I got across! That was the easy part! We then had to traverse up this hill still with our skiis on and making sure to keep parallel to the slope at all times. Eventually we made it and we got onto a flat piece of land. I started skiing again and went straight into a tree. I could see that this was going to be more of a challenge than I originally thought.

A little further on and Chris and I were told that we were entering an avalanche area. We were told of the tell tale signs (trees with no branches on one side - that kind of thing). It turned out that the whole area was avalanche prone. There were recent signs of falls all over the place!! I thought I was supposed to be on a fun weekend not a suicide mission. We survived the fields crossing them one person at a time. I crossed slowly and as quietly as I could - bearing in mind that I fall over quite a lot.

Eventually we reached the base of the pass where we had to make our ascent. Having now taken off our skis this was hard work. Often we would sink thigh deep into the soft snow. After a long and very hot climb in the blazing sun, we reached the summit and could see our intended destination - Snow Lake. The lake was a long way down in a very cold looking valley. We decided to pitch our tent where we were and then visit the lake later on. That was a decision that I was very happy with!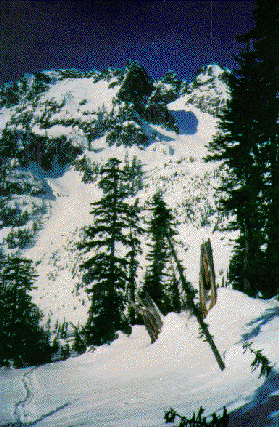 The night was VERY cold. By 7pm we had eaten our pasta, beans and bagles and decided that the best thing to do was to go to bed; another decision which I was very happy with. It was a very cold night (~12 Fahrenheit). Fortunately my bag was warm and I had filled it will all my clothes. Opening my flap to breathe was very painful; the air was freezing. In order to protect my contact lenses I had to sleep with the phial under my arm. Considering the conditions, I slept very well. I was not surprised to find that when we got out of our bags this morning they were covered with ice.

After breakfast we climbed down to Snow Lake and then back to camp before descending into the valley and back to the cars. The trail was beautiful. The narrow track meandered through a thinly forested river valley completely draped in snow. Towering above us, were huge mounds of snow taking on the appearance of termite mounds formed by snow drifting over trees. The sun shone brightly the whole time. Within the space of a few hours the temperature had risen over 60 degrees.

We returned to the cars having had a great weekend. I'm now back in work after having given a short tutorial. I found it very hard to switch back to 'normality' even though we had been away for less than 36 hours.

Monday 22 March
I have just returned from the most exciting Outhaus trip yet. We have spent the last nine days on an expedition through the Glen Canyon of Utah. It was just out of this world!

Two groups of hikers, seventeen in all, left Tacoma a week last Friday for a 1400 mile drive to southern Utah. Leaving Tacoma at about 5pm, we travelled through the night in two transits crossing the states of Washington, Oregon and Southern Idaho. For last minute supplies and an equipment check we stopped off at the REI store in Salt Lake City. What I had seen so far of Idaho and Utah wasn't very impressive - just a barren landscape.

Eventually we arrived at our destination for the first night - a campsite not far from the Escalante river. We piled out of the vans, got into our sleeping bags and fell asleep under the stars. It was a cold night!

Next morning I woke up to find Betsy already wide awake - she simply said 'look' and pointed through the trees. That was my first sight of a canyon wall. It was a fantastic sight - bright red sandstone touched with a few pockets of snow; I was just amazed (this happens a lot).I hadn't even ventured out of my sleeping bag, yet already could tell that this trip was was going to contain some beautiful scenery.

Within ten minutes, everyone was out of their bags and sorting out their equipment. At this point we shared out all the gear and food between our group which consisted of nine people - Betsy, Kady and Hosagawa (the leaders), Jocelyn, Kate, Sundara, Laura, Karen and me. Having added the food to my bag (12 items of fruit, 18 bagles (bread rolls), jam, tins of beans, etc) and the tent, I could hardly lift the thing. I repacked my bag about three times removing inessential equipment such as a change of underwear, extra socks and Tshirts. Still barely able to lift our packs the two groups got into separate vans and we were off for the tributaries of the Escalante.

The idea was that our group would hike along Harris wash, down along the Escalante river and then up twenty-five mile wash. The other group would do the opposite and we would exchange keys when passing each other (at least that was what we planned).

The sun was shining and Betsy drove our transit along a very rough dirt track to Harris. Needless to say we got stuck - our van was in a foot of thick wet mud. (It's difficult to describe just how dirty the sandy soil was in Utah - just believe me when I say that it's worse than anything I've seen before). Betsy tried going forwards and backwards all to no avail. We were certainly stuck.

Not to be set back, we got all of the gear out of the van and set about freeing the wheels. This turned out to be just what our group needed. Within just a few minutes we were all knee deep in mud, working together to free the van with Kady underneath digging out the spare tyre which had grounded us. We eventually rocked the vehicle free and Betsy managed to reverse out. Not wanting to get stuck again, we built a wooden bridge using old timber just lying on the ground and this time we succeeded; fortunately we have all watched MacGyver on the television so knew just what to do. Within less than an hour we managed to get the van to the trailhead.

Leaving the van, we travelled down the Harris wash. This started as a small stream meandering along a wide valley floor. Gradually the stream increased in size and we entered the canyon which it had cut over the millennia. The canyon grew in depth and majesty with every step; It was a wonderful place to be.

The weather was improving all the time. We had started off with overcast skies but by the time we chose our first campsite the sun was shining strong. We found a nice sandy spot and put up one of the tents. The second tent was missing a fly sheet (or so we thought) so was useless. Under the direction of Hoss we managed to build a shelter. That night we had our beans (at least my pack would be lighter) and sat around the candle lanterns just chatting & laughing.
I then spent my one and only night sleeping in the tent. Those outside spent a good hour or so star gazing, something which I was not going to miss out on again - especially after a very bright explosion occurred in the sky. Maybe there had just been an alien invasion!

The following morning (Monday) we refilled our water bottles from the stream, had our breakfast and travelled further down the Harris. While checking on our position by looking for other tributaries Betsy and I discovered our first signs of beaver. I was really excited and followed the tracks made by a branch being dragged up the small stream. What I saw next was just amazing - a dam across the stream some six to eight feet high and over 20 feet long holding up a very large pond. Hopefully the photograph will show just how clever these creatures are.

Further along the wash we found some skeletal remains of cows. Kate and Sundara found two skulls and to my surprise tied them to their backpacks to bring back home. After investigating a canyon off to the right, we decided to set up camp. We were about to find out about the Utah pricks! Buried just beneath the surface of the sand were a myriad of thistle-like pricks. We decided to move and set up camp on a dry wash bed. That night we had falafel (veggie burgers) with pitta bread, avacado (can you believe it) and lettuce. There was plenty of falafel left over!

That night we spent hours star gazing; watching for shooting stars and identifying the various parts of Orion.

Tuesday morning introduced us to more bush whacking; basically I felt as though I was being whipped to death by Kady and Betsy - they were leading the way. It was really heavy going and in many parts we got our packs stuck. Several times I would be freed from someone behind and would promptly shoot forward several feet.
After Betsy had announced that we were almost half way to the Escalante river, we turned the corner and there it was, a fast flowing deep muddy river that was to be our life support for the next three days!

Our first river crossing was by rope. After Hoss, Betsy and Kady had succeeded in setting up the rope across the river, we each took turns to clip in and cross. For me, the maximum depth was about waist height. For some of the others it was half way up their chests. We must have crossed the river about 20 times that day as it meandered down the narrow and very deep canyon. As we became more confident we crossed by holding hands to support each other. The only problem we had was getting up and down the banks but fortunately no one fell in, though Laura came pretty close on several occasions.

That evening we camped near the river at the base of the canyon wall. Apart from the pricks all over the place it was a great evening though the Escalante river water made our macaroni & cheese very gritty. The following morning (Wednesday), I discovered my first scorpion. Not knowing for certain what it was, I prodded it with my pole (used for river crossings) and it immediately lifted its tail right above its head and attacked the pole. Scorned by Kady for making it angry, we watched it walk away from our packs and were rather concerned to find half a dozen more in different areas of the site.

Further along the Escalante we found the slot canyon that everyone had been waiting for. It was only about 6-12 inches wide but well over 100 feet high; the base was submerged in muddy water. Betsy pushed me along first saying that I was the tallest. Great! It was both the most exciting and most terrifying thing that I have ever done. Convinced that I would sink down a hole or get wedged in, we kept going further and further into the canyon. At one point we had to get to a level about eight feet above us. By helping each other we managed to get up and continue our trek.

Eventually we came to an opening; best described as a cauldron, it was six feet across and who knows how deep. Once again, Betsy suggested that I go first. I reached into the water as far as I could but could still not touch the bottom. Holding my hand, Betsy started to lower me further. I was convinced that the two of us would both end up swimming but Kate held on to Betsy and eventually I reached solid ground - about chest deep. The other side was still narrower and we needed to get up again. I couldn't do it and got stuck with my feet pointing towards each other, still chest deep in water. Once I was stuck, Betsy, with the help of Kate, climbed up and over me on to the higher level. A short while later she decided that it was not possible to go further. Now it was her turn to get stuck! Betsy had become trapped with her hips wedged in the rocks. Eventually after controlling our laughter we managed to get out of the canyon and back into the sun.

At this point we should have met the other group but there was no sign of them! We continued our hike and made about another four miles and many more river crossings over the Escalante. By now the canyon walls were towering above us, the river was getting deeper and the undergrowth was getting more and more difficult to break through. We succeeded in making progress and eventually found a camp site some 50 feet above the river under a small overhang.

That night as we got into our sleeping bags we heard thunder in the distance. We hoped we would be safe. Gradually the skies cleared and we were able to continue with our star gazing. At 2am, we were woken up by the rain. We grabbed our packs, put them in a dry position under the canyon wall and threw our sleeping bags into the tent. I got into mine! Just minutes later there was a call from Betsy "Mark - come and help us with this shelter" - I went out into the rain. Sundara stayed put - she had jumped out of her bag and into the tent. We didn't hear any more from her!

Once we had the shelter up we got back into our bags and sang a medley of Simon & Garfunkel songs. Eventually we fell asleep.

Thursday morning we continued along the Escalante and reached Twenty Five mile wash. The water there was even worse! We filled our water bottle with the Escalante water and started our trek up TwentyFive Mile. Fortunately, Hoss found some fresh spring water so we refilled, happy that we would be able to chew our food again!

We trekked along the river and soon came to a huge multi-level overhang on which the Astasi Indians had lived. Further up the wall in an inaccessible area were the remains of a grain silo. On the rocks were a number of petroglyphs. It was an unbelievable place to spend the night and we still had much of the day free for exploring.

After lying in the sun for an hour or so, we decided to try and get to the top of the canyon. We set off friction climbing over the slick rocks and then over the rough yet soft boulders. Half way up we saw lightening in the distance from a storm which seemed to be moving our way. Worried about the rocks getting wet and the danger of lightening, we headed back down to our base camp. The skies cleared and we sat in the sun for about another hour. We then tried again for the summit and the same thing happened. The next time we decided to try for the other side so Betsy, Kate, Sundara and myself crossed the river and headed up the rocks. I expected to see a prairie once we emerged from the canyon but was amazed to see the whole landscape consisted of hundreds of canyons, one after another. It really looked as though we were on another planet - bright red in colour and almost void of vegetation. Every so often we would find small pockets of cryptorganic soil (100's of years in the making) supporting small flowering plants and cacti. We reached the summit and lay in the sun just overwhelmed by what we could see.

That night gazing at the stars from under the overhang was amazing. The skies were so clear and looked so fascinating when framed by our rocky protector.

Friday morning and only a few of us felt like eating the oatmeal due to the quality of the water. On cleaning the pot afterwards I found about a half inch of silt in the bottom. I hadn't thought that the oatmeal had tasted that bad! We packed up our camp, checking that there were no sign of our visit and we headed off up river.

This was a long hike and the temperatures were up in the 80's. After a long trek we reached another side canyon requiring further exploration. This time we all headed up for the summit only to find that the view was completely different. The rocks were more rounded but no less spectacular. After an hours sunbathing (baking) we continued our hike nearing the end of the TwentyFive mile wash.

The river now was much shallower (ankle deep) and we had stopped checking its depth. Sundara volunteered to go first. As I joked to Betsy about what might happen, Sundara suddenly shot waist deep down into the river. I cracked up! One Sundara was back on dry land, we continued our trek.

Late in the day after a very tiring walk we set up camp on a ridge above the river. The site was covered with the usual pricks but I was too tired to complain. After a meal of soup and rice we were soon in our sleeping bags watching Orion move across the sky. Once again Sundara was excellent in spotting satellites. That was a very cold night.

The following morning we were on our last day in the desert and only about an hour from the van. We spent what we thought was to be the last few moments together as a group and headed to the trail head. Neither the other group nor the van were there.

Five hours later the others turned up - apparently they had failed in their attempts to cross the river and had assumed that we would have done the same. Ha! this of course made us feel so much happier with our achievement.

This was an incredible hike. The scenery was just out of this world but I felt so lucky to be part of such a group. Though I have not mentioned all individuals in this report, each one put in so much effort to make the trip a success. It was just amazing. I would like to get the group together and repeat the trip in about 25 years time. We'll just have to wait and see.

Monday 29 March
Not such a good weekend as I have developed some sort of upset stomach. I just hope that it's not the debilitating giardia often found in the streams from which we drink.

Saturday I went off on another climbing trip for beginners. This time we went on a day trip to Index - that's just north of Everett up in the Cascades. The location was great surrounded by absolutely fantastic scenery; huge mountains all around and they are all still covered in snow.

The climbing was not so good. I watched the complete beginners try the various routes with few if any problems. I failed miserably. I assume (hope) that it was because of my upset stomach.

Saturday night I was really ill and had to miss a night climb to Mount Si. This was the first Outhaus trip that I have missed. I hope that it's my last!

Monday 5 April
On Saturday I returned to Lake Constance, this time with Betsy, Kathy, Amy and Philippa. We left Tacoma in the pouring rain and almost decided to call the whole trip off. We decided to stick with our original plans and drove to highway101 and up to the Dosewallips. As we drove along the Hood canal the weather began to clear and as we approached the trail head, the sun came out.

We only had a 2 mile hike to the Lake but this involved a 3500' gain in height. It was very hard going but we made it. The last part of the hike was particularly difficult as the trail was not so well marked and to make things worse, we had crossed the snow line.

Unfortunately what little snow there was around was largely on the trail. In the most part we had few problems; the snow was soft and we managed to get good foot holds, elsewhere the snow was more solid and getting a good foot hold was difficult. We made slow but steady progress through the forest wondering when we would enter the clearing surrounding the lake.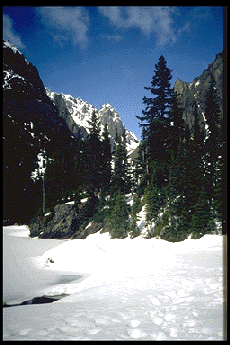 Eventually we arrived at the opening but the lake was frozen over and carpeted with snow. It still looked good but nothing like the inspirational view that I had seen back in November when the water was a deep blue.
The sky was now blue and the sun was shining strongly. We hiked over to the side of the lake and lay down on a rock overhanging the frozen waters. An hour later, after having eaten our lunch and having used up all the sun had to offer, we headed back down the trail. The icy sections were now particularly difficult but we were soon back in the deeply wooded section.

The hike had taken us a good 3 hours to reach the lake and almost two hours to get back to the car. It certainly was a steep climb but we had all enjoyed it.

Two minutes (no exaggeration) after setting off in the car we hit the rain again. Everyone else who had ventured out that weekend had been very wet. I guess we were lucky.

Monday 12 April
This last weekend I returned to Leavenworth for more rock climbing, this time with Bob, Ilan and Steve. Unfortunately the weather was not too good at our intended destination - Icicle Creek. Instead we headed for the sun and the Peshastin Pinnacles.

In the past, the little climbing that I had done had been no higher than about 30 feet. I was now standing at the face of a steep rock on the top of a steep hill. I began to get the feeling that maybe I was an indoor climber; I wasn't too keen on the idea of climbing the rock that was now in front of me.

Fortunately we decided to try a different route. I thought it might have been smaller. At least it wouldn't be on the top of a deep gorge. We headed for Martian rocks.

The idea was that the five of us would be attempting a multiple pitch climb. That's when you climb to a safe point and you use that as your start for the next climb - well, something like that anyway. This looked like fun though I still wasn't too keen on going very high up.

Bob went first followed by Barry. I then followed up the steep sloping rock and attempted a fairly damp friction climb under belay from Steve. Once with Barry, I clipped in to the two bolts on the side of the rock and placed my feet on the narrow ledge. From there I was joined by Steve and then confident that I was tied in securely, I belayed Ilan. Bob and Barry continued up leaving Steve, Ilan and myself all hooked in to two bolts some 100ft (I guess) from the ground below. And there we were on our own stuck half way up a cliff face without another rope to get us either up or down.

Other climbers following the trail below would stop and stare. We just smiled back not knowing what was happening next. Then the rain came down while we were still standing on that rock. Then the sun came out again and we still hadn't moved. After about an hour we began to get the feeling that we weren't going anywhere. We were right - we couldn't, not without additional equipment.

Eventually another couple (Wayne and Edie) headed up from the ground below. Just as Wayne arrived, asking what on earth we were doing just standing on the ledge, Bob came back up. He left us a rope and then disappeared. Fortunately Wayne (a complete stranger) took charge and explained what to do. Steve was to climb up clipping in the new rope behind him so that Ilan could follow. Great, that would leave me on the rock again without a rope.

Fortunately for me,Wayne and Edie being experienced Canadian climbers always carry two ropes so that they can carry out a rescue if they have to. Using the two ropes,Wayne lead the route and then belayed both Edie and myself climbing up about five yards apart.

On our third pitch we passed Barry who expected me to come off my current climb to go down with the rest. No way! I explained that I was on my way to the top with Wayne and Edie. The last pitch was pretty high up and included a ridge section. I did not look left or right, up or down, I just watched my feet. At last I was on the top of the pinnacle. It was a great view and all that was left was to absail down.

That night we met up with Jesse and Vance and then went into Leavenworth for a mexican meal. After the meal, Steve and Barry returned to Tacoma. The rest of us headed for icicle creek where we pitched our tents.

That night Ilan and I had the Outhaus tent to ourselves. It felt like a hotel, after all there are usually an extra three or four people in that four man tent.

Sunday morning was cold and wet. We inspected a number of possible climbing routes. All the rocks were wet. The car park at Peshastin emptied soon after our arrival. I guess that they assumed that we wouldn't be repeating our performance of the day before. They were right. We returned to Tacoma.

Monday 18 April
I was picked up on Saturday morning by Kim and Sundara for an overnight camping trip to the Olympics. Our first stop was the most important -- off to the Outhaus to pick up Betsy and the tent.

We went off to the SUB for some breakfast, collected some doughnuts that were being laid out for parent's day and then headed for the Olympics. After further stops for gas and more food we headed up to the Hamma Hamma road and the Lena lakes trail. The weather was terrible. It was raining very heavily.

Kim was driving her new four wheel drive truck so of course we had to try it off road; she headed down a very rough and muddy track but just as things were going well, to our embarrassment we ended up in someones back yard Kim managed a six point turn while the owner was heading towards us with her dogs. I expected her to pull out a six bore from under her coat; she didn't and we escaped unscathed to return to the trail head.

We had lunch, put on our waterproofs and headed up to Lower Lake Lena. I don't much like hiking in the rain as it's difficult to hear the others, walking with our heads down and hoods up. The fragrance of the forest more than makes up for it though providing a lovely fresh smell of the pine needles, bark and the moss. Though wet, it was a lovely walk.

Unfortunately Lena lakes is very popular with hikers but we managed to find a great camping spot alongside the lake where we put up a tarp for our kitchen. The rain stopped so we decided to take a hike around the lake.

After climbing over huge boulders, fallen trees and patches of snow we could go no further. We had succeeded in making progress about two thirds around the lake but it was getting slow and hard work. We were also very hungry so we returned to the tent where we ate some fig newtons and bran muffins. Betsy started on dinner while Sundara and I set up the tent.

Betsy was having great difficulty with stove. Sucking, blowing, and other attempts at cleaning all failed. After a lot of different ides failed we decided to eat our garlic bread uncooked. It wasn't good so after a lot of procrastination we went and asked another camp if we could borrow their stove. While cooking our meal some more of Kim's friends arrived. We had been expecting them but had assumed that the weather would have put them off. It hadn't.

An hour or so later we had our meal and went to bed.

Next morning it was damp but was not raining so we sat by the lake having breakfast. While Betsy and Sundara rested more, I went for a short walk up the Brothers' trail. It was really lovely with the stream roaring over the rocks and down the falls. As I climbed higher, I crossed a number of small snow fields. In a few places the sun broke through. This really was a magical place and so peaceful.

A short while after returning from my hike, we broke up camp and returned to the car. All the way back, Sundara and I discussed our plans for our summer expedition across the Olympics, now just four weeks away.


Monday 26 April
This last weekend we returned to Camp Orkila for more kayaking up in the San Juan Islands. Unfortunately the weather was pretty miserable and prevented us going over to the islands which we had planned. Instead we spent most of the time hanging around on the beaches and paddling just a short way off shore. The weather was unkind to us giving us only about 10 minutes sunshine on the water. Nevertheless it was a good weekend with of course lovely surroundings.

Monday 3 May
Yesterday we went on a day trip to Upper Lake Lena; that, at least, was our intention! Jesse & I, together with Hilkka, Tom (one of my students), Vance and Carli were going to attempt the 14 mile round trip. We expected it to be hard going as previous attempts have always involved camping overnight.

Surprisingly, the climb to Lower Lena was much easier this time. Maybe the sun made a difference or maybe our extended goals may have changed our attitude to the hike. After an hour or so, we reached the trail for Upper Lake Lena and our party separated.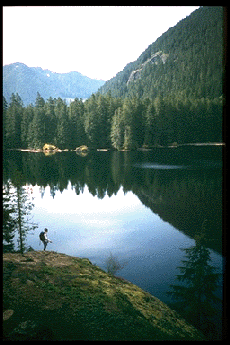 Jesse has been pretty ill recently with mono so he and Carli decided to stay at Lower Lena while the rest of us attempted to reach Upper Lena.

It was a lovely hike through the forest which by now is really green. The smell of rotting bark filled the air as those trees felled by the winter snow and wind begin to decompose. At one point, we entered a clearing and could see right across the valley. The far side was just just wonderful, we watched a stream cascading down the valley side in a series of picturesque waterfalls.

As we gained height, we came across more and more snow. Fortunately, the surface was fairly hard and for the majority of the time, held our weight. Every now and then though we would tumble as our legs disappeared into the snow; often three or four feet deep.

The snow fields increased in size and it began to get more and more difficult to find the trail. In a number of places the snow traversal was made more difficult by the undercutting of meltwater. With careful selection of routes we succeeded in crossing a large snow field but we completely lost the trail.

We stopped for lunch and feeling dismayed at our lack of progress were forced to turn back. I estimate that we were within a mile of the lake. I consoled myself with the thought that it would have been frozen anyway so wouldn't have looked like the pictures that I had seen. It was still depressing to think that after three failed attempts, I will probably not get to see the lake of Upper Lena.

Monday 10 May
This is now the last week of the Spring semester at UPS. Last Friday, we had the last official Outhaus event, the annual slide show.

On Thursday evening, Ilan, Jesse and I began the recording of our chosen sound track. The music consisted of a selection of our favourite music played during the hours of driving we did every week on the way to our trips. The mixing of the sound track took us over 4 hours to get right but it sounded just great.

Next morning we started on the slides. Using our joint collection of over 300 slides, we listened to the music again in search of inspiration. Inspired by Jesse's enthusiasm it wasn't long before it started to take shape. Some eight hours later we had got it just the way we wanted. The matching of slides to music was just perfect.

That night we gave it our first group showing. It was just out of this world; the combination of the music and slides had succeeded in capturing the spirit of our trips. We were very happy.

Since Friday night I have seen the complete, 19 minute long, show about a dozen times. Each time it brings back wonderful memories.


This last week has been a sad week. All of my grading is now complete and my students have been coming in one by one to say goodbye. I will miss each and every one of them. It has been a good year.

The Outhaus has now folded for the year but the spirit of our trips will continue.

Next week eight of us are off for a week long expedition through the snow capped mountains and moss covered forests of the Olympic national park.
We aim to complete a south - north traversal in about 8 days.

Sunday 23 May
I have just come back from one of my most amazing trips so far. Along with Ilan, Hilkka and Brendan, I have just spent the last eight days backpacking across the Olympic peninsula. If Paradise exists on Earth then surely it must be in the Olympic rainforests.

Our intended route was to take a south to north traverse of the peninsula cutting right through the centre of this magnificent national park. It would take us up-river through the rain forests of the Quinault, over a snow bound pass at Low Divide and then down-river along the Elwha to our destination some 50 miles away. The rangers warned us that there were two major obstacles along the route. Crossing the Quinault after a bridge had been washed out would be near impossible and even if we did cross the river, we would still have to contend with the snow at Low Divide. All rangers, except for one, rated our chances of success as being very low.

Our preparations began a week last Friday when the 2nd semester at UPS finally come to an end. Jesse, Sundara, and Ilan had already moved in with me for a few days so as to vacate their university accommodation. Betsy came around to the house early morning so that we could go and buy the food; all the usual: bagles, cream cheese, pasta, rice, soups, tortillas, refried beans, oatmeal and Betsy's favourite - cream of wheat. Our gorp (good ole raisins & peanut trail mix) was going to be good but unfortunately when we reached the cashier we had a nasty shock: $20 for peanuts, $18 for chocolate chips - we had to put half of it back on the shelves!

The rest of Friday was spent repackaging the food and packing our back packs. Each of our packs weighed in at about 55 pounds. This was to be a very serious hike!


Saturday
We left Tacoma at about 9.30 a.m. with Andy (over from Aberystwyth for a conference) driving one car and Betsy driving the other. After a false start from Kim's house where we lost Betsy, we got onto the road to Olympia and drove to meet Betsy's grandparents. At this stage our expedition consisted of Betsy, Ilan, Sundara, Hilkka, Kate and me. Brendan was to join us on the trail sometime Monday evening.


After about four hours driving, we arrived at Lake Quinault on the southern edge of the Olympic peninsula. Following the north fork of the river Quinault we eventually arrived at the trail head. Rather than go straight across the Olympics, our intention was to spend the first two days on a detour up to the Skyline Ridge. This had the effect of the main group hiking two sides of a triangle whereas Brendan, starting two days later, would take the shorter side. At least that was how we planned it.

The first day was to be an easy hike. Just a mile up the trail to Irely Lake
Though only short, this was a lovely hike through the rain forest. The sun was shining, the forest was green and very much alive, the birds were singing and we were just so excited. The lake was just incredible. Fairly small in area and probably nowhere any deeper than six feet, it was just perfect. After selecting our camp site we sat for a while before Andy, Betsy's Mum and Grandfather left us to ourselves. Almost immediately we all went for a swim in the lake; it was just fantastic. We then spent the next hour or so trying to dry out our 'quick drying REI shorts'.

A short while later we prepared a camp fire and cooked the meal which we considered weighed the most - torts and beans. It was great.

Hanging up food in the Olympics is a necessity to prevent it from being eaten by bears, racoons, mice, etc. Our attempts at hanging the food that night where not too impressive but it is difficult to suspend 100 pounds of food some 12 feet from the ground. After much effort, we did succeed in securing our bear hang but it was suspended over the flatest sleeping area.
This was pretty inconvenient as it now meant that we had to find somewhere else to sleep.

We slept on the lake shore which was certainly not flat. I had to arrange the tarp to ensure that, should I slide (which with my thermarest was an almost certainty), I would not end up in the lake. That night, we lay under the stars listening to a chorus of frogs, owls and cayotes. It was an amazing night.


Sunday
Our aim today was to climb up to Three Lakes, a hike of six miles with an altitude gain of 2700'. After an early start we hiked up through the green, damp and mossy forest where we saw several frogs and salamanders. After several hours we crossed Big Creek where we stopped for lunch and some sunbathing. As we continued to gain height, the forest changed its appearance many times. The trees were huge and in fact somewhere along our trail we passed the largest yellow cedar in the world. Slowly we gained more height. Unfortunately Betsy and Sundara were still suffering the effects of giardia (intestinal parasites) and were both a cause for my concern.

Eventually, within half a mile of our intended destination, we hit the snow line and the trail became increasingly hard to find. It soon became obvious that we would not be able to continue along our planned route. Not only did we have to get back to the trailhead to start the main route but we also had to do it as quick as possible to ensure that we could meet up with Brendan as prearranged.

Already tired from our exhausting climb, we agreed to return to Big Creek where we would eat our planned meal of soup and rice and spend the night before making a really early start on Monday. The weather was still great so we slept on a narrow footbridge just twelve feet above the creek. Hanging the food that night should not have been too difficult as we decided to suspend everything from the bridge. After spending a lot of effort, Sundara pointed out that she could reach the food simply by standing on a rock. After more rearranging, we convinced ourselves that it would be safe and we all went to bed.


Monday
I awoke at 5.30 am to see Sundara and Betsy already dressed. Within an hour we had eaten our oatmeal, packed up camp and were already on the trail. With regret we had decided that both Betsy and Sundara were unfit to continue and would have to leave the group at the trailhead. Morale was pretty low but we managed to set up a fast pace to the trail head.

Betsy and I had gone ahead in search of Brendan and had found a ranger who was to help get Betsy and Sundara get out from the trailhead. While rearranging the group gear, Kate showed us that her knees where badly swollen. It was obvious that she too would be unable to continue. After only two days, we were about to lost half of our group.

After waving goodbye to the others, Ilan, Hilkka and myself had some lunch and were just getting ready to set off when Brendan arrived with his friend Bill. After explaining what had happened to the rest of the group, the five of us set off along the North Fork Quinault. The trail through the forest and over streams and waterfalls is just impossible to describe. It was just so beautiful.

By about 5pm, after hiking 12 miles and almost 12 hours, we arrived at Trapper camp. Once again, after eating our meal, we set about hanging our food. Brendan and Bill chose one tree and were quite successful. We were not so lucky; just as Hilkka and I were lifting our food to help Ilan pull the rope tighter, the ground below us gave way. We jumped to one side and were amazed to find that we were above some man made cavity that had been covered with wood and had since grown over with moss. Judging from its size and, given the name of the camp, we think that it was some sort of bear trap.

That night we slept under the stars again, this time sleeping across the trail. I was convinced that I would waken to the sound of a herd of elk running towards me, or worse still to the sight of a bear looking down at me.


Tuesday
This was to be our big day. We would reach the river crossing and then, if successful, make an attempt to get over the snow to Low Divide. After breakfast we packed up camp, said goodbye to Bill and headed down the trail. Every few miles we would get a clear view of the river; it certainly looked like a formidable obstacle.

Four miles down the trail we reached the crossing. Determined not to be beaten, we discussed our plan to cross the river; we would use the techniques practised on our Escalante expedition. Holding hands, and with Brendan and I at either end, the four of us headed slowly into the fast flowing river. Slowly we made progress across and it was not long before we had reached shallower water. Jubilant at being the first to cross the river this season, we sat in the sun and ate our lunch.

The next obstacle, Low Divide, was 4 miles away and another1600 feet higher As we gained height, we gradually met with more and more snow. Thinking about our failure earlier in the week I was concerned that we might still have to return to the Quinault trail head. Though slowed by the thick snow, we continued to make good progress and eventually reached Low Divide. It was out of this world! The pass was surrounded by magnificent valley sides, the snow deep but patchy. It was the most beautiful place that I have ever seen. We set up camp on one of the grassy outcrops and lay in the sun for a few hours.

Somewhere along the last 100 yards of the trail, I had lost one of my water bottles. I searched the trail carefully, all to no avail. We just assumed that the Elk had a craving for iodinised water and would be having a real knees up at their next party!

The location we chose to spend the night was lovely, a small grassy location surrounded by snow. Unfortunately it wasn't very flat which was a potentially serious problem for me and my sleeping bag. To ensure that I would stay put, I placed a number of large logs just under the base of the tarp - these would act as my brakes. Of course the others had a master plan; Brendan would remove the brakes, Ilan would place a space blanket over the remaining grass and Hilkka would give me a push. If they had carried out this plan I would have shot down the valley faster than a bob sleigh!

That night the sunset was perfect; the snow on the mountains turned orange as did the few clouds now beginning to gather above us. As we lay under the stars, we decided that should it rain, then we would simply cover ourselves with the blue tarp.

At about 3am it started to pour with rain. The next few minutes went something like this:
Hilkka jumped up screaming 'Argh, it's raining'.
'Where's the blue tarp..... I haven't got it'.
'I haven't got it either, who has the blue tarp?'

We hadn't brought the blue tarp.

Ilan who doesn't normally use bad language,yelled repeatedly
'Get the tent, Get the ******* tent, get the ******* tent'

Still half asleep, we found the tent, eventually got it up and crawled back into our sleeping bags.

That night we hadn't been able to hang the food, there was just nothing to hang it from. The following morning we were shocked to find huge bear prints in the snow just a few hundred yards from where we had slept.


Wednesday
The trek across Low Divide was not easy, the snow was deep and the trail across open areas was hard to find. Nevertheless, with the help of our maps and a little scouting we succeeded in crossing the pass. We walked along the shores of Lakes Margaret and Mary, both of which were covered in snow but were being to thaw. Eventually we reached the watershed; we had completed the traverse of the Quinault. Now starting on our descent, we could follow the Elwha.

The trail descended steeply down the valley past many very picturesque waterfalls. Again, I find it impossible to describe the incredible beauty of the area.

The hike to Camp Wilder was only eight miles, two thirds the distance of what we had accomplished in the previous few days. It was also down hill but we were all exhausted by the time we reached camp. This trail also gave us our first contact with another person - a lone hiker who we advised not to attempt Low Divide or the river crossing without extreme caution.

As we approached our camp site, a huge tree collapsed less than 100 yards behind us. A storm was moving in and the wind had brought down this ancient tree. Branches flew everywhere. We managed to escape the rain by taking refuge at the Camp Wilder shelter. It was an old shelter and leaked badly but we improved our situation by placing our largest tarp over the roof.

A short while later, after Brendan had returned from his nightly run, we sat down and ate our dinner. Just as we finished I saw a great big black bear walking just 30 yards in front of our shelter. Fantastic! I followed it carefully as it headed towards a tent some 100 yards away. As it approached the tent I yelled. It turned and ran towards me. I screamed and ran towards Hilkka. We then saw it walking away from us through the woods. Brendan chased after it to get a photograph but as he got near, the bear stood on its hind legs and growled. Brendan thought it better to get away and didn't get the photograph!
That night we slept in the tent and everything was quiet until early morning when another huge tree collapsed not far from the tent. Quite an exciting camp site really!


Thursday
We didn't leave Camp Wilder until lunchtime; though we had started our expedition with early mornings, it was getting increasingly hard to get out of bed even though most nights we were in our bags by 9pm. As we followed the trail, the forest continued to change its character. Some areas would contain huge douglas firs, moss and ferns. Here we would see frogs and salamanders. Other areas would have much smaller trees and darker leaved Oregon grapes. At one point we stopped for a good few minutes watching a red squirrel sitting on a rotting tree. As we descended through the valley the Elwha turned into a huge raging river. It was beautiful.

Everyday we would have a different song to sing. The song for Wednesday had been 'Here comes the sun'; today it was the turn for the Messiah. I don't know how it sounded but we enjoyed ourselves!

The trail was now much flatter and progress was much easier, it wasn't long before we reached Elkhorn.

The Elwha trail is much more heavily used than the Quinault as evidenced by the wider trails and the more established camp sites. In many places the camp sites were originally cleared by a few hunter-settlers taking up residence in the valley back in the early 1900s. Elkhorn was a typical example with a number of cabins located in a grassy meadow. Here we watched three black tailed deer grazing just a few yards from the cabins.

We hung up the tent and our sleeping bags to dry and made our evening meal. That night we slept in our tent so as to avoid sleeping with the mice known to visit the cabins. Next morning, Hillka woke at 8am. She left the tent, went for a walk, sorted out the gear and food, went for another walk and returned to the tent to find the three of us still asleep. We woke up about 10am after almost 14 hours sleep.

Friday
Most mornings I was one of the first out of camp. This morning the others decided to ensure that I would be last. After a lot of convincing from Ilan to get the tent down as one of our first operations (usually last), I found that I was largely doing it on my own. I was unaware that the others were packing their gear as fast as possible whilst at the same time unpacking mine. Needless to say, I was last out of camp.

The next hike further through the Elwha forest was largely uneventful; that does not mean that it was any less beautiful but rather nothing new or out of the ordinary occurred. At least, that was the case until lunchtime when Brendan proclaimed that he had eaten all of the chocolate chip from his gorp and that he defied any of us to find any more. Hilkka volunteered to look on condition that should she find any, Brendan must hike the next half mile without his shorts. Not only did Hilkka find a chocolate chip but she and Ilan also found an M&M (Smartie). Unfortunately we did not meet any other hikers over the next half mile!

Just after lunch we came across a really beautiful area known as Lillian Camp. Just alongside a large stream was a little campsite tucked away under some large trees. It was an enchanted valley. We decided that though we had planned to hike another two miles, this was too good an opportunity to miss. Ilan and I set up a tarp and we spent the afternoon sitting in this beautiful place.

An hour or so later, Brendan tested out a lesson that he had been planning for an interview over at Spokane. We sat like three school children learning all about the American revolution. Later we set up camp and in moving our gear, we noticed a little mouse run from over our backpacks and up the bank.

Late on in the night I woke up to hear Brendan returning to the tent after having relieved himself on a nearby tree. Next I heard Ilan go out of the tent too so I thought I would take advantage of the light given by Ilan's headlight. Ilan didn't know this so had quite a startle when he turned to return to the tent!

A few minutes later after we were all settled back in our bags. Brendan jumped up screaming 'Mouse, there's a mouse in the tent'. After having had a good check we decided that he must have rubbed against the tag on my sleeping bag. Other then the odd squeak from Hilkka, nothing else happened that night.

Saturday
Our last morning and we were slow to get moving. Individually each of us had spent time alone whilst at this camp site and now we were each saying goodbye to the valley which had been our favourite overnight home. After packing up our gear we left singing songs from 'The Sound of Music'. Only 'The hills are alive' was really approved by everyone.

As we hiked closer and closer to the trail head we came across more and more hikers. It was now hard to believe that we had earlier hiked for four days without seeing any other hikers.

It had become increasingly noticeable that Ilan's language had deteriorated over the last couple of days. Nothing very serious but one thing that I have noticed at UPS is that very little bad language is heard. We decided that should he continue, then he too should undertake the same forfeit that Brendan had experienced. Needless to say, a few hours later, Ilan was forced to walk for half a mile without his shorts. To our delight, just as we came to a sharp bend in the trail we came across a man with his two daughters. I managed to smile and say hello. The others could not bring themselves to say anything - particularly Ilan.

A short while later we had arrived at the trail head. Brendan ran ahead to the ranger station and phoned for Sundara to take us home. Our trip had come to an end, but as if the forest was saying goodbye, I saw my first humming bird.

After eight days of hiking, covering over 60 miles with 55 pound backpacks we had become the first group to complete this traverse this season. It had been everything that I had hoped for.