Archived from:

http://www.brianf.com/Travels/horiver.htm


Ho River/Ho Rainforest Backpacking
Aug 7-10, 1997
My biggest expedition of the '97 season was a five day backpacking trip through the Ho River and Rainforest section of the Olympic National forest. If you are not familiar with these locations, you can explore this map! Our trip started on the Ho River, just south of the town Forks on the map. The Trip ended at Sol Duc, just east of the Highway 101 label on the map. Along the way, we visited Mount Olympus, Ho Lake, the Seven Lakes Basin, and Deer Lake.
The group was comprised of myself, Colin Bryar, and Brian Richter. Mr. Richter (hereafter known as 'Brick') flew in from Chicago to go on the trip with us! Nice work Brick!
We left Seattle on Thursday night, packs at about 50-55 lbs each. We took the ferry across from the Seattle side to the Olympic Peninsula, and drove our cars from Kingston across the north end and around to Sol Duc. The plan was to leave Colin's car at the trailhead there--where we would end our hike in 5 days. Then we squished all of our gear and selves into my FJ40 and cruised further south to the Ho River trailhead.
Unfortunately all this driving, staging of cars, ferry rides, etc.. took us longer than we thought, and we found ourselves at the Ho River trailhead at about 3am. After searching for about 20 minutes for anyplace reasonable to camp that night, we settled on pitching tents in the picnic area, a decision not reached easily as Colin and I were sure the rangers would boot us out of there at first light. Fortunately they let us sleep, and as you can see from the picture below we were all smiles in the morning. Note the nice picnic table next to us!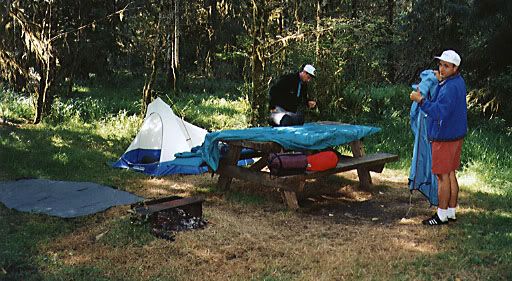 After packing up we made one final check of our gear, loaded up with water and purchased our permits (you can see the permit dangling over my left shoulder in the picture below), we were ready to go. We had walked about 100 yards when we came to this sign, I was already tired.
I am a firm believer in packing light. Friends even make fun of me for how hardcore I'll be about cutting weight wherever possible. I like to think that on every step of the trip, my pack is lighter as a result. But sometimes a strange idea comes along and you throw all the rules out--in this case that idea was this: Backpacking with a pineapple. I think the thing I like most about this idea is that nobody would ever do this. Pineapples are heavy, unwieldy, and just plain goofy. All of these seemed like great reasons to bring one! Our trip plan was to pack in 13 miles the first day, then do a hike to Mt. Olympus on the second day, but we'd return to the same campsite so didn't need to carry packs! This meant we could have a pineapple for breakfast on the 3rd morning if we schlepped it for the entire 13 miles in! Since the pineapple was my idea in the first place, you can see that it is proudly displayed on the outside of my pack for the first leg of the trip.
Just a few miles into the hike, the pineapple was already working its magic! We were known collectively as "The Pineapple People!" by a couple groups all headed in our direction, and we'd get laughs or at least grins from everyone who saw it. Groups were trying to time their schedules so they could be at our campsite on Sunday morning -- we promised a bite to anyone who showed up (fortunately nobody collected on this).
About 8 miles in, we got to a ranger station and sat down for lunch. I was happy to get the pack off, and more happy because either Colin or Brick had to carry the pineapple for the rest of the day! One of the more unusual people we met on the trip was Larry, a backpacker from Northern California. Sort of a crazy guy, but he gave us some good tips about the hike up to Olympus, and also a great piece of advice on why we should pump water out of feeder streams rather than the Ho River -- to avoid clogging our filter pump with glacial silt. Larry saw our pineapple and called us "Gourmet" backpackers.
We spent most of lunch talking with Larry, so decided we'd get a picture of him for our trip log: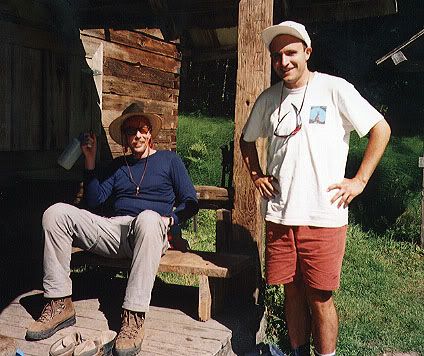 Colin and Brick needed to decide who was going to carry the pineapple for the second half of the day (we were at the 8 mile mark, going to the High Bridge, which is at about 13 miles). Brick properly guessed our current altitude at an even number, and Colin got saddled with the pineapple for the remainder of the day. As a parting shot, Larry reminded Colin that altitudes are always given in even numbers. We don't know if it's true, but Larry seemed to know what he was talking about. As you can see below, Colin went with a transverse mounting of the pineapple, but still left it in plain sight--nice work!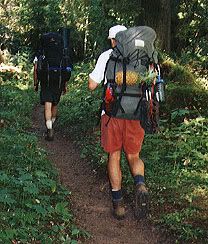 We made camp about 7 p.m. the first day, and I immediately took a nap. Colin and Brick seemed to have energy so they got things going like gathering firewood and getting some water pumped. We had a great campsite except for the huge fallen tree across the middle of the campsite. I think each of us hit our heads on the tree about 5 times. Fortunately I had the wide-brimmed hat which saved me, can't speak for Colin or Brick.
Day 1 Complete , 13 miles, 1000 vertical feet.
The next morning (beginning of Day 2), we ate one of our truly gourmet items -- Scones! We had brought along a device called an Outback Oven and we whipped up a batch of Fisher Fair Scone mix, which was a huge success. It's a bit heavy, especially if you consider the 7 oz. Outback Oven, but it was well worth it. Just look at the smile on Colin's face: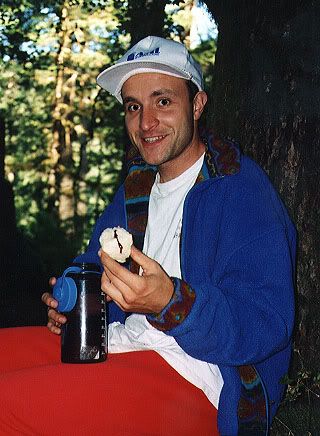 Our day hike was the first real vertical gain we'd do on the trip. Fortunately we were not carrying packs so the hike was fairly easy. We would continue past High Bridge, past Elk Lake, through Glacier meadows, and up to the edge of the Blue Glacier. We'd top out at about 5000 feet, making the hike up about 4000 vertical feet in 5 miles. Along the way we got our first great view of Mt. Olympus, and took the photo below. We are ascending right to left in the picture, and the glacier you can see at the top left of the mountain is the Blue Glacier--you'll see more of that in a few more pictures.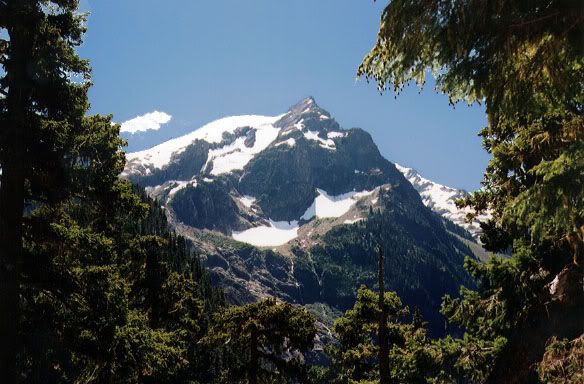 The next picture was taken just above Glacier Meadows campground, the meadows here are the first ones we've encountered and are full of wild flowers. As a bonus we'd find an occasional blueberry or huckleberry bush and scavenge for a small snack. One of the amazing things about hiking in the Olympics is how rapidly the terrain changes--as we hiked up the glacier's moraine trail, we went from the meadow below, to a huge rockfield, and across patches of snow.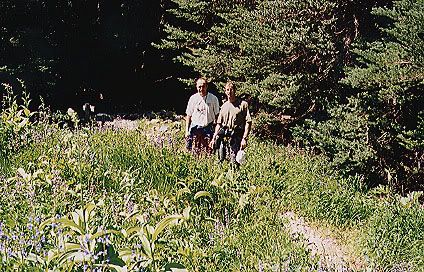 Day 1 had been sort of lame from a terrain and wildlife standpoint. Day 2 rapidly changed that and we got an up close look at two mountain goats! One was ugly as hell, still shedding his coat, but the one shown below was really beautiful. The goats were very trusting, allowing us to approach to within just a few feet--and they demonstrated for us their ability to climb on steep rockfields without ever slipping or dislodging a rock. It was pretty amazing. Note also the patches of snow nearby--we're at about 5000 feet and and there's still snow in the middle of August!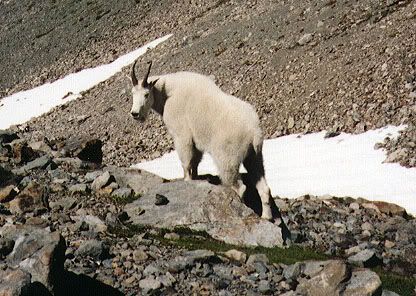 Just past the goats we came to the turnaround point for our second day hike. We broke out lunch and sat on a magnificent ridgeline, with Mt. Olympus and the Blue Glacier right behind us. Brick took a fantastic photo of Colin and me, shown below. Note that the glacier and mountain behind us are another 2500 vertical feet of climbing to the summit! We saw lots of groups preparing for this trek, and round trip to the summit is about 8 hrs from where we are having lunch!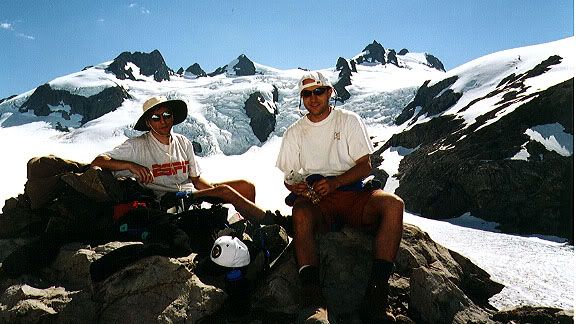 We hiked back down to camp in record time, and agreed Day 2 was a really spectacular one. Great views, wildlife, and varying terrain were all present. Our 'Gourmet' food continued as we wrapped this day with a huge meal of pesto sauce over pasta!
Day 2 Complete , 10 miles, 4000 vertical feet.
Trip Total , 23 miles, 5000 vertical feet.
Day three began on a very good note. We finally got to eat the pineapple! Happily it was not too badly bruised from the travel, and we eagerly fueled up for our big day 3 hike with fresh pineapple and oatmeal.
Day three had long been pegged as the most brutal day we'd have. After retracing our steps almost back to the ranger station from Day 1, we would turn north and ascend a steep 3500' ridge, and unlike climbing to the Blue Glacier we would do this with packs on. Worse, we heard from Larry (our day 1 lunch buddy) that there had been a fire through lots of the area about 8 years ago, leaving many parts of the hike without tree cover. We filled all our water bottles and headed off.
The hike delivered on our expectations--fairly steep and relentless climbing. At times so steep that Colin would become delirious and yell out "Aaarrrgh... I'm a PIRATE!!". Still haven't figured that part out. We also made liberal use of our trip catch-phrase "It's time to be a man about this."
The picture below is a view from a ridgeline we were crossing after our 23rd switchback (yes, we counted). We started our climb at the river valley floor at the extreme right bottom corner, and are perhaps 2500 vertical feet above the river at this point. You can easily see how the tree cover has been completely burned away.
One of the last shots we have of Mt. Olympus (hard to make out in the background), this is a shot of me at the same location. I may look like a nimrod in the hat, but I loved it--kept the sun off me through the entire trip, and that was especially appreciated on Day 3!!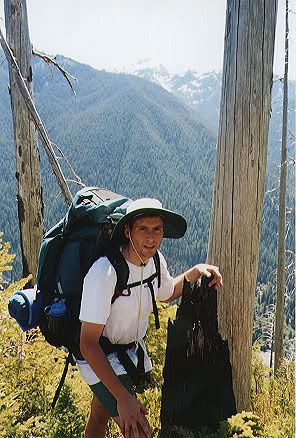 We had lunch in a patch of shade, and then kept climbing... Happily we emerged from the burn area and began traversing a huge meadow, reminding us of Glacier Meadows. These had much more water in them, and an even greater diversity of wild flowers.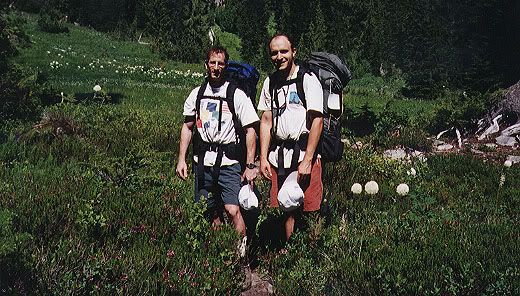 We finally reach Ho Lake (pictured below). During our initial trip planning, this was to be our campsite for Day 3. Unfortunately, all camping has been suspended at Ho Lake in an attempt to let the high alpine vegetation to grow back after years of trampling by campers. This was especially bad news for us, because it meant we had still more climbing to do this day. We rested for about 15 minutes and pressed onward and upwards to High Divide, another 1000 vertical feet to go.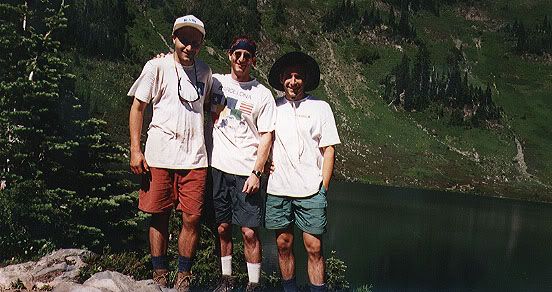 About half way to High Divide, we came across this Black Bear who was grazing (on blueberries?) below us. He's nearly impossible to make out in this photo, but he was actually about as close as we wanted a black bear to be. Even at 150 yards, he was obviously a very big guy!
We reached our high point for the day and began a traverse along the ridge line. We came around a corner and had an outstanding view of the Seven Lakes basin. We were going to camp at a fairly large lake named Lunch Lake, which isn't shown below. Later, when you come across pictures of the three of us swimming, we're swimming in the largest of the lakes shown below.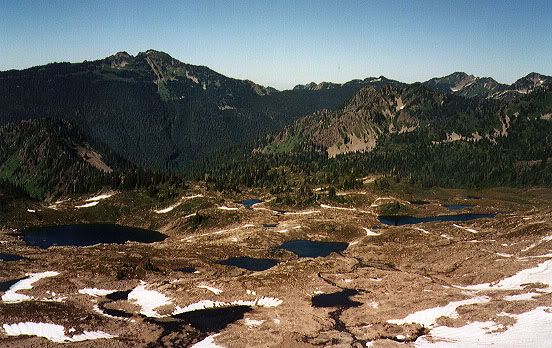 At long last we made camp for Day 3. The campground was crowded so we had to take a fairly exposed site in the middle of the Lunch Lake area. The mosquitoes were pretty annoying and we were tired so we all took a nap until sunset.
That night we had a huge meal of freeze dried chili (not all that great), Outback Oven cornbread (good, but sort of a mess), and mashed potatoes. Clearly the mashed potatoes were a hit, especially with Colin who claims on the next trip that's all he's eating. We knew that the next two days were a walk in the park compared to the first three, so we stayed up late and watched the stars. We were lucky and there were lots of shooting stars--though Brick seemed to miss about 75% of them.
Day 3 Complete , 11.5 miles, 4500 vertical feet.
Trip Total , 34.5 miles, 9500 vertical feet.
The next morning we were rudely awakened by the hot sun shining on our tents. Reluctantly we rolled out of bed and made breakfast. The picture below is a couple hours after sunrise. You can see lunch lake beyond the right hand tent, and the saddle behind the lake leads to the 7 lakes basin from the picture above.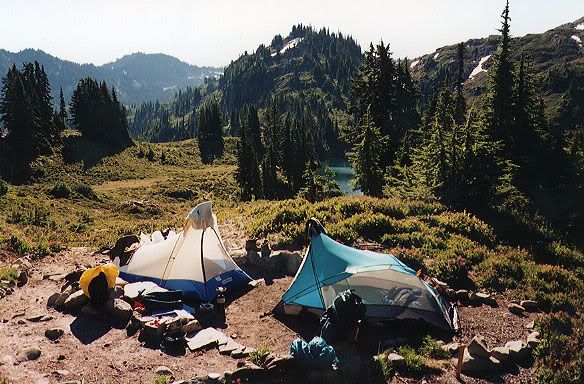 Before breaking camp on Day 4, we decided we smelled really bad and wanted to go swimming. We found a ranger who said the lakes in the basin tended to be a little warmer so we made our way up there (only 500 vertical so we did the whole thing in Tevas). We sampled just about every lake looking for the warmest one possible, the photo below shows Colin being a man in the coldest of them all.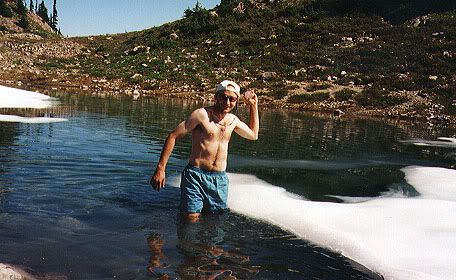 We finally decided to go swimming in the largest of the bunch, and while it was darn cold, it was fun and boy did it improve the overall odor. Brick had a deathly fear of cold water before this trip, but even he was able to overcome his fear--that's a good indication of how bad we smelled.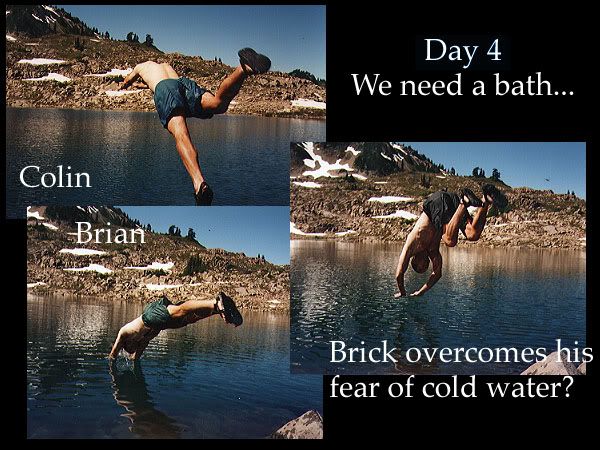 Day 4 and 5 were very short hikes, maybe 4 miles per day, the photo below was taken about two miles into our hike on Day 4. Nothing special about the lake, but we were testing it to see how warm it was--turns out it was much warmer than the one we'd gone swimming on in the morning. Rats.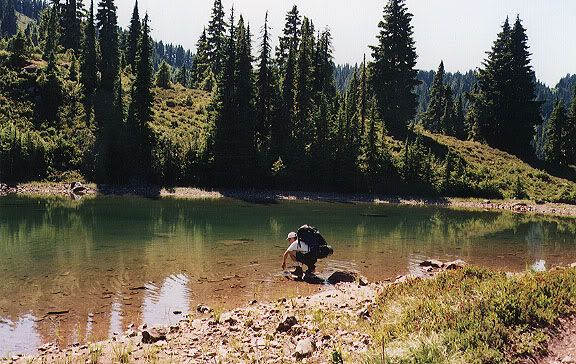 We made camp for Day 4 and enjoyed our most relaxed evening of the trip. Though we nearly bolted for the Sol Duc trailhead and wrapped up a day early, we decided to relax and enjoy our final day in the wilderness.
The next morning we got an early start and were at the Sol Duc trailhead by about 10 am. We had pancakes at the cafe there, a very welcome change from trail food, and headed home. The picture below was us just as we reached our car at the trailhead--ready to go home!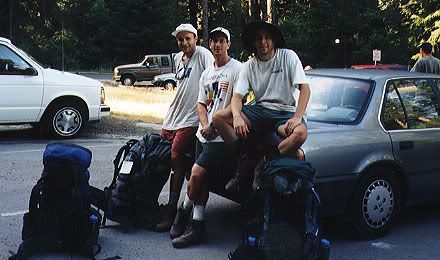 '
Day 4+5 Complete , 8 miles, 1500 vertical feet.
Trip Total , 42.5 miles, 11,000 vertical feet.
A great trip! Next year: The Galapagos Islands (we hope!)