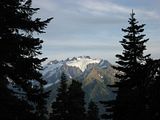 Olympus View From Camp 1

This was the view of Mt Olympus from our camp night one, at Heart Lake Junction

Mt Olympus sunset

The view of Olympus from just above our camp night two, at Hoh Lake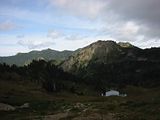 Heart Lake

Walking up the high divide trail on day 2, I turned and shot this picture of Heart Lake

Margaret in flowers

Margaret hikes up the high divide trail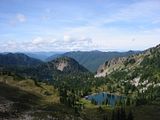 7 Lakes Basin

The view down into the 7 Lakes Basin from the high divide trail

7 Lakes View

Margaret looks out onto 7 Lakes Basin from the high divide trail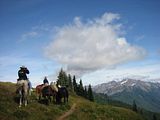 Horses on High Divide

We passed these folks a few times. This was on the high divide trail. Those black horses are huge!

Olympus View

The view of Mt Olympus from the high divide trail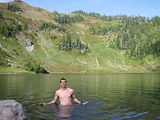 Joel in Hoh Lake

Margaret shot me getting out of a chilly but oh-so-refreshing Hoh Lake swim. 2 black bears were eating berries on the other side of the lake.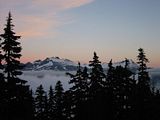 Olympus Sunset

Mt Olympus view from just above our camp at Hoh Lake