Archived from:
http://www.sequimjournal.com/sequim15.htm




Hurricane Ridge, ONP
Extraordinarily accessible,
with a fantastic panorama view.
The National Park Service created several roads into the Olympic National Park, but they all stop short of a cross-through; there's no way to go through the center of the park except by walking. It is true wilderness there...


At the Ranger Station we paid our $10 fee, and received the information brochures from the gatekeeper. There was a misty cloudlayer to drive through with caution, for there were critters on the road. As we climbed the hillside in the vehicle, we saw many blacktail deer grazing by the side of the mountain road.
Halfway up we cleared the mist and it was beautifully sunny.
This approach is through Port Angeles, about 17 miles west of Sequim. The drive to the Hurricane Ridge is another 17 miles up the "hill" to an altitude of 5230' above sea level. There's a campground at Heart o' the Hills, at the base of the mountain, but here at the top, no camping;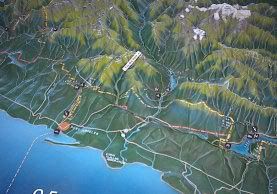 only an attractive visitor center, with informative murals and maps, and a place to eat your picnic lunch with a view... like nowhere else!
You did bring your lunch? We forgot ours... and the concession was still closed at that time.
The center is now open to the public. A new roof design was built last year to enable better shedding of heavy snow.
Speaking of snow, the Hurricane Ridge area is open weekends in the winter, road conditions permitting, for skiing and snowshoeing. I think we'll pass on that.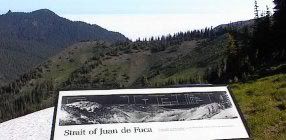 At the top, after a short walk through the meadow on the blacktopped trail, we crested the Ridge and were able to look down at what would have been Port Angeles and the Straits, if there wasn't the cloud cover...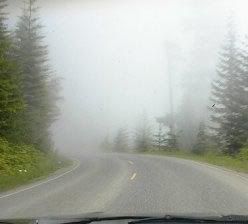 We reluctantly climbed back into the vehicle and headed down the hillside- once again into the mist... to return some other day.
---
We saw the Sequim Elk herd- actually just a small portion of it, perhaps 20 animals, on a Happy Valley corner parcel of acreage Monday afternoon. Carl dropped me off at a friend's home and passed the same corner not 5 minutes later- and there wasn't a trace of them left. Fences mean nothing to these animals - just something to jump over. The center female in this photo is wearing one of the radio collars which trigger the warning lights on Highway 101 - the elk crossing sign gets lit up when one of the collar-wearing animals is within a half-mile of the sign.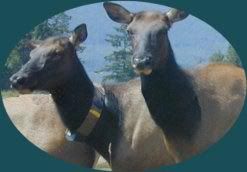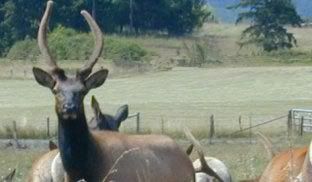 ---
The marmot is found only in the Olympic National Forest, though he has kin elsewhere.