ELWHA DESTINATIONS - GOBLIN GATES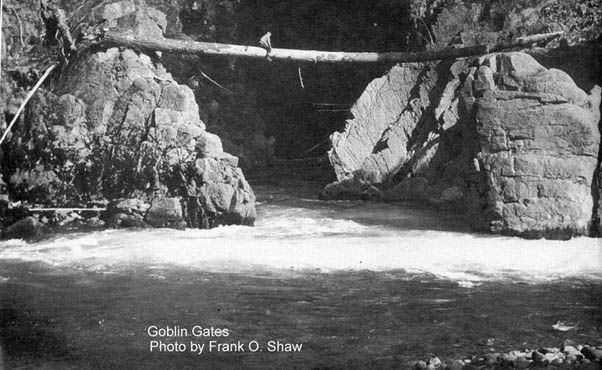 Local News

http://www.peninsuladailynews.com/article/20010622/NEWS/106220308

Last modified: June 21. 2001 9:00PM

Narrow canyon comes alive with images of `demons"

KEITH THORPE

It doesn't have to be Halloween to see goblins, but it does take imagination.

Charles A. Barnes had imagination when he spotted the Goblin Gates along the Elwha River west of Port Angeles in 1890.

Barnes, a member of the Press Expedition exploring the Olympic Mountains, is believed to be the first non-American Indian to see the gates -- rock formations where the river plunges into the narrow Rica Canyon several miles above what is now Lake Mills.

When Barnes discovered this portal in March of 1890, he noted the formations resembled demons.

"For several hundred feet, as far as can be seen down the canyon, a multitude of faces appear in succession near the water's edge," Barnes wrote in his journal.

"One could conceive in them tortured expressions, which, with the gloomy and mysterious character of the whole, justified us in giving it afterwards the name of `The Goblin Gates."'

The full flow of the Elwha passes through the Gates, which is about 12 feet wide.

When the five-man Press Expedition set out to explore the Olympics in what is now Olympic National Park, it took its members an entire winter to make it from Port Angeles to the gates.

The same journey now takes less than a few hours.