On July 29th through August 2nd our group of 6 students, 3 teachers, and 2 guides, went on a back-packing trip through the Elwha River Valley. Our excursion started and ended at the Whiskey Bend Trail in the Olympic National Park. Throughout the five days we went on extensive hikes through the forest. We also got together and worked hard to survey the landscape in the Elwha Valley as well as to meticulously count trees, shrubs, animals, and birds.
If I had the chance to go back and re-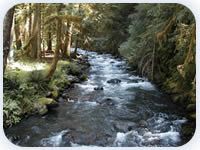 pack my pack for the Elwha Valley hike, I would definitely pack lighter. If you are a back-packer you know that whatever you bring, you carry. Instead of packing clothes for everyday, re-use the same clothes. If you lay out your clothes during the day, they have a chance to air out. I would also bring a lightweight electric lantern, so that at night I would have an easier time seeing. I also would bring some kind of flavoring for my water. When I ran out of fresh water I was miserable. Because, the iodine that you have to put into your water to purify it, tastes horrible.
After a day of hiking I was ready for some serious fun. You can have a lot of fun just talking to people, and telling stories. My favorite thing, however, was to play cards with a group of people. It was a great way to make conversation with people that I didn't really know. There was also the Elwha River right there although some of the guys went swimming in it's 40 degrees celsius water it was a little too cold for me.

Lastly I must say that I would strongly recommend visiting the Elwha Valley of Olympic National Park, because it is the most peacful place I have ever vistited.