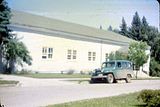 View of a geology building at MSC. Jeep is one we used to transport supplies and equipment.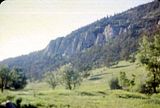 Our first camp was located on Dry Creek which is southeast of Livingston, Montana. We were next to an abandoned homestead. One side of the valley had limestone cliffs and the other was covered with heavy growth of trees.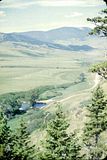 This is looking down Dry Creek Valley towards Yellowstone River. Pond is a stock pond where the creek had been dammed up.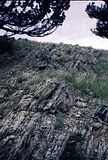 This is one of the formations we were mapping. My geology pick is in the middle to be used as a reference of the size of the formation. My knapsack is on the right side.